The difference between buns of steel and buns of, well, pants are these 10 bum-blasting exercises. We tried them and now it's your turn. Get moving!
1. Hip-Lift Progression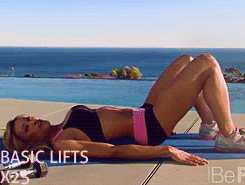 Lie on your back with your arms at your sides with your knees bent and your feet on the floor.
Lift your hips toward the ceiling. Hold for 1 count, and then lower back down.
Repeat the lifts for 60 seconds, squeezing your glutes and hamstrings at the top of the range of motion. Be careful not to overarch your spine.
2. Toe Taps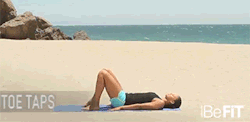 Lie on the floor with your arms on your sides.
Lift your feet, bending both knees to 90 degrees so your thighs are perpendicular to the floor.
Now slowly and quietly tap your left toes to the floor, then your right.
Alternate tapping feet for 1 minute.
3. Donkey kicks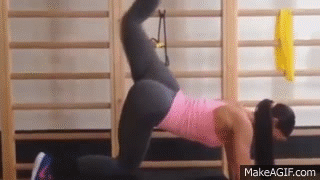 Starting on your hands and knees, keeping your core tight and back flat.
Raise 1 leg and keeping knee at 90 degrees.
Push that leg as high as you can in the air and lower back down.
Repeat for 12 reps, then switch legs.
4. Adductor squats
Feet stance is wider than hip width.
Keep your back straight and arms locked with the dumbbell in the middle.
Lower your body weight into a squat then hold before your rise back to the start position.
Aim for 10 to 12 reps.
5. Lunges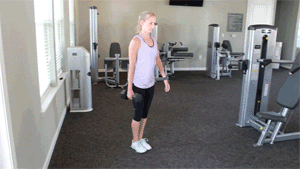 Stand with your feet together and your hands on your hips.
Then lunge forward with your right leg.
Jump up, switch legs in midair, and land with your left leg in a forward lunge.
Continue these explosive lunges, alternating sides, for 1 minute.
Keep your fists up in front of your chin and push off the floor with both feet. Your front knee should be bent 90 degrees and align over your ankle.
6. Sprinter step-ups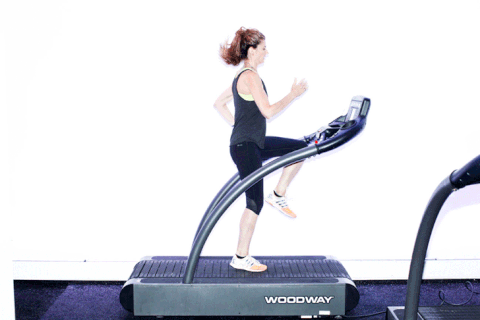 Walk from one spot to the next by raising each knee high towards your chest, on your toes at the top with the grounded leg and then come down and repeat the other side.
7. Prisoner squats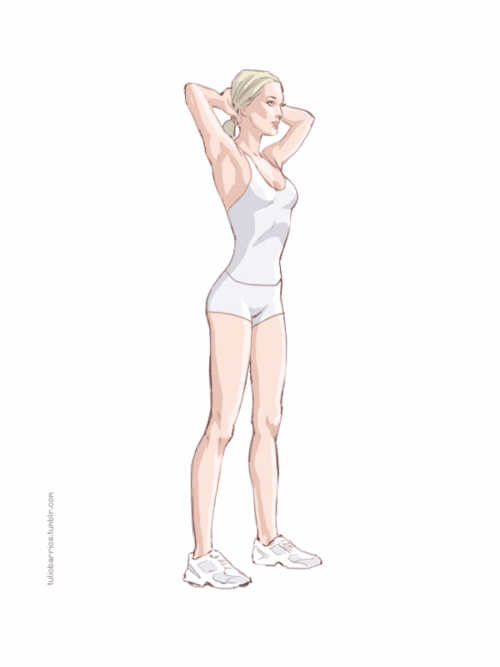 Stand with your feet slightly wider than shoulder-width apart and lace your fingers behind your head.
Keeping your elbows back, bend into a squat position – the wider squat the easier it is to get into a low squat with a straight back.
Press back up to the starting position and repeat.
8. Medicine ball squats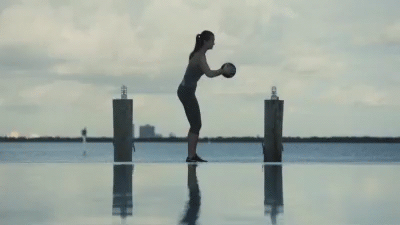 Stand with your knees slightly bent and hold a medicine ball with both hands.
Fully extend your arms straight out in front of your body at shoulder level and perform a full squat.
Return to the start position.
Repeat and complete as many as you can.
9. Yogi squats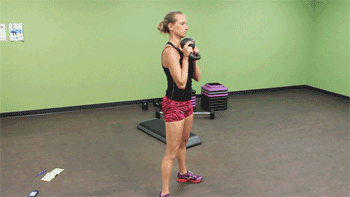 Grab desired dumbbell weight and stand with your feet slightly wider than your hips, toes pointed outwards.
Lower your hips down to the ground so you are essentially hovering.
Holding the weight with both hands, press and rest your elbows on the inside of your knees.
Keep your feet planted on the ground and lift towards the ceiling, leading with your glutes . Keep your back straight. Stop when you are parallel to the ground.
Return back down to the starting position and repeat for instructed reps.
10. Jump squat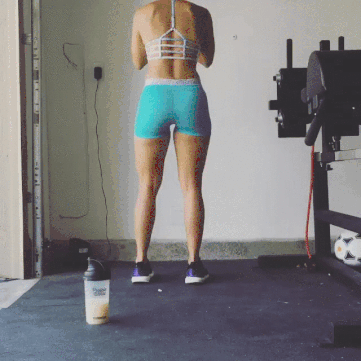 Begin in a lowered squat position with you feet shoulder-width apart.
Explosively jump up and land back in the squat position.
Careful to maintain good form and prevent your knees from extending beyond your toes in the squat or landing position.
Sources: Fitnessmagazine, Womenshealthandfitness.
LOSE WEIGHT 3X MORE EFFECTIVE
28 Days Weight Loss Assistant App (Android)
28 Days Weight Loss Assistant App (IPhone)
This article is solely for informational purposes and is not intended to provide medical advice. BetterMe doesn't take responsibility for any possible consequences from any treatment, exercise, diet, application of medication or any similar action which results from reading or following the information contained in this article. Before undertaking any course of treatment please consult with your physician or other health care provider.
Share on Facebook