How many of you dream about the perfect butt? Probably each and every one of you, since the cult of the perfect bootie has spread around the globe. But while some use the magic power of plastic surgery we have something else in mind, it is just as effective.
BetterMe App helps women achieve their body goals with ease and efficiency by helping to choose proper meal plans and effective workouts. Start using our app and you will see good results in a short time.
Of course, the first thing that comes to mind is that we are going to tell you to grab your bag and run to gym. No, everything is much simpler and easier to afford.
In fact, everything great is very simple. Only 8 exercises, 10 minutes a day and your dream can come true. The question is – do you really want it? If the answer is yes, then these easy steps will lead you straight to your desired shape.
READ MORE: Make your planks more effective with these 3 simple tweaks
#1 Side to Side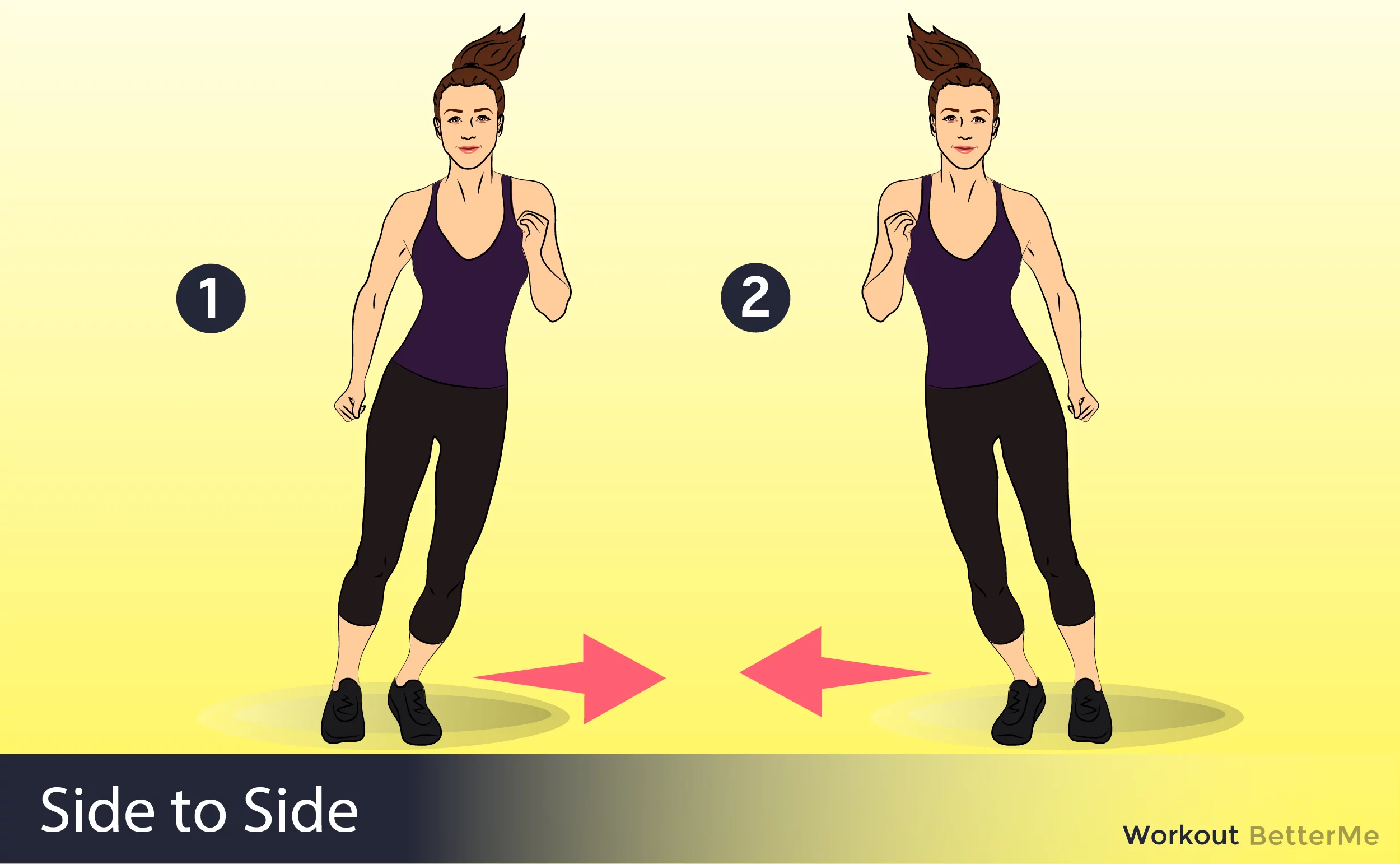 - Stand straight with your hands by your sides and your feet hip-width apart.
- Jump with both feet to the right and then to the left, in a quick, repetitive move.
- Repeat until the set is complete.
#2 Burpees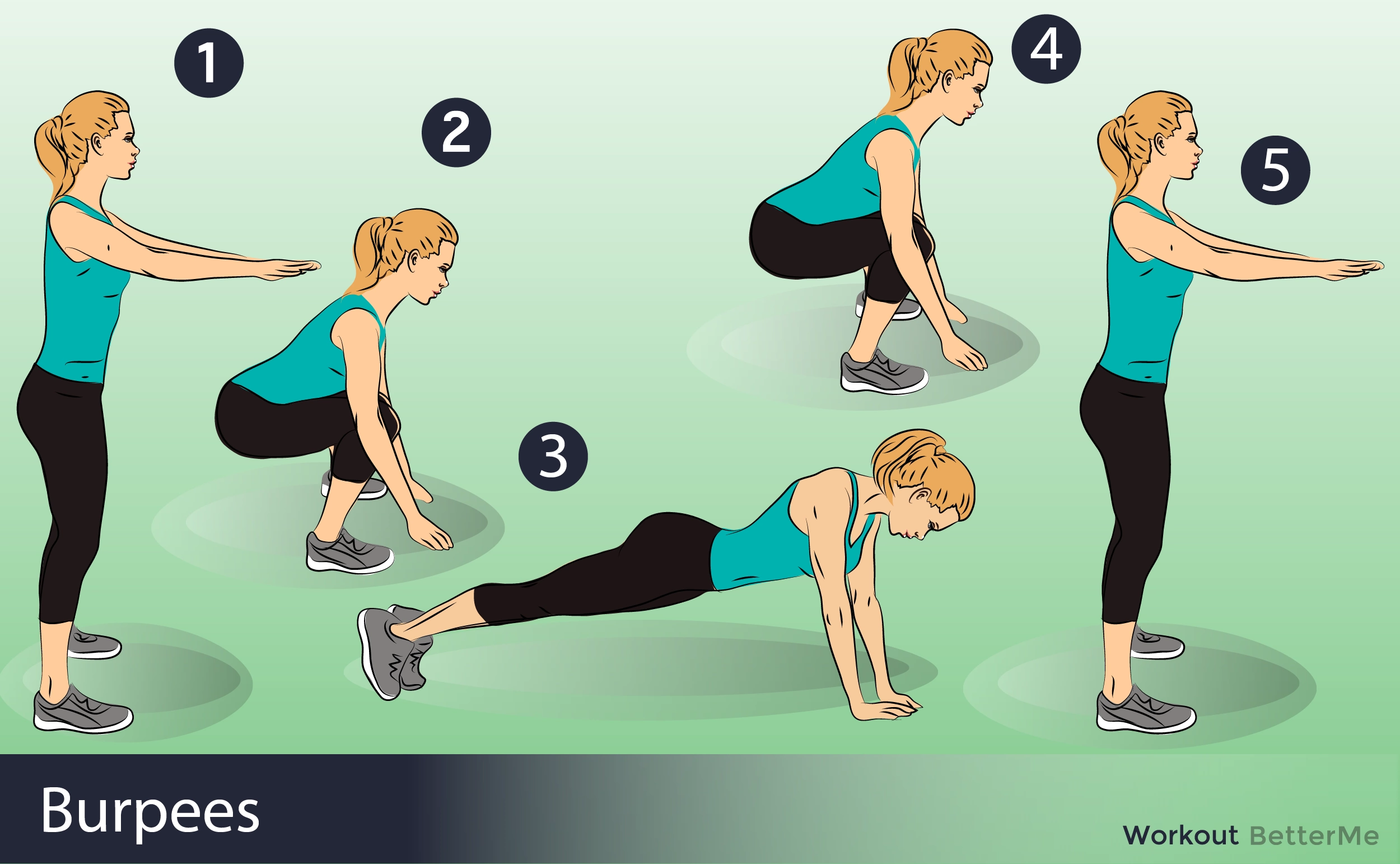 READ MORE: Get Fit With The 17-Day Walking/Running Plan
- Bend over or squat down and place your hands on the floor in front of you, just outside of your feet.
- Jump both feet back so that you're now in plank position.
- Drop to a push-up—your chest should touch the floor. You can also drop to your knees here, which makes the impending push-up easier.
- Push up to return to plank position (this can be a strict push-up, a push-up from the knees, or not a push-up at all (i.e., just push yourself up from the ground as you would if you weren't working out)—your choice).
- Jump the feet back in toward the hands.
- Explosively jump into the air, reaching your arms straight overhead.
#3 Step Ups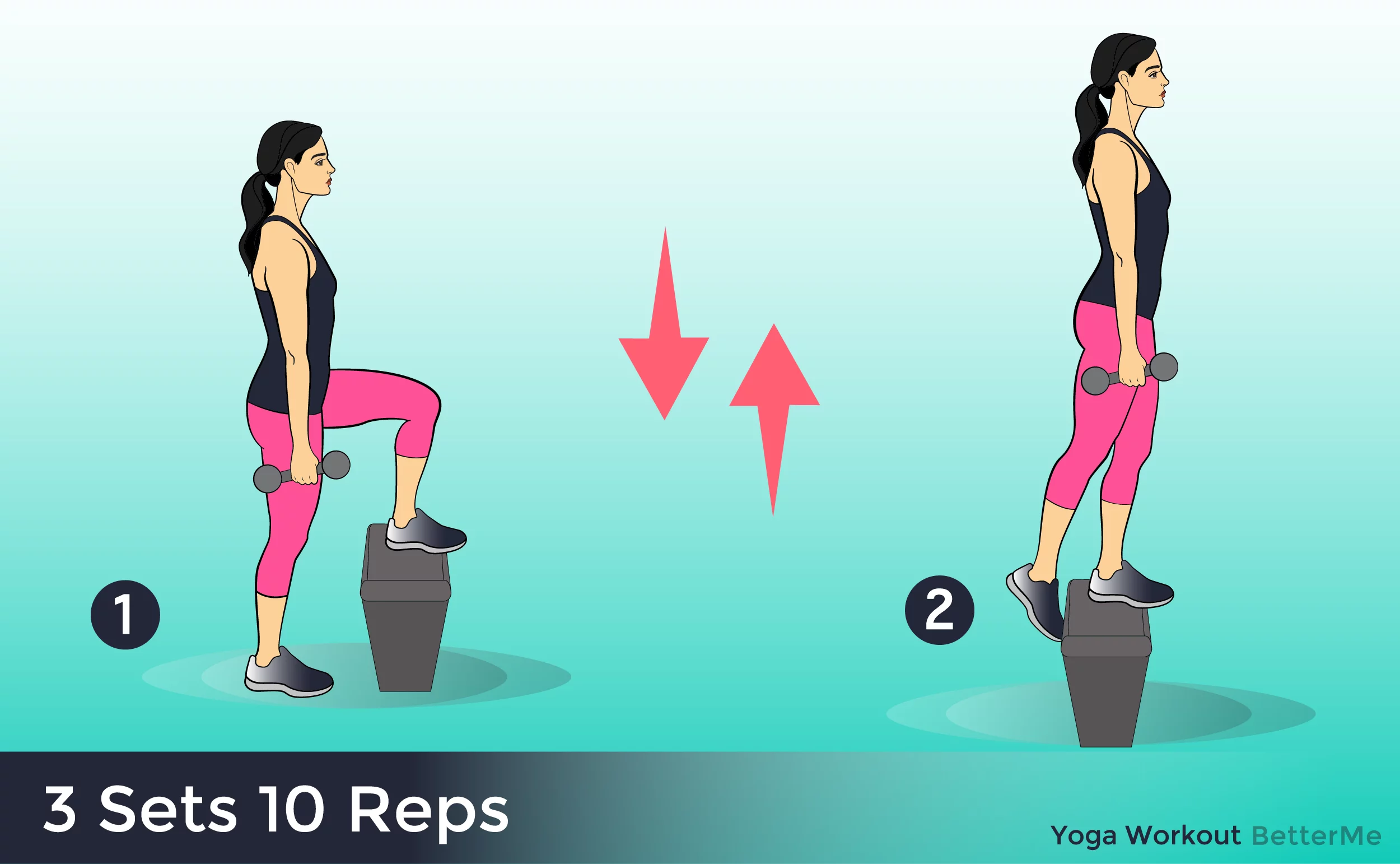 - Stand up straight while holding a dumbbell on each hand (palms facing the side of your legs).
- Place the right foot on the elevated platform. Step on the platform by extending the hip and the knee of your right leg. Use the heel mainly to lift the rest of your body up and place the foot of the left leg on the platform as well. Breathe out as you execute the force required to come up.
#4 Lunges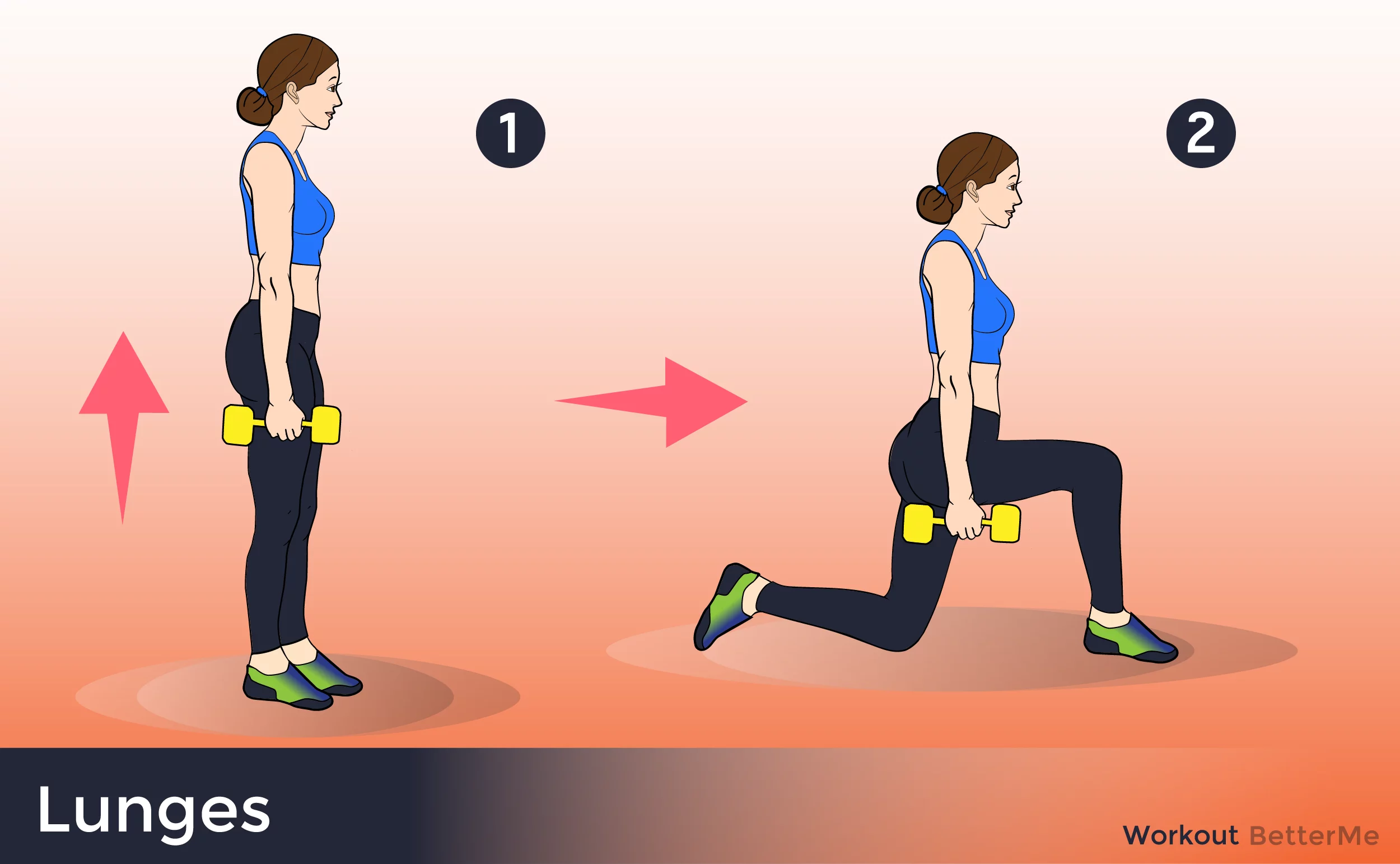 - Keep your upper body straight, with your shoulders back and relaxed and chin up (pick a point to stare at in front of you so you don't keep looking down). Always engage your core.
- Step forward with one leg, lowering your hips until both knees are bent at about a 90-degree angle. Make sure your front knee is directly above your ankle, not pushed out too far, and make sure your other knee doesn't touch the floor. Keep the weight in your heels as you push back up to the starting position.
#5 Jump Squats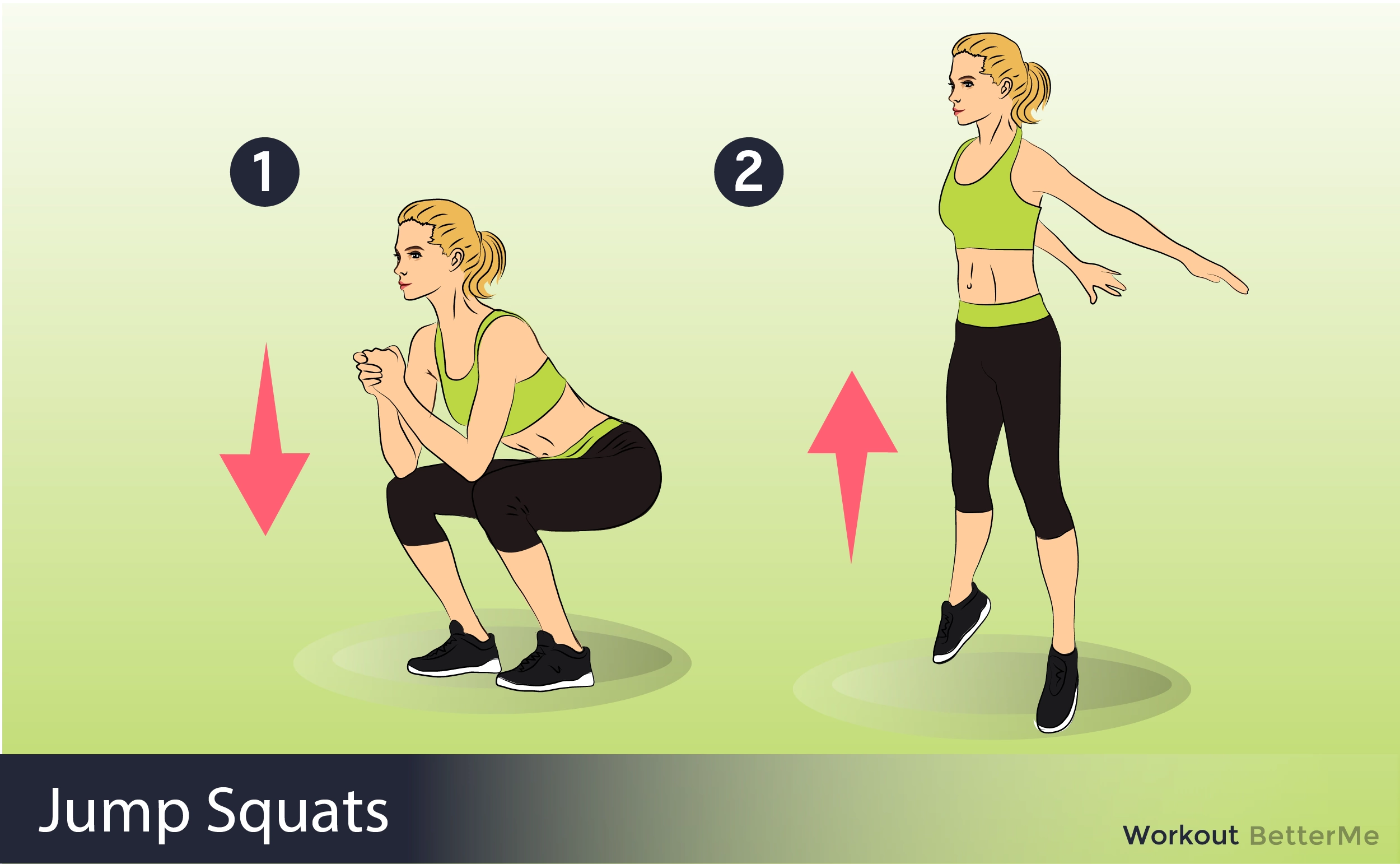 - Cross your arms over your chest.
- With your head up and your back straight, position your feet at shoulder width.
- Keeping your back straight and chest up, squat down as you inhale until your upper thighs are parallel, or lower, to the floor.
- Now pressing mainly with the ball of your feet, jump straight up in the air as high as possible, using the thighs like springs. Exhale during this portion of the movement.
- When you touch the floor again, immediately squat down and jump again.
- Repeat for the recommended amount of repetitions.
#6 Pistol Squats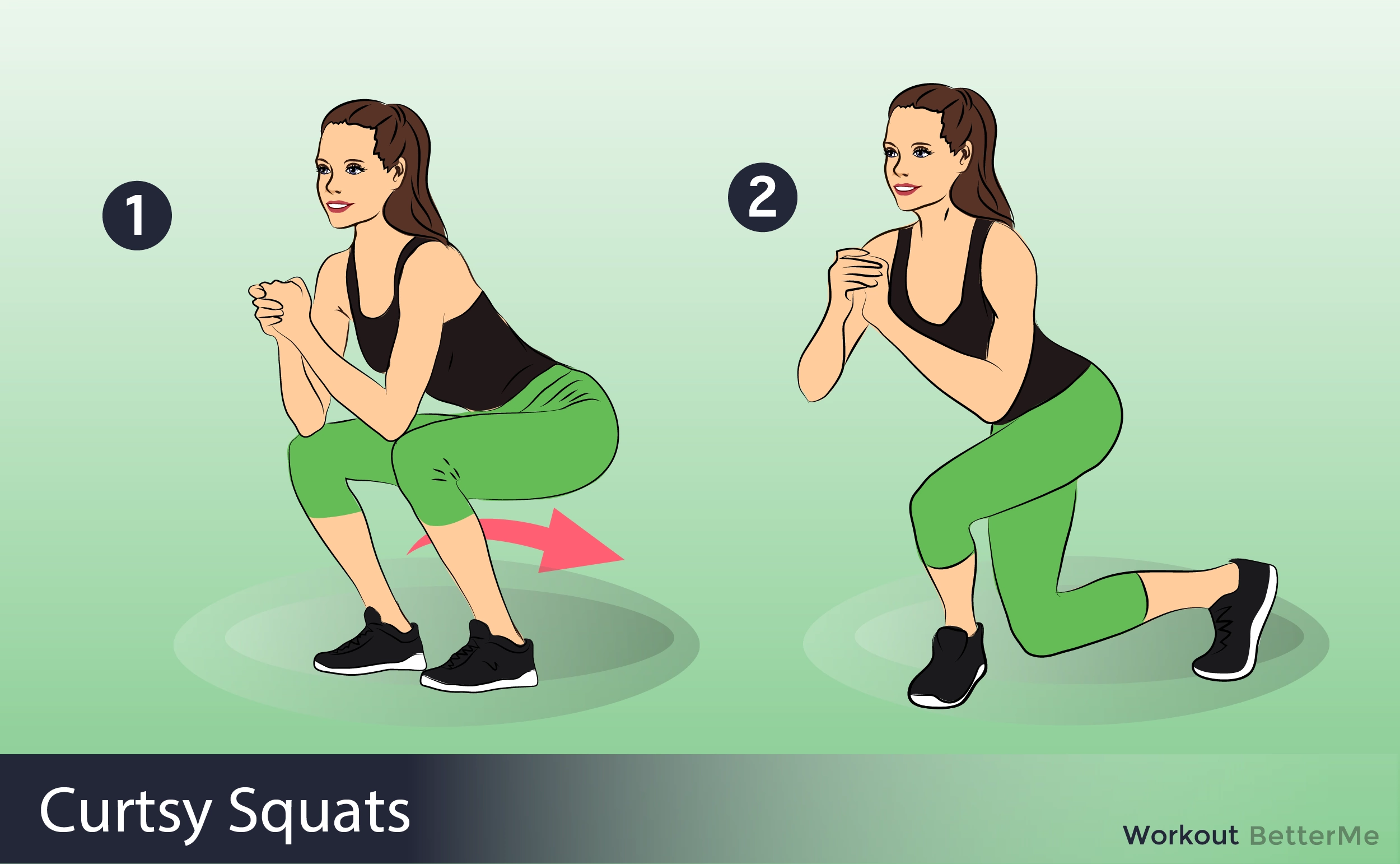 - From a standing position, raise one foot off the floor. You should be looking directly forward, with your chest up, knees and hips slightly bent, and your back straight. This will be your starting position.
.- Descend into a squat by flexing your hips and knee. As you squat, extend the non-working leg forward to allow clearance for your movement. Descend slowly, paying close attention to balance and proper movement mechanics, going as far as your flexibility allows.
.- Hold the bottom position briefly and then return to the start by extending through the hips and knee, driving through the heel of your working foot.
- Repeat for the desired number of repetitions, then switch sides.
#7 Plies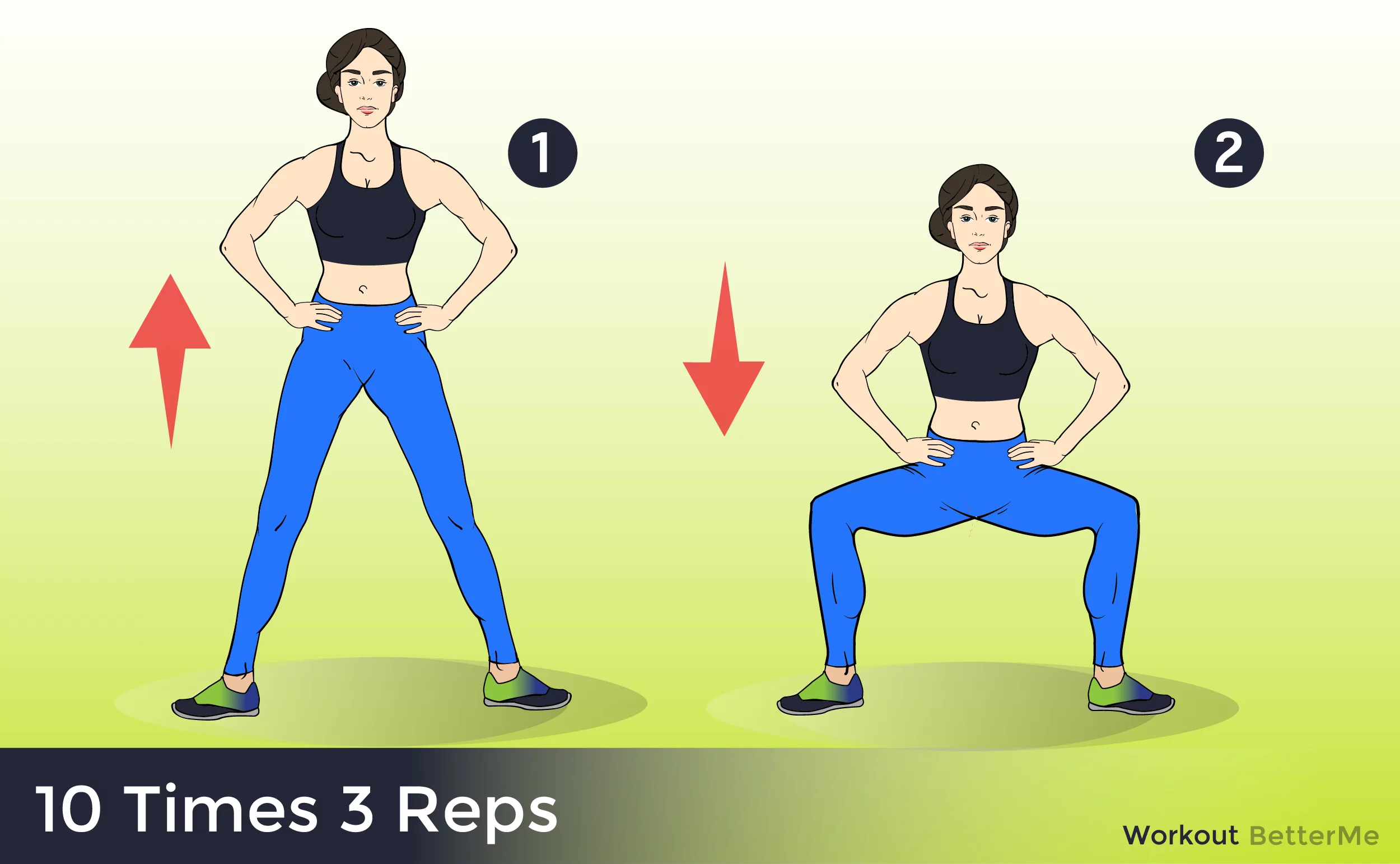 - Stand with your feet together and place your hands on your hips.
- Engage your leg and pelvic muscles by feeling your inner thighs, upper thighs and buttocks pulling together. At the same time, engage your abdominal muscles, pulling your belly button toward your back. Lengthen your back, all the way from your tailbone to the top of your head.
Bend your knees slowly, making sure that your knees move directly over your second toes and that your heels stay on the floor. You might feel a stretch on the backs of your calves when you bend your knees. This is a normal sensation. As your knees bend, your buttocks will have a tendency to stick out. Keep your abdominal muscles engaged and your back lengthened to prevent this common problem.
- Straighten your knees slowly, feeling your leg and pelvic muscles coming back together.
- Repeat eight to 12 times.
#8 One Leg Chair Squat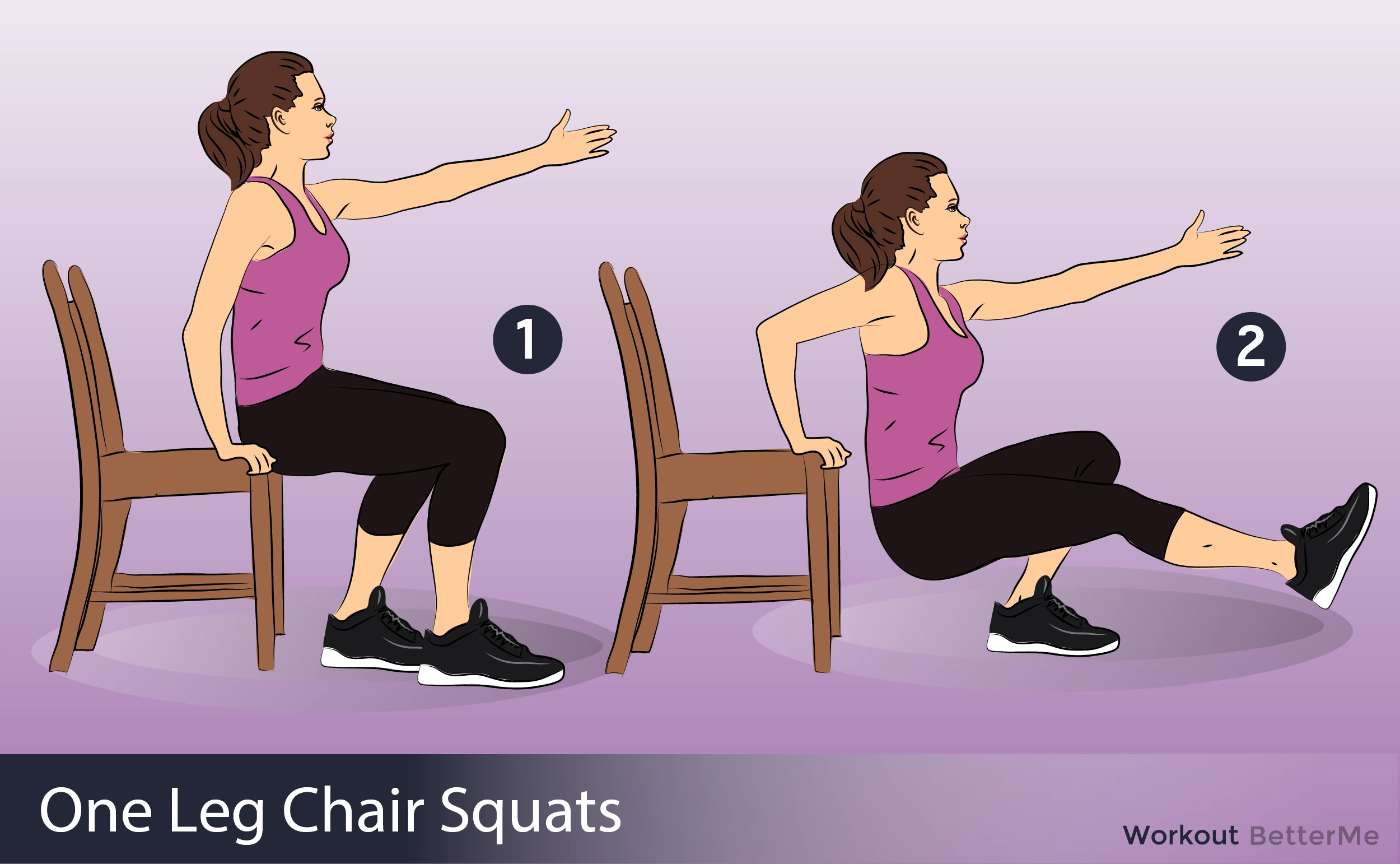 - Stand on one leg, in front of chair
- Slowly squat to sit down onto chair
- You can use your other foot to guide you and balance (by tapping on the ground as needed)
- Make sure that your knees stay aligned and do not drop or bow either side
- Your knee should not pass over your toe
- Stand back up again
READ MORE: The 28-Day Squat Challenge To Get A Bum You Desire
BetterMe App helps women achieve their body goals with ease and efficiency by helping to choose proper meal plans and effective workouts. Start using our app and you will see good results in a short time.
The BetterMe Team is by your side throughout your fitness journey! Stay motivated and you can achieve your goals. If you are struggling with your motivation have a look at one of our many articles for inspiration.
Help us support and motivate those you love by sharing this article with them and let us know what you think in the comments below.
This article is solely for informational purposes and is not intended to provide medical advice. BetterMe doesn't take responsibility for any possible consequences from any treatment, exercise, diet, application of medication or any similar action which results from reading or following the information contained in this article. Before undertaking any course of treatment please consult with your physician or other health care provider.
Share on Facebook