Do you feel like your thighs have become kind of bumpy? Do you want to make them look smooth again? In this article you will learn how to get rid of cellulite by following our 6 moves every day.
Cellulite can appear at any age; including school age, adolescence and adulthood. There is an opinion that cellulite is associated with poor blood circulation but it is not. Cellulite is simple fat that is deposited on the problem areas of our body.
Using our training programme, you can reduce cellulite and make your legs and hips look toned and smooth. It works on all lower body muscles allowing you to cut body fat and build a muscular frame. You should repeat each exercise 10-15 times. Before starting don't forget to do a warm-up and stretch.
READ MORE: 2-month workout challenge to get you slim
#1. Single Leg Bridge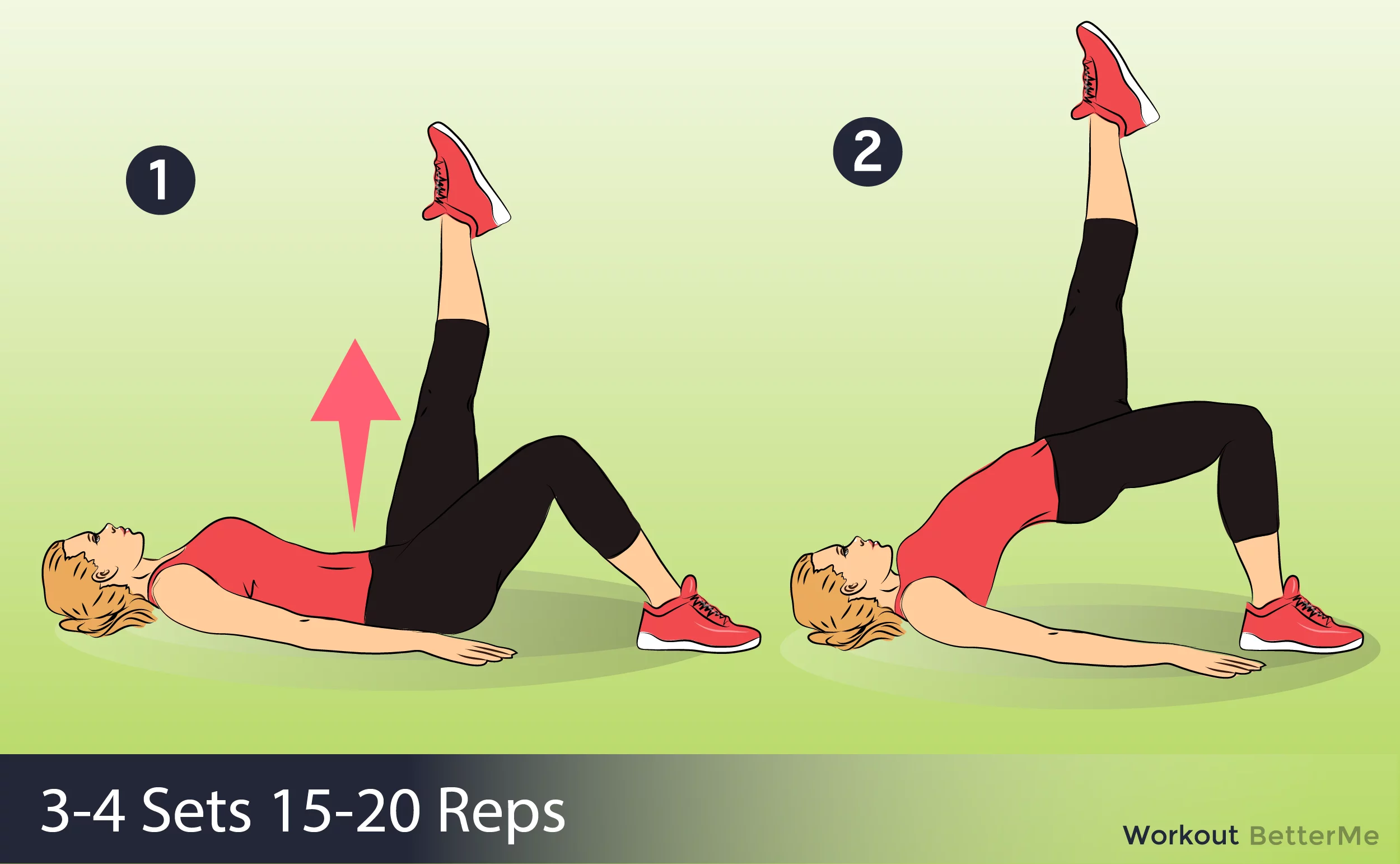 - Lie on an exercise mat with your knees bent so that your feet are flat on the floor. Raise one leg off the floor and bend your knee up towards your chest. Yhis is the start position.
- Perform the exercise by pushing down through your other heel and pushing your hips up, raising your glutes off the mat. Continue until your hips are in a straight line with your torso. Hold for a count of one.
- Return to the start position by lowering your hip to the floor. Complete all the repetitions for one set before changing legs.
#2. Step-Ups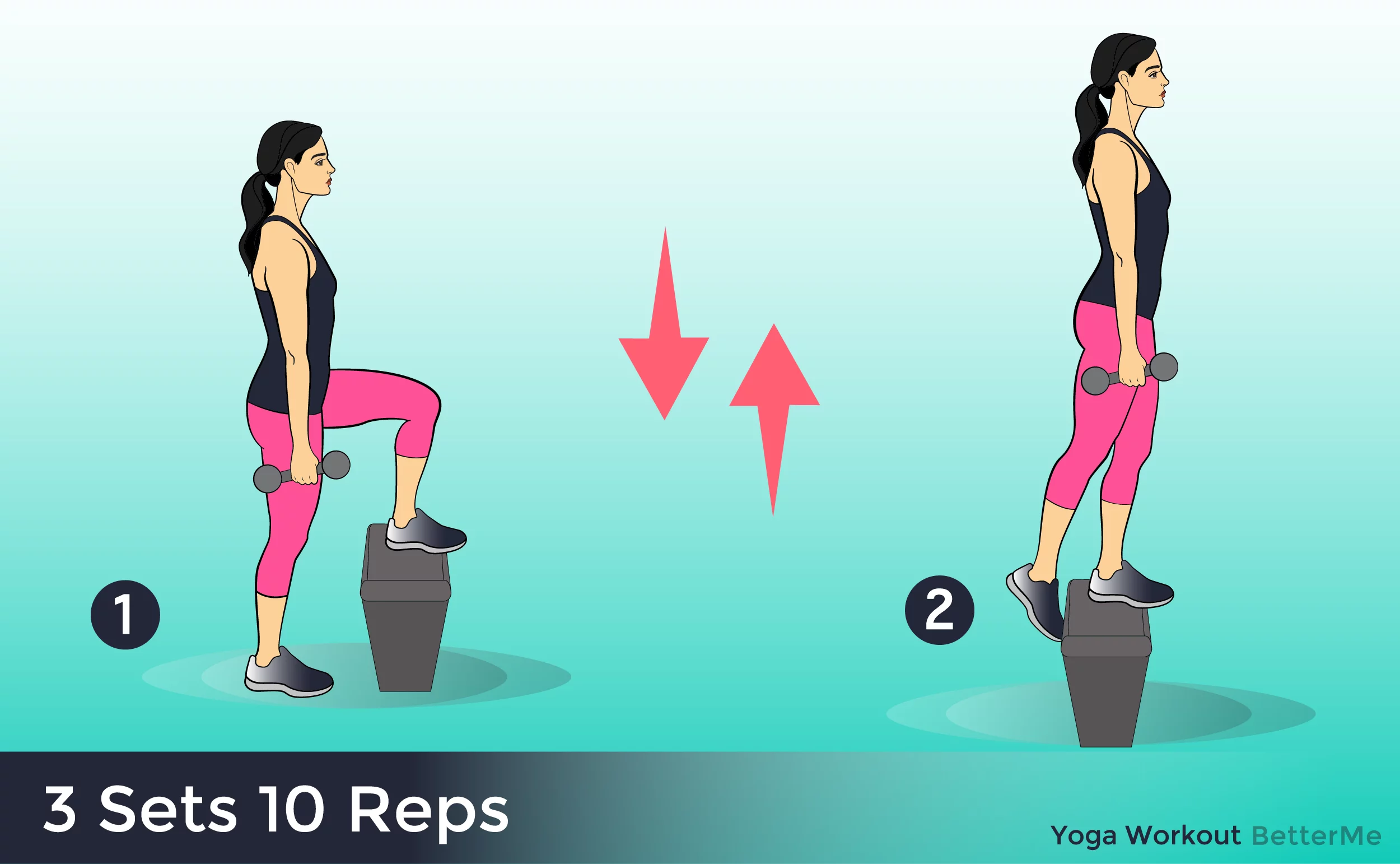 READ MORE: Desire of flat stomach? This 10-minute workout can help you sculpt 10-pack abs
- Place a bench in front of you. Hold a pair of dumbbells and stand facing the bench. Brace your core and keep your gaze straight ahead.
- Bring your right knee up and step up on to the bench. Placing all of the effort in your right leg, bring your body up into a standing position on the bench.
- Slowly lower yourself to the starting position and switch legs.
#3. Jump Squats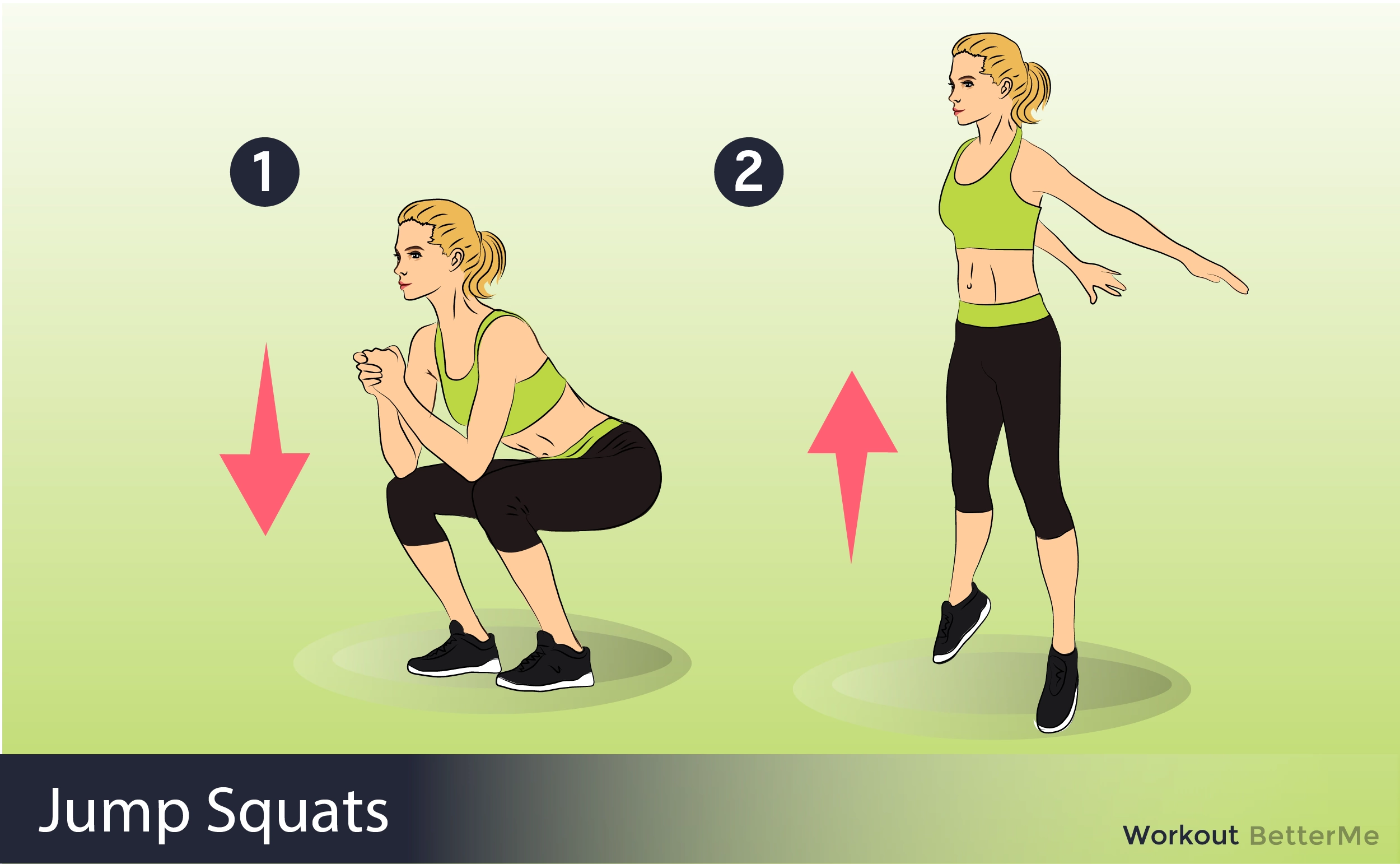 - Stand with your feet hip width apart. Your toes should be pointing straight ahead or only slightly outward. Cross your arms in front of your body, place your hands behind your head or at the sides of your head.
- Keep your weight on your heels and bend your knees while lowering your hips towards the ground as if you are sitting down on a chair. Keep your back straight at all times. Continue until you feel a slight stretch in your quadriceps. Do not let your knees extend out beyond the level of your toes.
- Pause for a count of one. In an explosive movement, drive down through your heels pushing yourself up of the floor with your quads. At the same time extend our arms out above you. Land with your knees slightly bent to absorb the impact.
#4. Bridge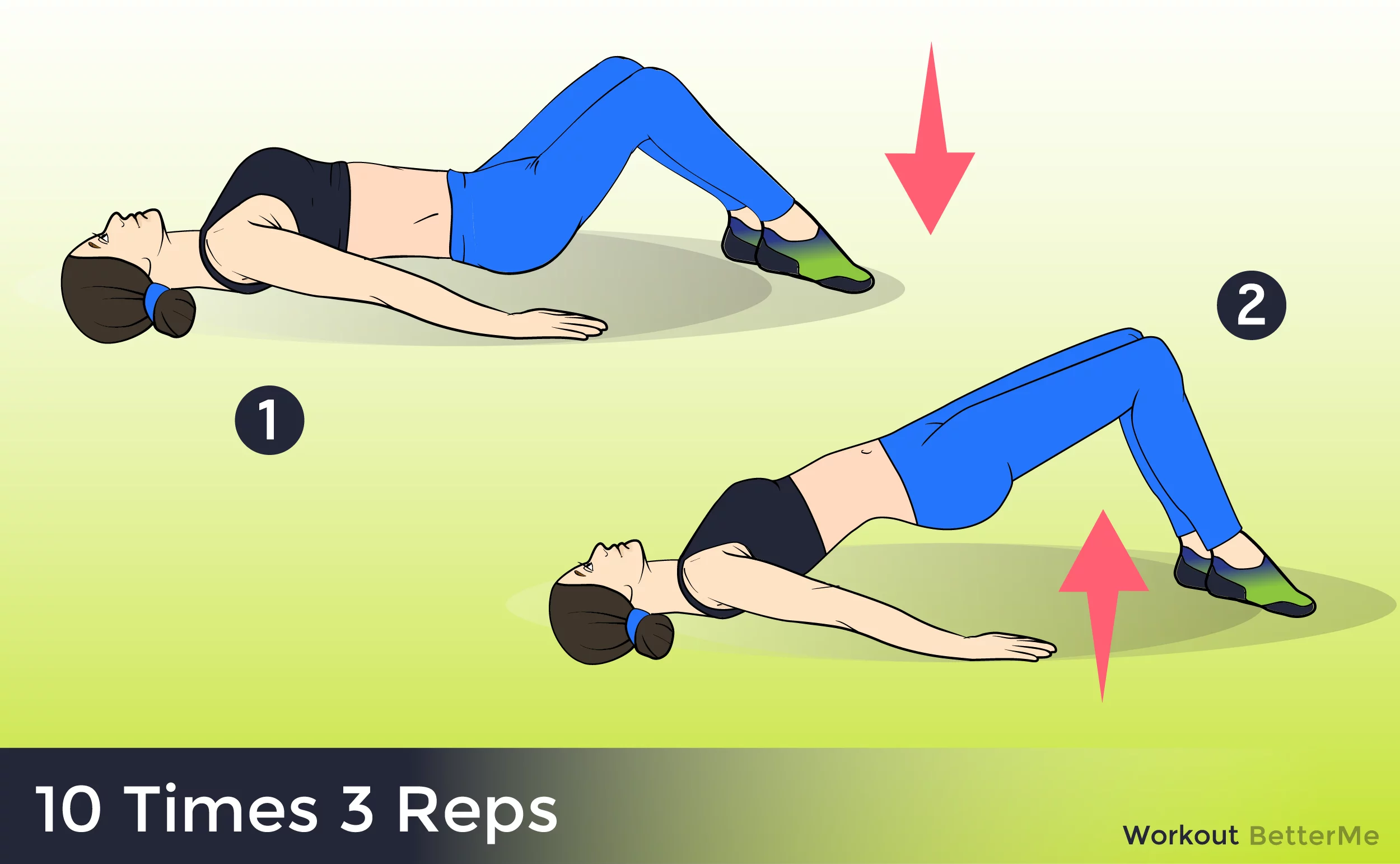 - Lie on an exercise mat with your knees bent so that your feet are flat on the floor. Keep your back straight. Place your hands out to your sides palms flat for stability.
- Raise your glutes off the floor by extending your hips upward while pushing down through you heels.
- Continue until your back, hips and thighs are in a straight line. Hold for a count of one. Return to the start position by lowering your hips back to the floor.
#5. Lying Leg Raises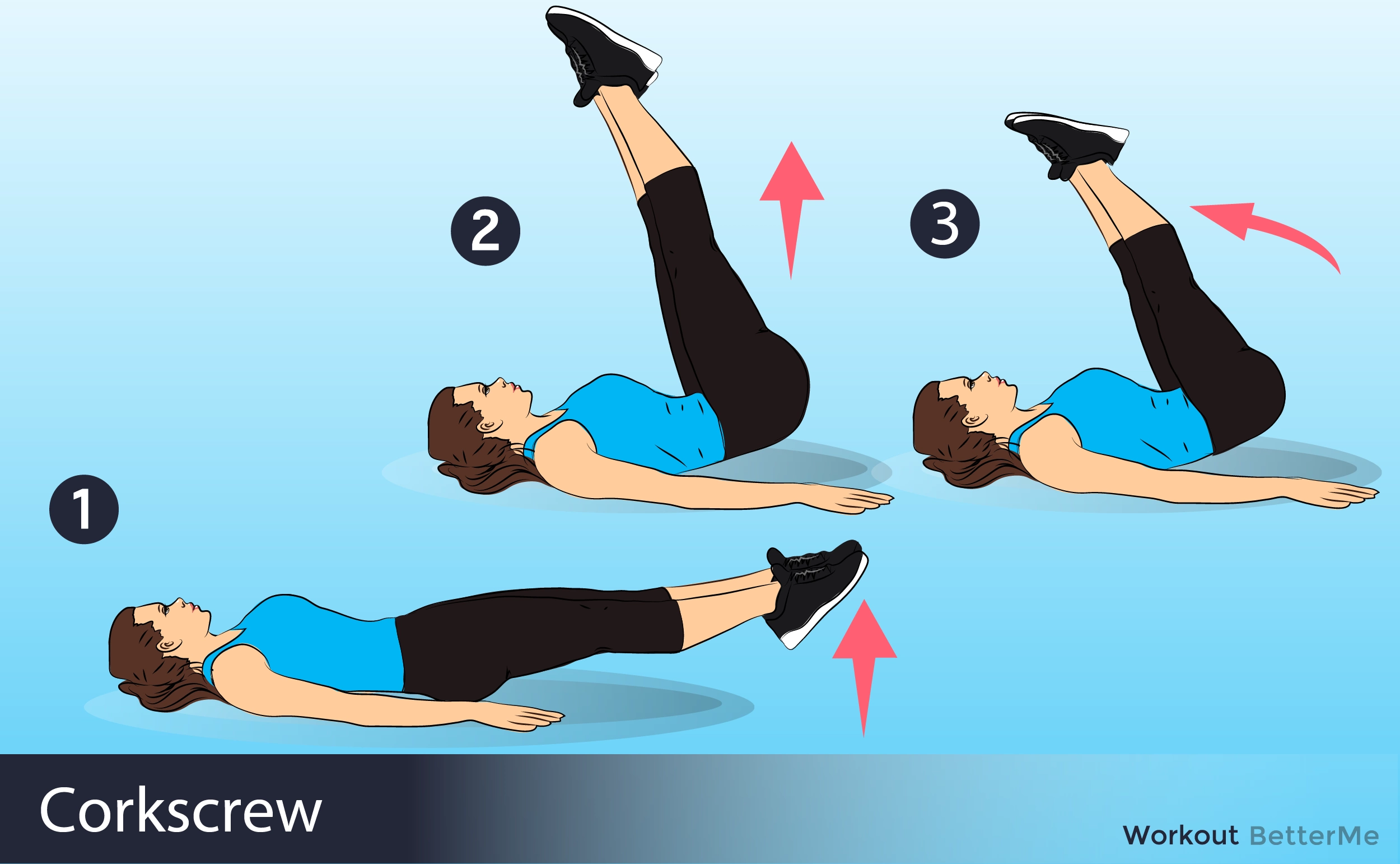 - Lie on your back on a mat with hands under your lower buttocks on either side to support your pelvis.
- Legs straight out in front of you, ankles together and feet slightly off the floor. Keep your knees straight and raise your legs by flexing the hips until they are completely flexed.
- Return to starting position.
#6. Bicycle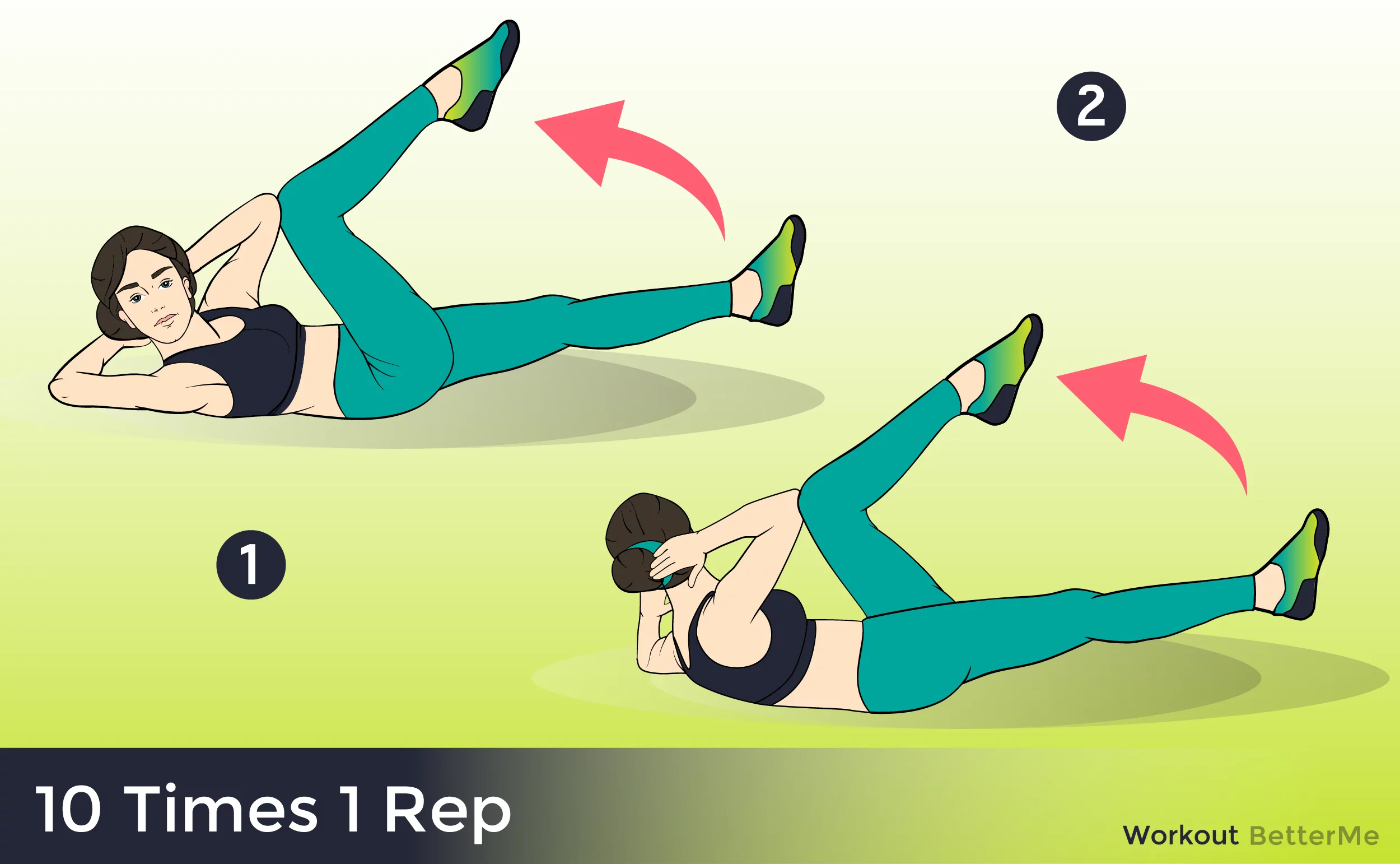 - Lie flat on an exercise mat on the floor keeping your lower back straight with no arching of your spine and with your knees bent and feet flat on the floor. Place your hands lightly on the sides of your head. Curl your torso upwards so your shoulders are slightly raised off the floor..
- Raise your knees until your thighs are at a right angle to the floor and your calves are parallel to the floor. This is the start position. Slowly move your legs in a pedaling action as if you are riding a bicycle.
- As you do so, exhale and bring your opposing elbow close to each knee by crunching to one side. Left elbow to right knee. Right elbow to left knee. After each crunch, return to the start position inhaling as you do so. Without pausing, repeat the movement to the other side. Repeat without pausing for the desired number of repetitions to each side.
#7. Fire Hydrants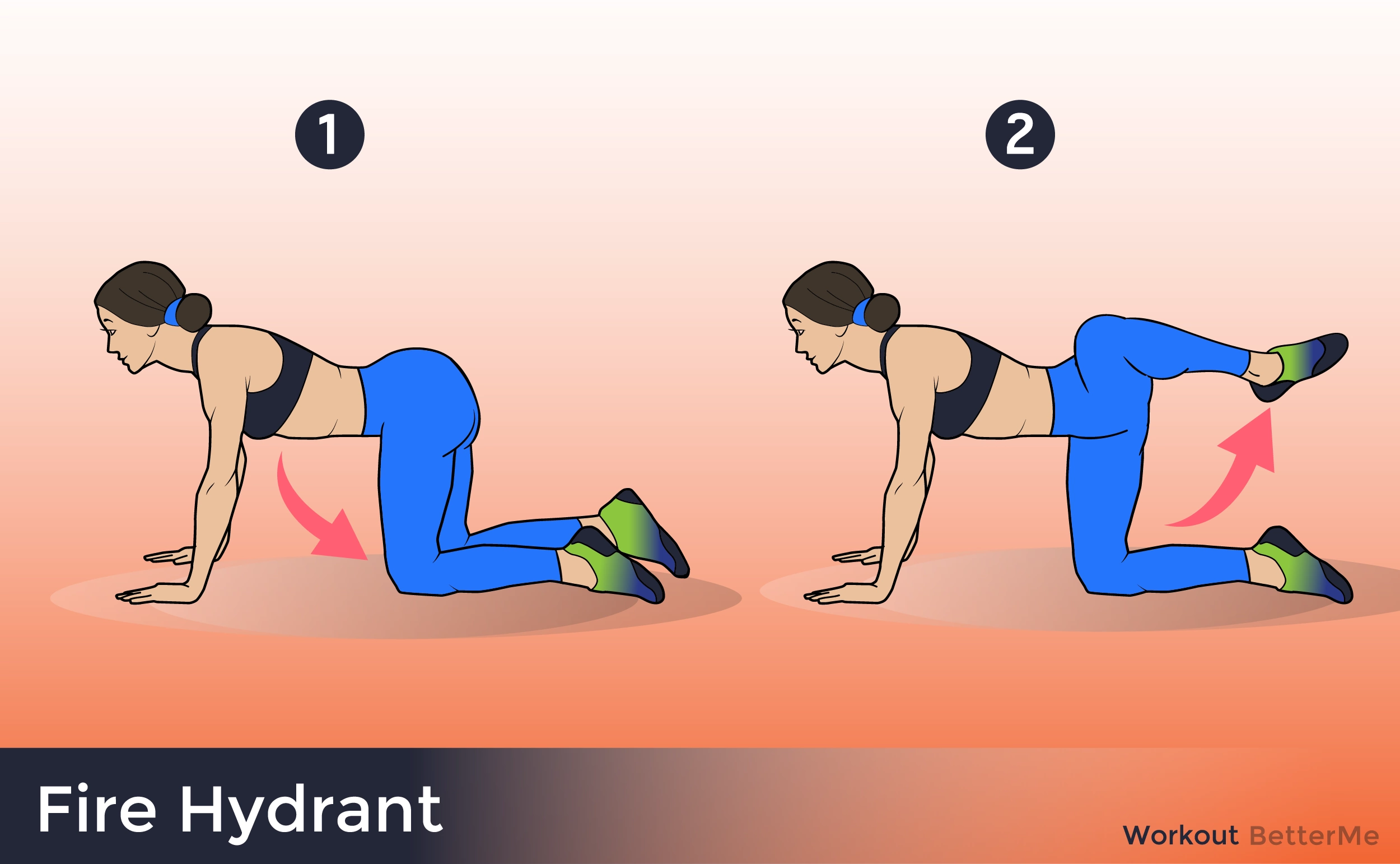 - Position yourself on all fours on a mat with your palms flat and shoulder-width apart. Place your knees hip-width apart and bend them at a 90 degree angle. Try to relax your core so that your back and abs are in a natural position.
- Maintain this posture as you raise your right knee and bring it as close to your chest as you can. Now raise your right thigh out to the side, keeping the hips still.
- Kick your raised leg straight back slowly until it is in line with your torso. Reverse the movement to return to the starting position.
#8. Resistance Band Glute Kickbacks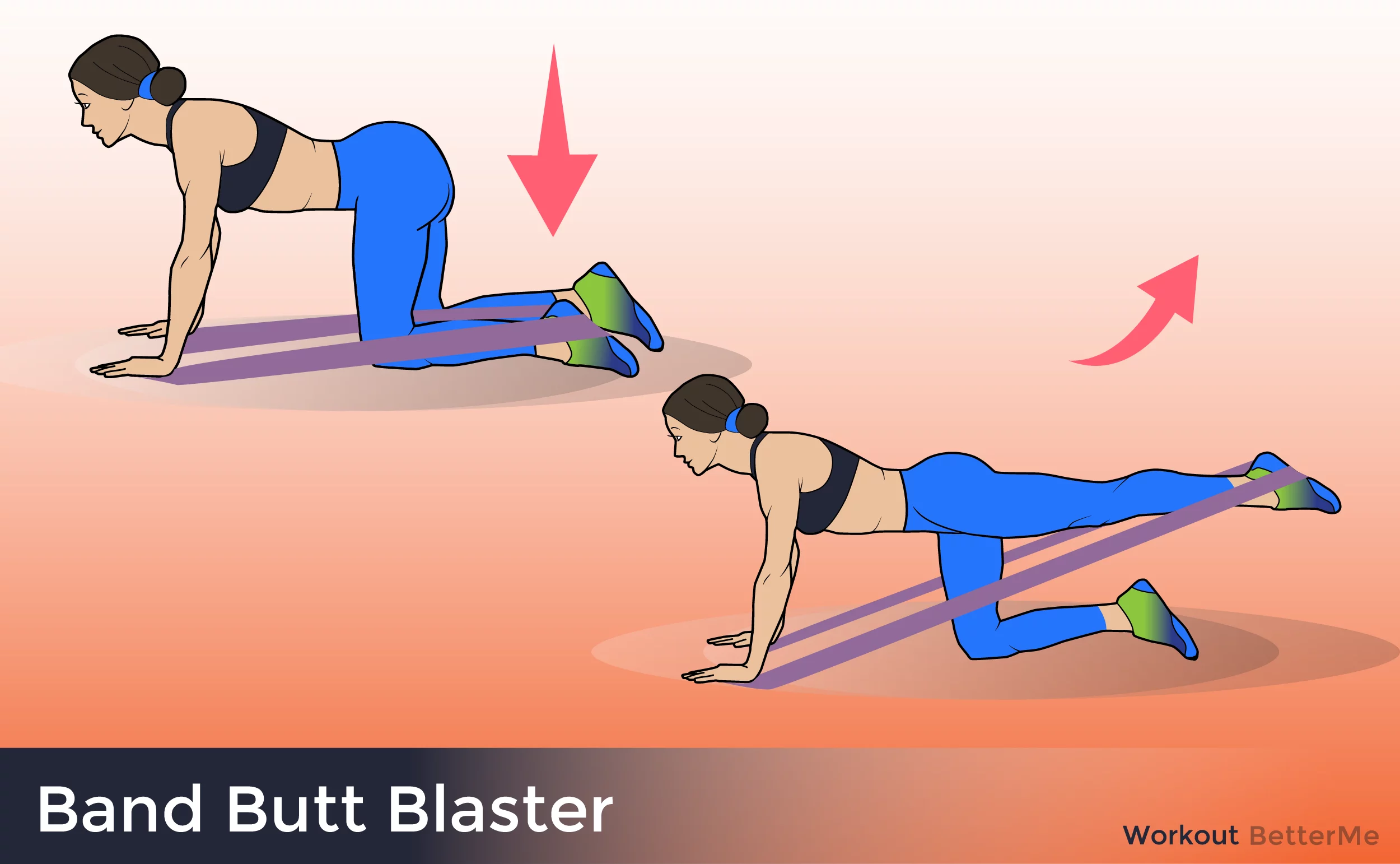 - Position yourself on the ground supporting yourself on your hands and knees. Hold the handles of a resistance band in each hand. Hook the middle of the band on your left foot, pushing it back until the slack tightens.
- Brace your core and maintain a flat back as you kick your left leg back and up.
- Slowly return your leg to the starting position, not allowing the knee to touch the ground. Repeat the movement.
READ MORE: 8 effective core exercises for women over 40 years old
The BetterMe Team is by your side throughout your fitness journey! Stay motivated and you can achieve your goals. If you are struggling with your motivation have a look at one of our many articles for inspiration.
Help us support and motivate those you love by sharing this article with them and let us know what you think in the comments below.
This article is solely for informational purposes and is not intended to provide medical advice. BetterMe doesn't take responsibility for any possible consequences from any treatment, exercise, diet, application of medication or any similar action which results from reading or following the information contained in this article. Before undertaking any course of treatment please consult with your physician or other health care provider.
Share on Facebook