Do you ever dream about having strong and flat abs? If the answer is yes, then these chair workouts are made just for you! It can be really hard to time and energy for getting to the gym, as work and family can take up too much time.
BetterMe App helps women achieve their body goals with ease and efficiency by helping to choose proper meal plans and effective workouts. Start using our app and you will see good results in a short time.
That is the reason why you do boring crunches in the rare seconds of your free time and these don't seem to be working. If you want to get a flat belly, you should perform exercises other than crunches, as these can get boring and lead to back problems.
Crunches are not the best way to get a beautiful body. We offer you options such as chair workouts that will provide a fun workout without leading to injuries. These exercises will help you to get tight and sexy abs and keep them in good shape!
READ MORE: 5 exercises to avoid stubborn double chin
#1. Squats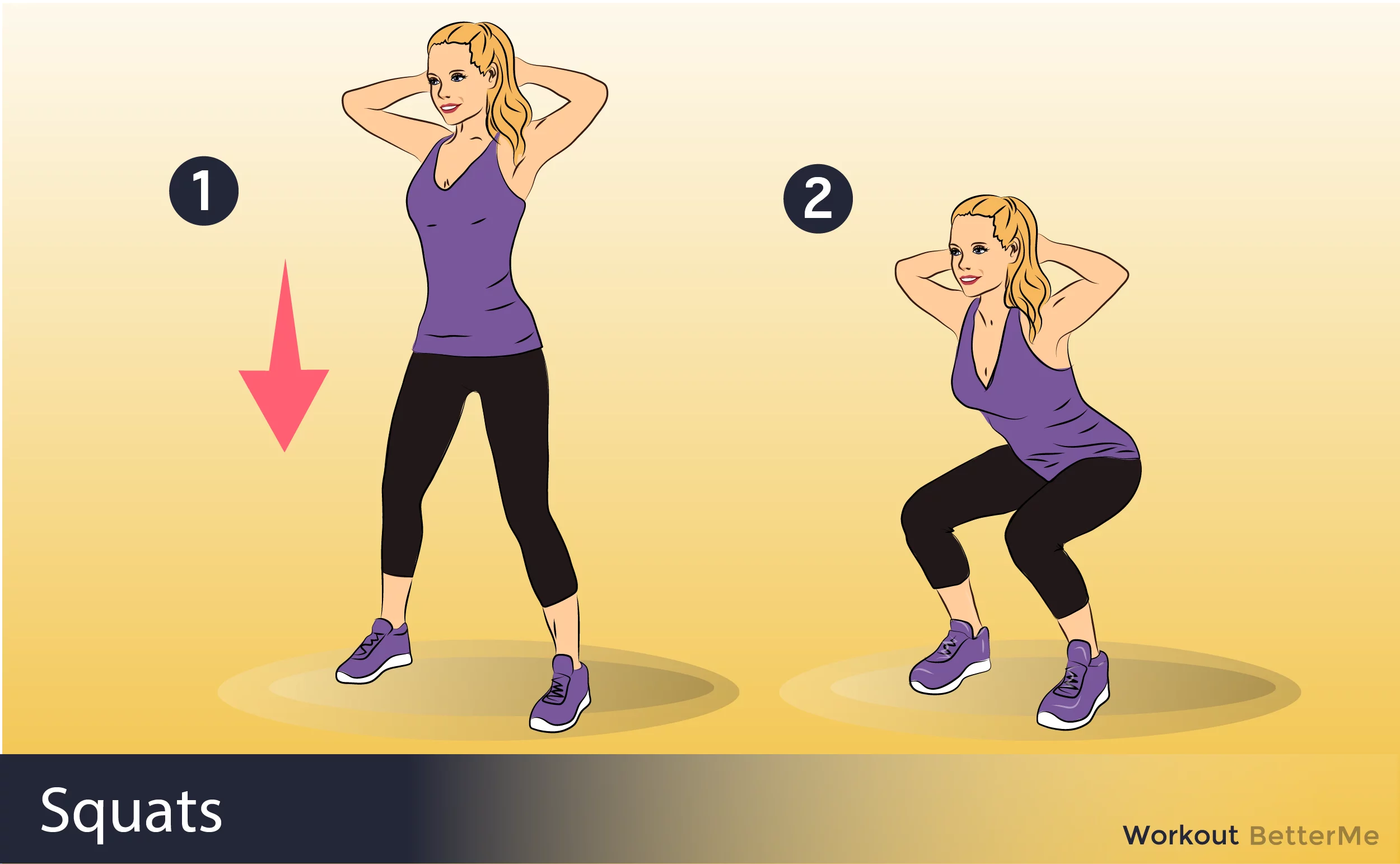 - Place your feet at shoulder width apart while keeping your chest up and your abdominals braced.
- Begin the movement by swinging your arms up towards your shoulders. At the same time, bend at the knees and drive your hips back like you're sitting in a chair.
- Once your upper thighs are parallel with the ground, pause, then drive your hips forward to return to the starting position.
#2. Push-Ups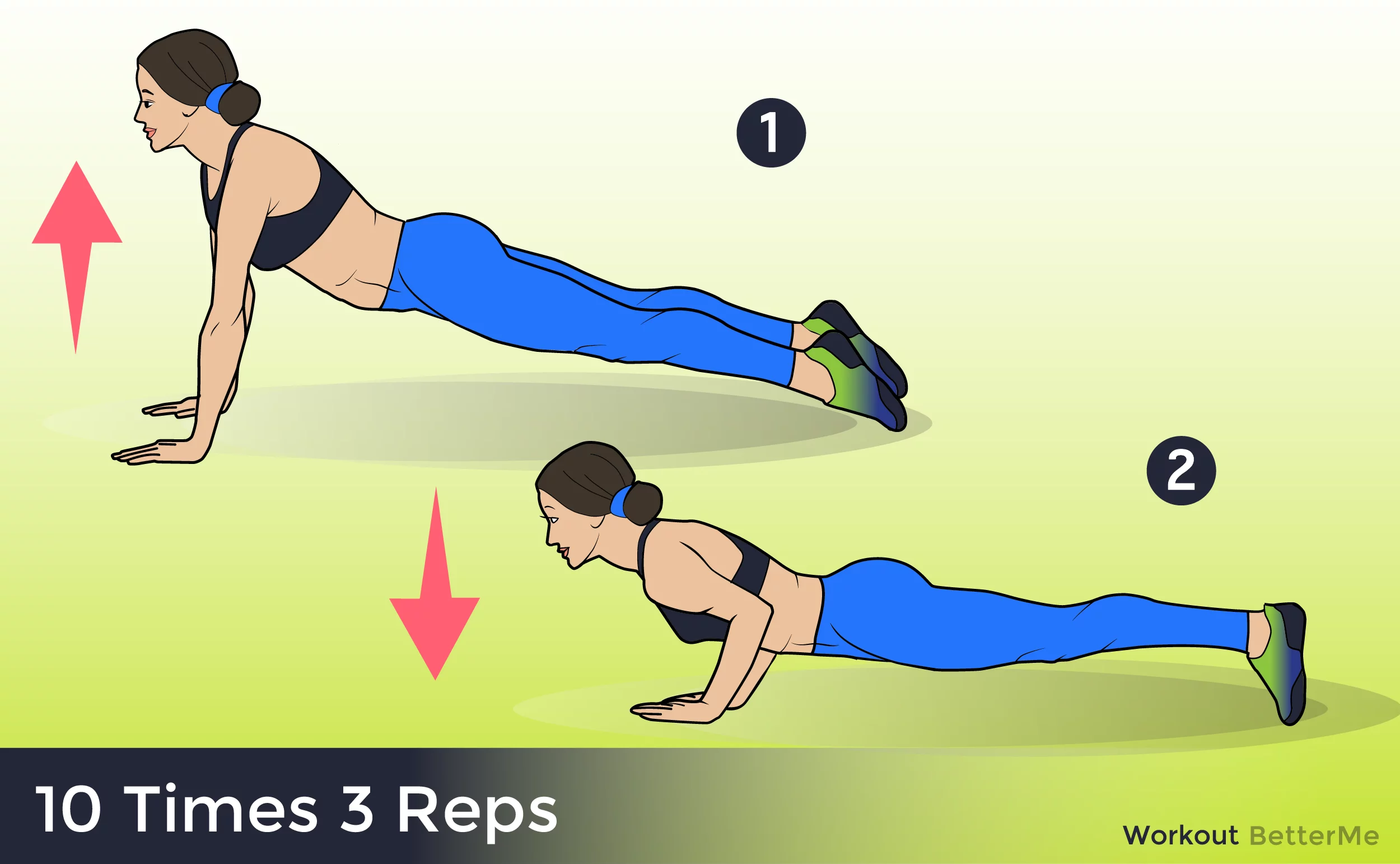 READ MORE: 3 effective exercises to tone your arms without weights
- Get into position by placing your hands flat on the floor, directly below your shoulders. Extend your legs out behind you, with only your toes and balls of your feet touching the floor.
- Hold your body up and keep your back straight by tightening your abdominal muscles. Your neck and head should be bent slightly back. Lower your chest towards the ground by bending your elbows until your chest is just above the ground or you feel a stretching of your chest and shoulders. Hold for a count of one.
- Press upwards from your chest and shoulders, straightening your arms as you return to the starting position. Hold for a count of one. Repeat.
#3. Jumping Jacks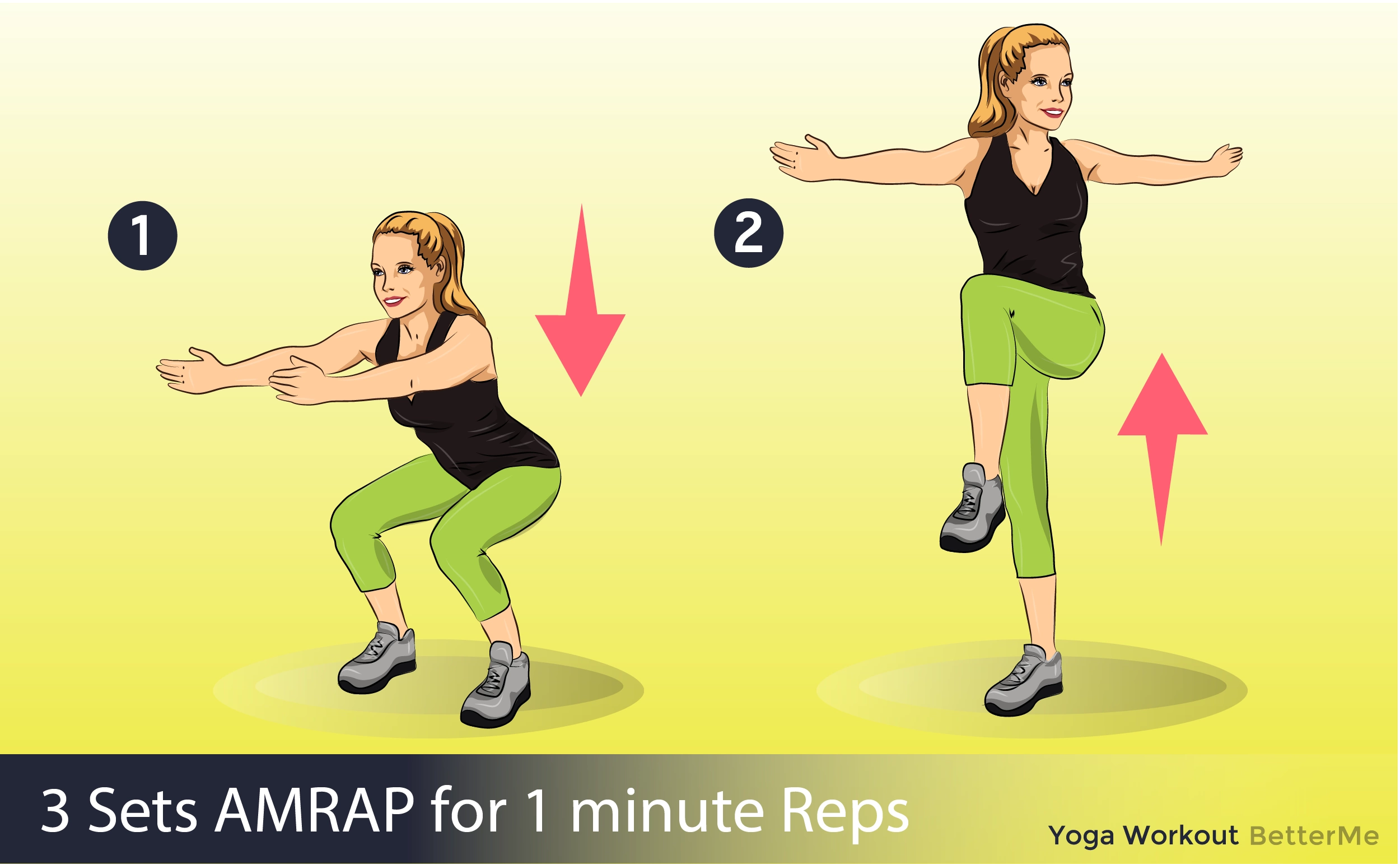 - Stand with your feet together, arms fully extended with your hands by your sides. This is the start position. Bend your knees slightly then straighten and push through the balls of your feet while straightening your your knees to jump up spreading your legs to wider than hip width apart.
- As you do so, raise both arms out and up in a smooth arc until your hands meet above your head. As you return to the ground, bring your feet together and your hands back to your sides with your arms fully extended.
- Continue without pause for the desired amount of time or repetitions.
#4. Crunches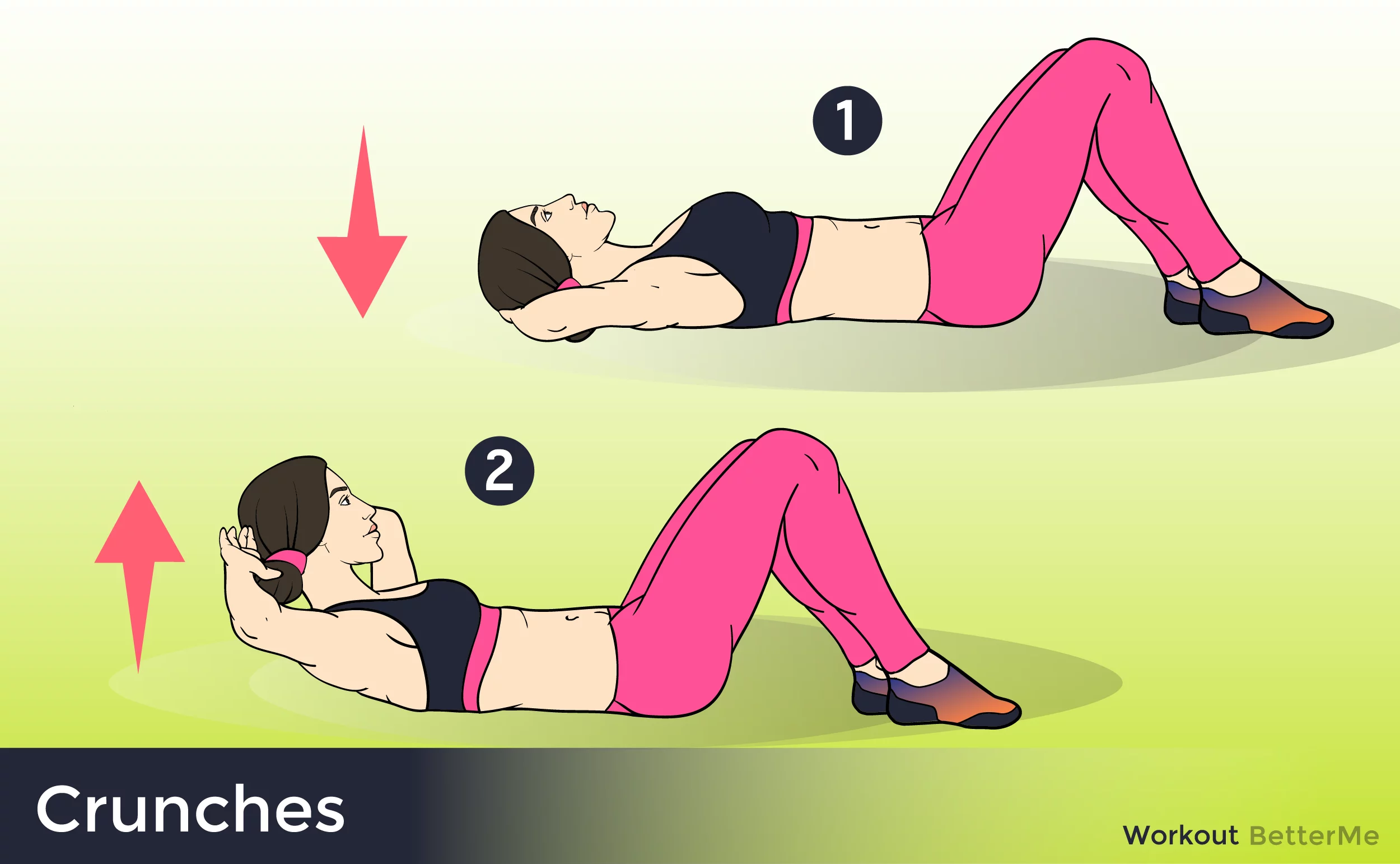 - Lie flat on your back with your feet flat on the ground, with your knees bent at 90 degrees. Alternatively, you can place your feet up on a bench a few inches apart with your toes turned inwards and touching.
- Place your hands lightly on either side of your head. Keep your elbows in so that they are parallel to your body. Push your back down flat into the floor to isolate your abdominal muscles. Gently curl your shoulders forward and up off the floor.
- Continue to push down into the floor with your lower back. Raise your shoulders about four to six inches only. Hold and squeeze your abdominal muscles for a count of one. Return to the start position in a smooth movement.
#5. Lunges with Dumbells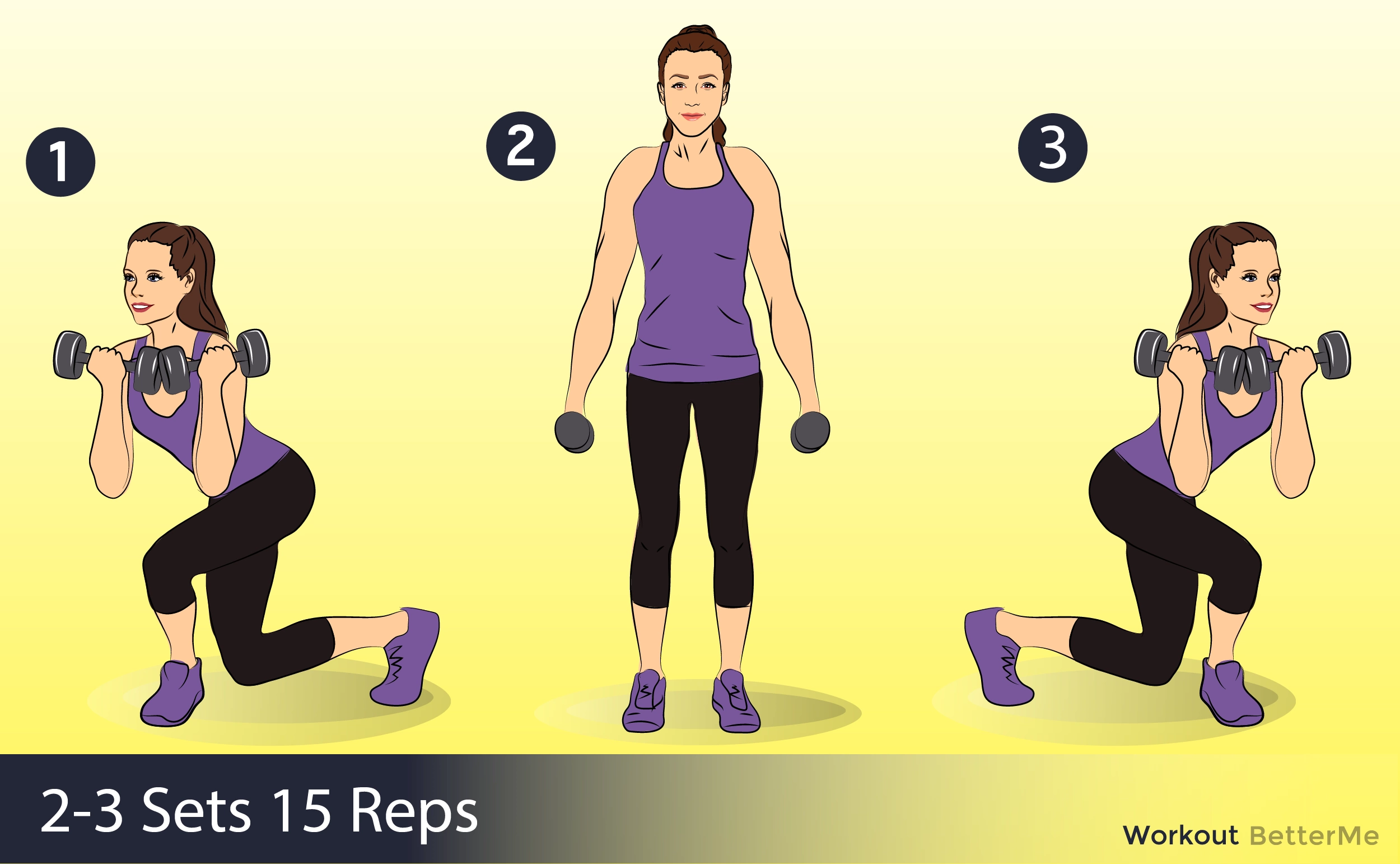 - Standing with a braced core and flat back, bring your hands together at chest height. Position your feet to be at hip-width.
- Beginning with the right foot, step backward and across your left foot. Simultaneously, bend the left knee and drop it towards the ground.
- Stop when the front right knee is parallel with the ground. Push off the ground with your right foot and return to the starting position.
#6. V-Ups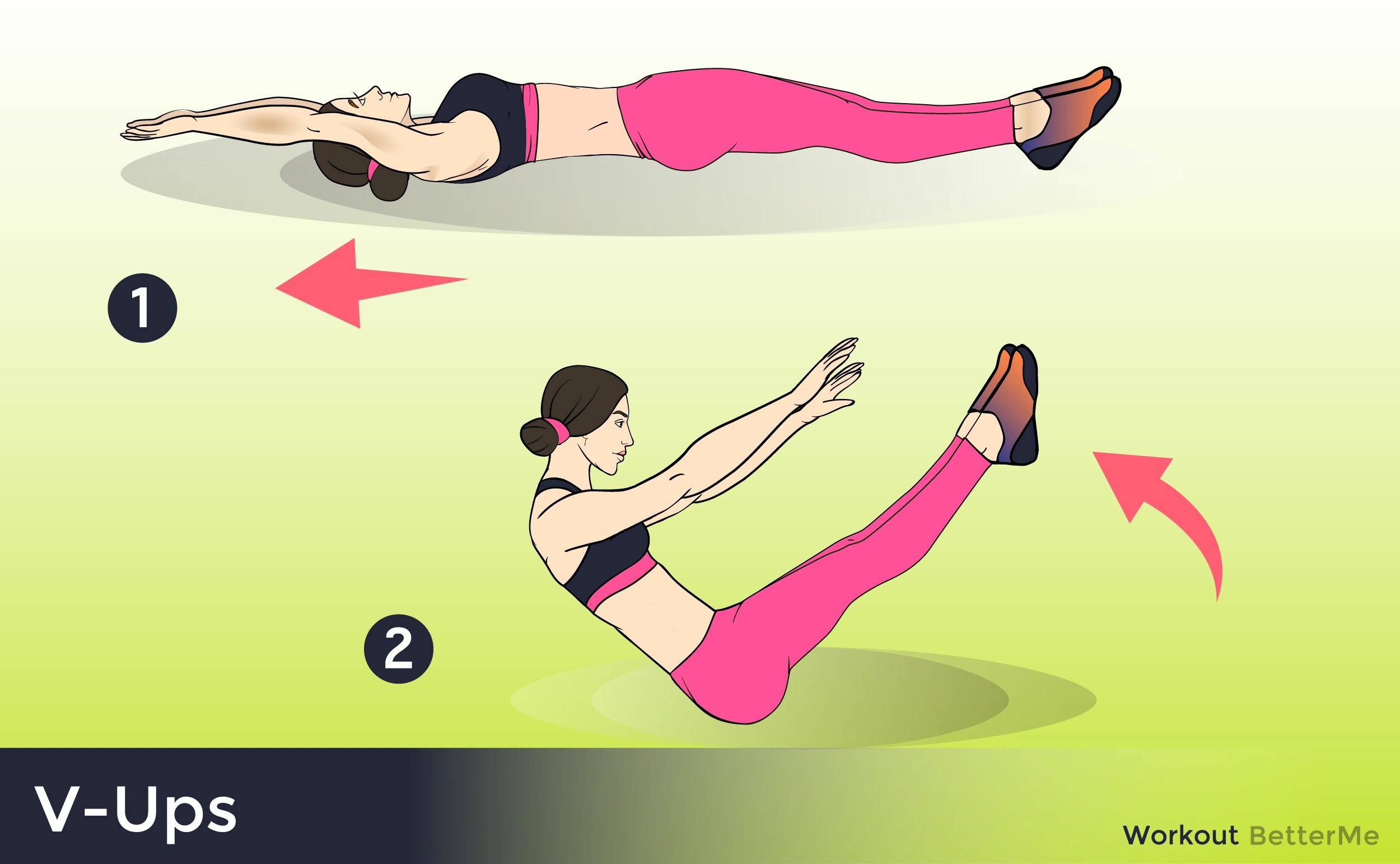 - Lie flat on an exercise mat, extending your arms straight back behind your head. Fully extend your legs also.This is the start position. Bend at your waist and at the same time, raise your legs and arms to meet in a closed jackknife position. Exhale as you do this.
- At this point, your legs should remain fully extended at between 35-45 degrees from the floor. Your arms should be fully extended, parallel to your legs. Your upper body should be raised off the floor.
- Return to the start position by lowering your arms and legs back to the floor, exhaling as you do so. Repeat.
#7. Donkey Kicks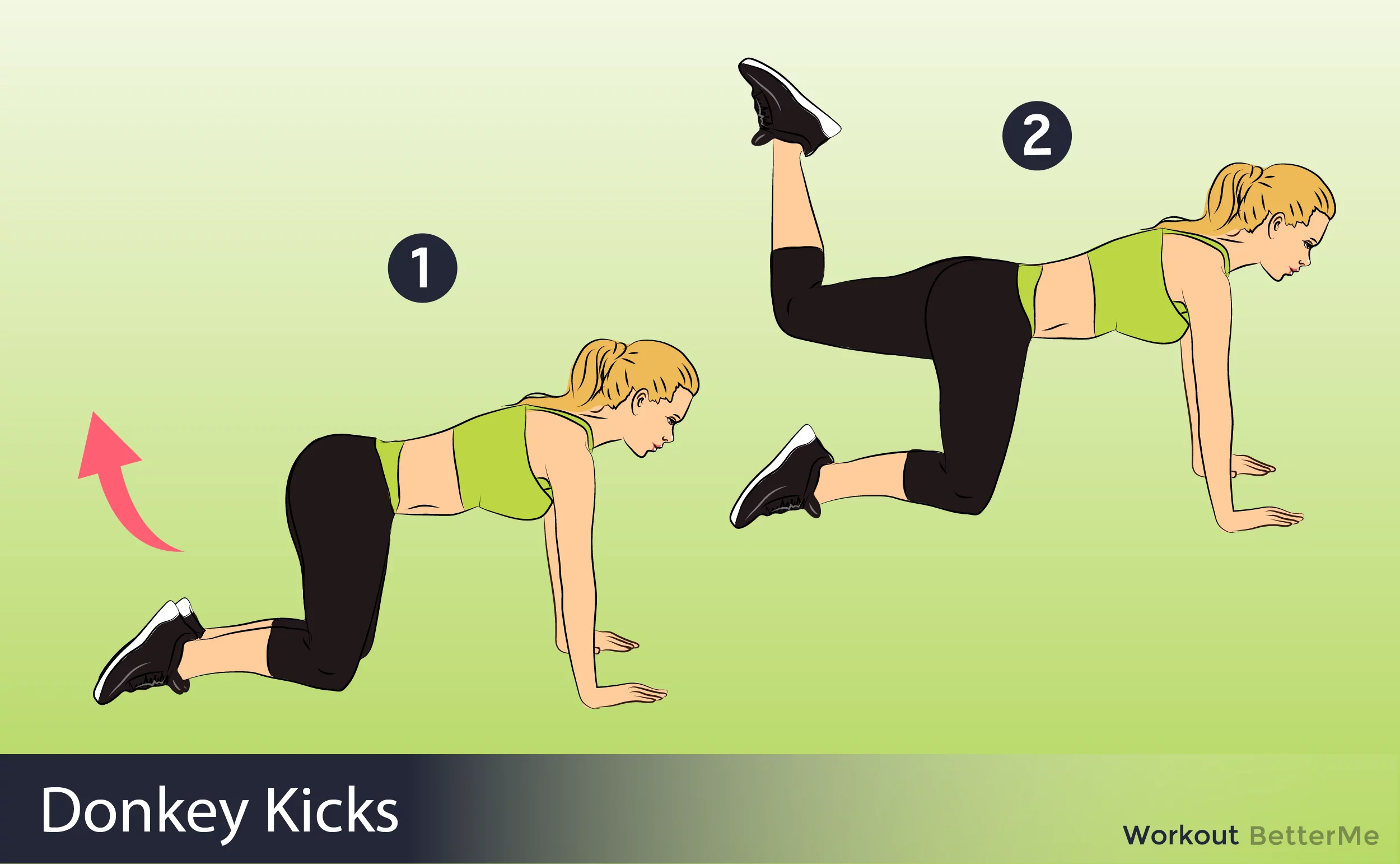 - Position yourself on all fours on a mat. Position your hands underneath your shoulders and place your knees under your hips.
- Keep your right knee bent at 90 degrees and flex the foot as you lift the knee until it is level with the hip.
- Lower the knee without touching the floor and repeat the lift. Once you've completed the reps on the right leg, switch legs.
#8. Windshield Wiper Abs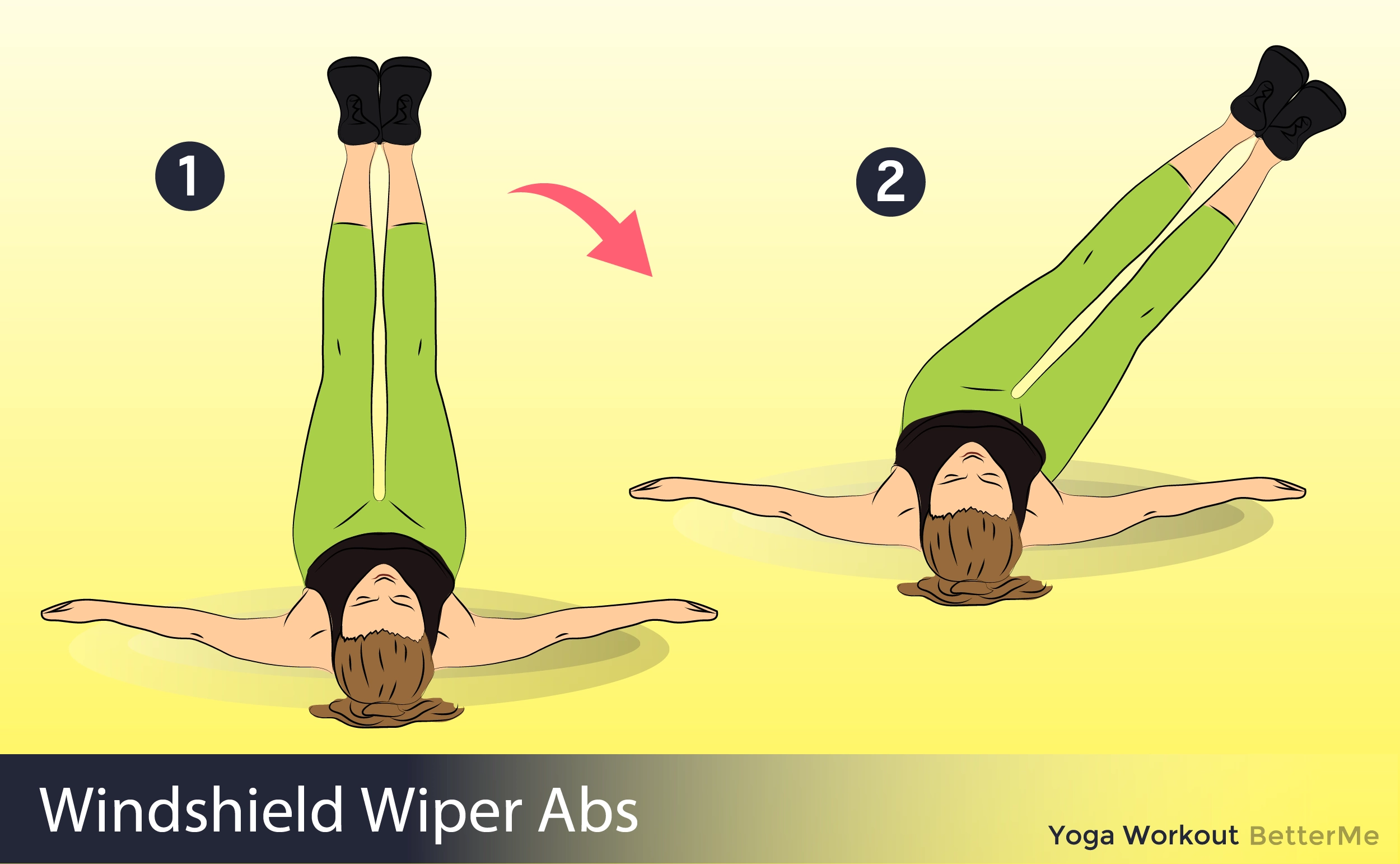 - Lie on an exercise mat, keeping your back flat with no arching of the spine. Extend your arms out beside you at shoulder level, with your palms pressed firmly to the floor. Your upper body should form a "T" shape.
- Raise your feet off the floor by bending your hips and knees to 90 degree angles. This is the start position. As you exhale, rotate both your thighs to one side until the outer thigh touches the ground or until you feel a stretch in your abs and lower back.
- Pause briefly, then rotate to the other side without pausing in the start position. When you have rotated to both sides, that is one repetition. Repeat for the desired number of repetitions.
BetterMe App helps you increase your self-esteem and achieve your personal goals by opening the doors to the world of fitness and healthy lifestyle. Try it now to see the best version of yourself as soon as possible.
READ MORE: 10 things you may not know about trying to get a flat belly after age 40​!
The BetterMe Team is by your side throughout your fitness journey! Stay motivated and you can achieve your goals. If you are struggling with your motivation have a look at one of our many articles for inspiration.
Help us support and motivate those you love by sharing this article with them and let us know what you think in the comments below.
This article is solely for informational purposes and is not intended to provide medical advice. BetterMe doesn't take responsibility for any possible consequences from any treatment, exercise, diet, application of medication or any similar action which results from reading or following the information contained in this article. Before undertaking any course of treatment please consult with your physician or other health care provider.
Share on Facebook