When it comes to workouts these days the first thing that comes to your mind is a butt workout. Each and every lady these days is obsessed with getting the perfect butt. One of the best exercises to shape your butt is considered to be squatting. Squats are super effective, there is no doubt about that, but what if repeating the same workout routine becomes boring and less effective?
Well, we may have a couple of secrets to share with you. There is nothing complex about these 8 exercises we are going to talk about today but we are 100% sure that you will notice a faster result apart from having some fun and fresh experiences. So let's have a look, shall we?
READ MORE: We really fall in love with 3 people during our lifetime
#1. Burpee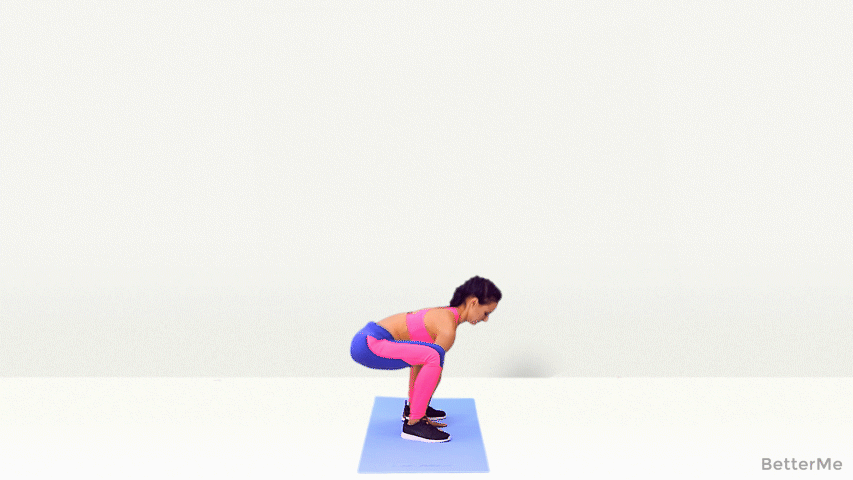 - Begin in a squat position with hands on the floor in front of you.
- Kick your feet back to a pushup position.
- Immediately return your feet to the squat position.
- Leap up as high as possible from the squat position.
#2. Frog Hops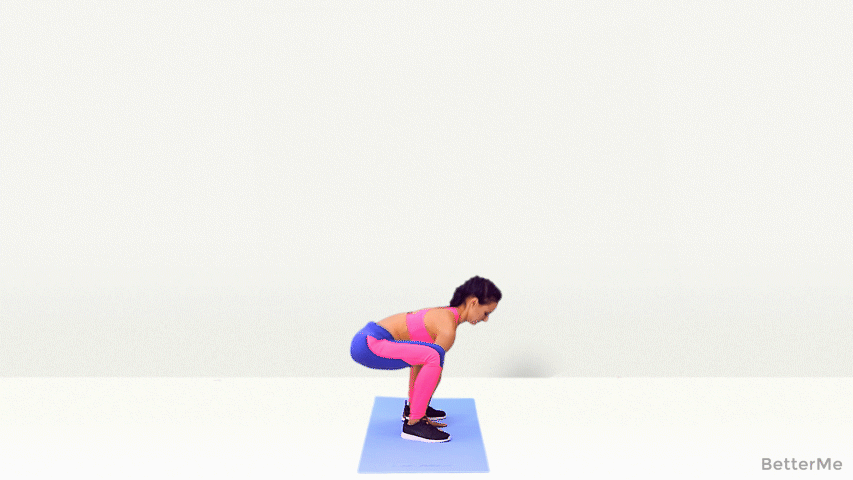 READ MORE: 6 female behaviours that men adore
- Stand with your hands behind your head, and squat down keeping your torso upright and your head up. This will be your starting position.
- Jump forward several feet, avoiding jumping unnecessarily high. As your feet contact the ground, absorb the impact through your legs, and jump again. Repeat this action 5-10 times.
#3. Jump Squats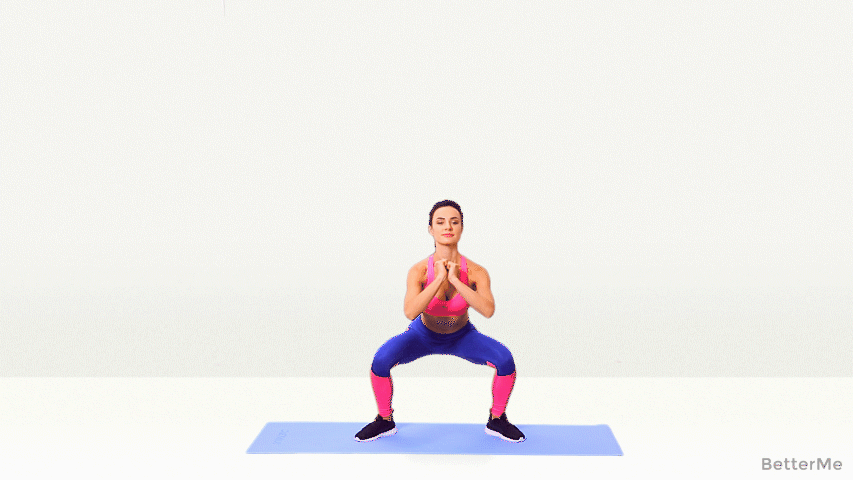 - Stand with your feet shoulder-width apart.
- Start by doing a regular squat, then engage your core and jump up explosively.
- When you land, lower your body back into the squat position to complete one rep. Land as quietly as possible, which requires control.
#4. Star Jumping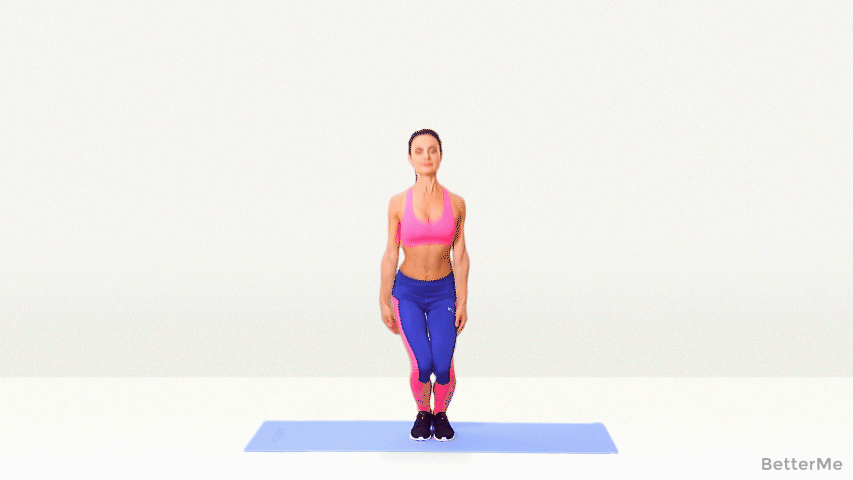 - Stand with your feet together, arms fully extended with your hands by your sides. This is the start position.
- Bend your knees slightly then straighten and push through the balls of your feet while straightening your your knees to jump up spreading your legs to wider than hip width apart. As you do so, raise both arms out and up in a smooth arc until your hands meet above your head.
- As you return to the ground, bring your feet together and your hands back to your sides with your arms fully extended. Continue without pause for the desired amount of time or repetitions.
#5. In & Out Squat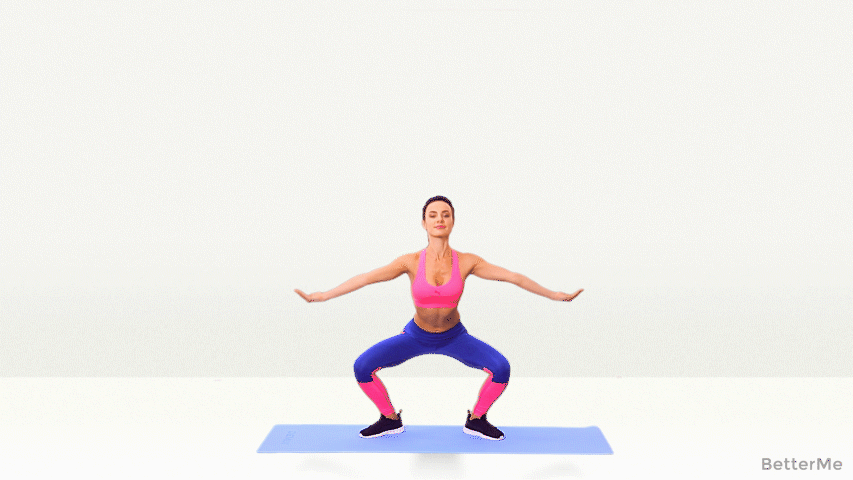 - Stand straight with your feet together and hands by your side. Jump up, spread your feet, bend your knees pressing your hips back, and open your arms.
- Push throug the hills to jump back up and bring both hands together above your head.
- Repeat until the set is complete.
#6. Swimming Pilates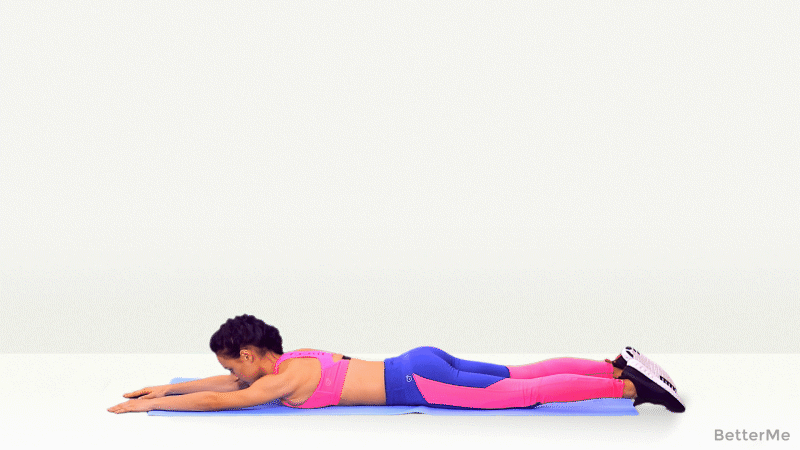 - Lie on your stomach with the legs straight and together.
- Keeping your shoulder blades settled in your back and your shoulders away from your ears, stretch your arms straight overhead.
- Pull your abs in so that you lift your belly button up away from the floor. - Reaching out from center, extend your arms and legs so far in opposite directions that they naturally come up off the floor. At the same time, get so much length in your spine that your head moves up off the mat as an extension of the reach of your spine.
#7. Backside-Boosting Lunge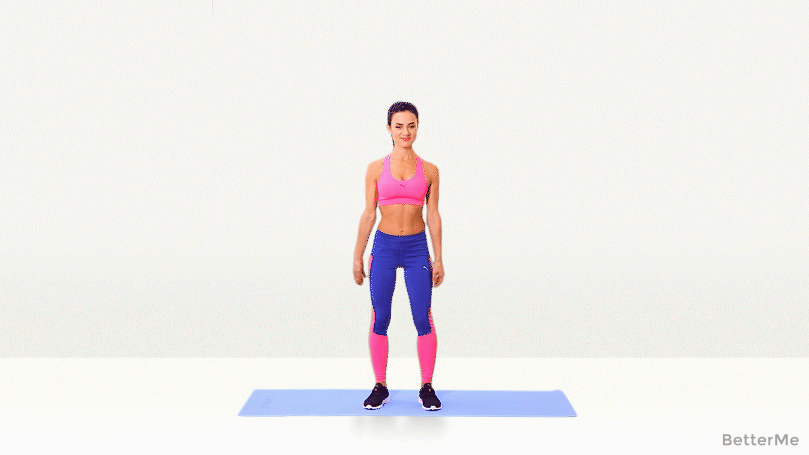 - Start from standing, and step your left leg behind you and to the right so your thighs cross, bending both knees as if you were curtsying.
- Make sure your front knee is aligned with your front ankle.
- Return to standing, and switch sides to complete one rep.
#8. Glute Kickback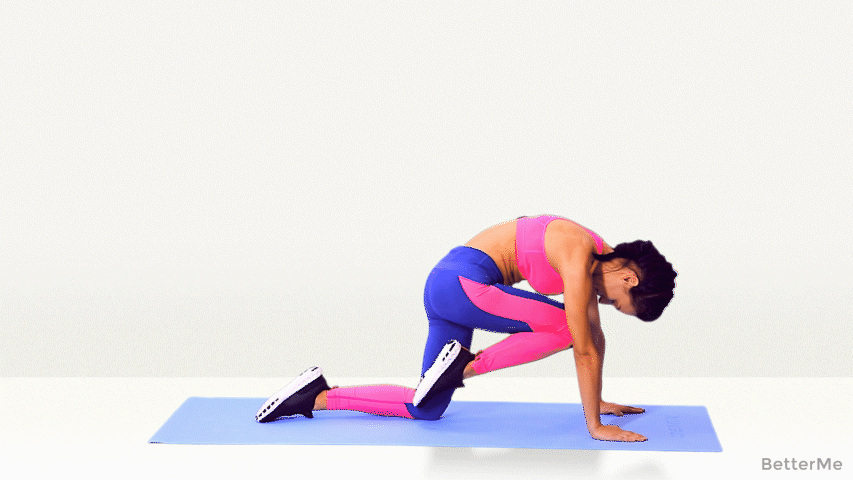 - Kneel on the floor or an exercise mat and bend at the waist with your arms extended in front of you (perpendicular to the torso) in order to get into a kneeling push-up position but with the arms spaced at shoulder width. Your head should be looking forward and the bend of the knees should create a 90-degree angle between the hamstrings and the calves. This will be your starting position.
- As you exhale, lift up your right leg until the hamstrings are in line with the back while maintaining the 90-degree angle bend. Contract the glutes throughout this movement and hold the contraction at the top for a second. Tip: At the end of the movement the upper leg should be parallel to the floor while the calf should be perpendicular to it.
- Go back to the initial position as you inhale and now repeat with the left leg.
READ MORE: 7 habits that make you unattractive
The BetterMe Team is by your side throughout your fitness journey! Stay motivated and you can achieve your goals. If you are struggling with your motivation have a look at one of our many articles for inspiration.
Help us support and motivate those you love by sharing this article with them and let us know what you think in the comments below.
This article is solely for informational purposes and is not intended to provide medical advice. BetterMe doesn't take responsibility for any possible consequences from any treatment, exercise, diet, application of medication or any similar action which results from reading or following the information contained in this article. Before undertaking any course of treatment please consult with your physician or other health care provider.
Share on Facebook