When we get older our body begins to change. The reason for this is metabolic disorders, hormonal changes, comfort eating, a sedentary lifestyle and poor nutrition. If you want to stay in shape you should carve out some time for yourself.
Our thirty-day fitness challenge was specially created for women over forty to help them improve their health and figures.These exercises are set up for different fitness levels so you can easily perform them without getting injured.
If you want to burn fat faster you should make changes in your diet and add three days of cardio to your week. Try to perform these exercises in a circuit without taking any big breaks. Listen to your body and do not be too hard on yourself.
READ MORE: Massage these 4 points can help you lose weight
#1. Tricep Dips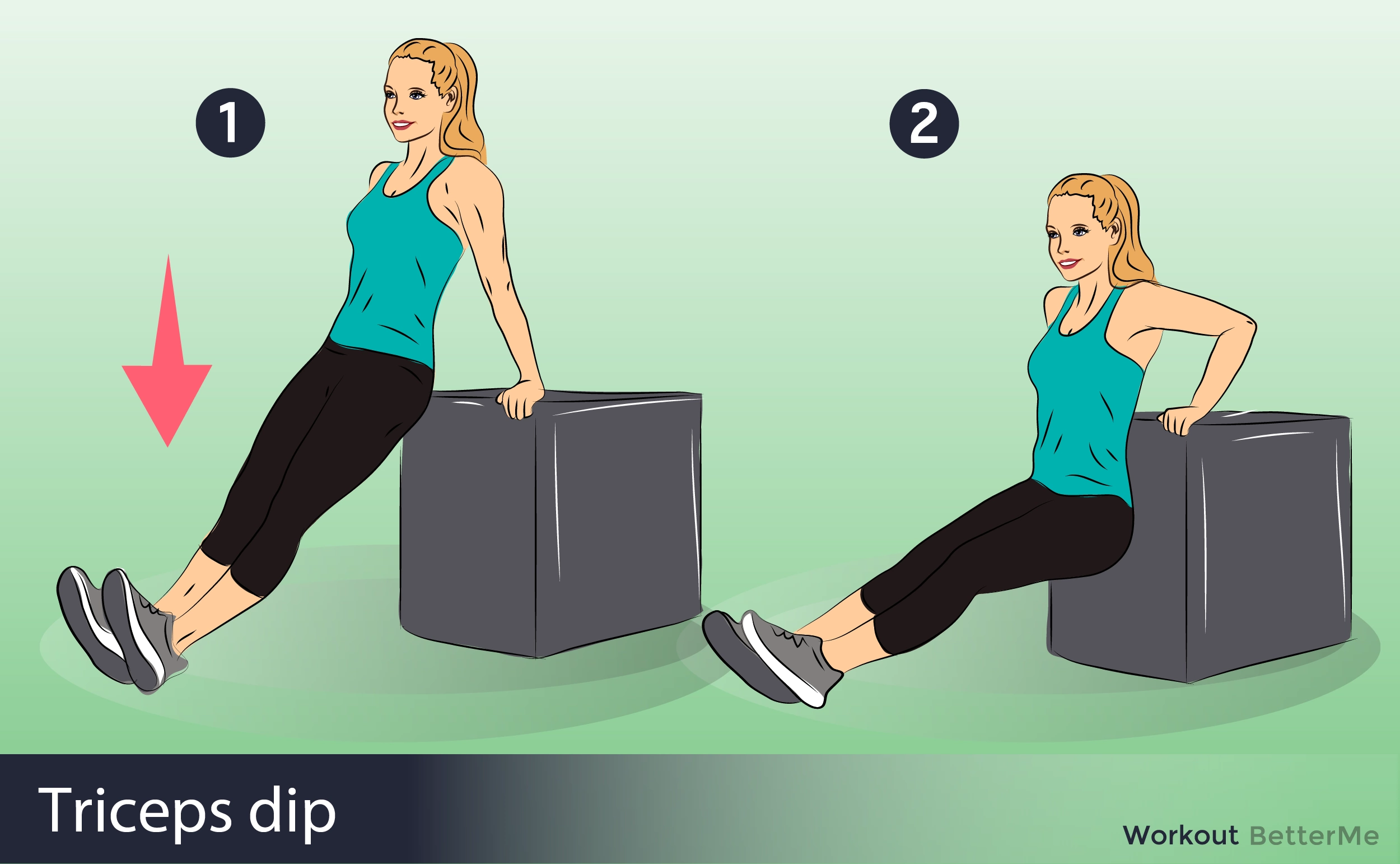 - Sit on a chair with your hands either next to your hips or slightly under the hips. Lift up onto your hands and bring your hips forward.
- Bend your elbows and lower your hips down, keeping shoulders down and hips close to the chair. Push back up but don't lock your elbows and repeat.
#2. Push-Ups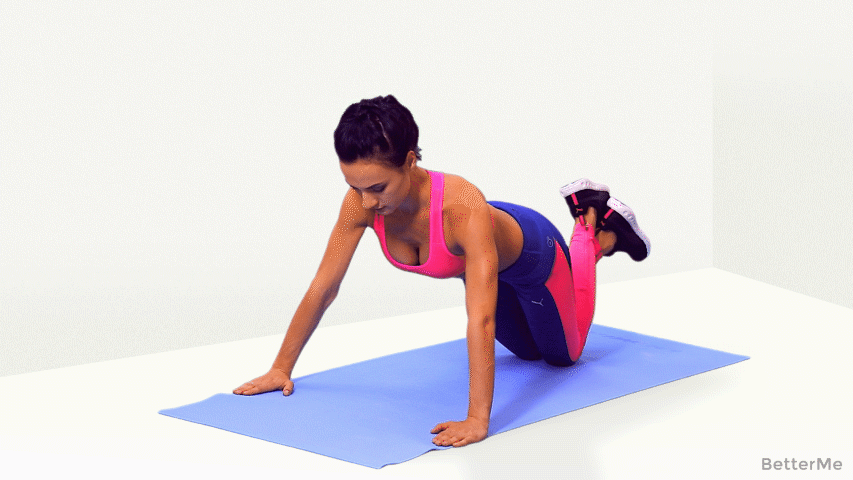 READ MORE: 10-minute whole body workout
- Come to the ground on your knees. Tighten your core and maintain a flat back. Position your hands on the ground in front of you, directly below your shoulders. Cross your feet in the back.
- Lower your chest towards the ground. Bend your elbows at a 60-degree angle until your chest is just above the ground. You should feel a stretch across your chest. Hold for a count of one.
- Without locking your elbows, push yourself back to the starting position by straightening your arms.
#3. Plank Spiderman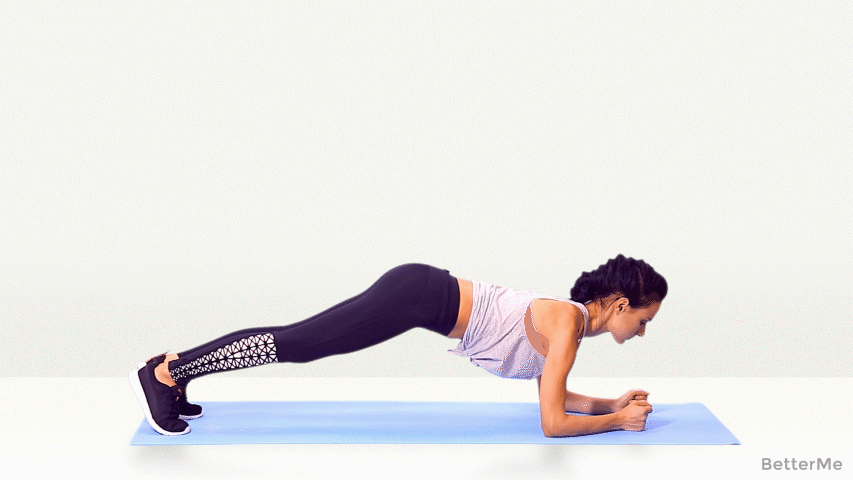 - Lay face down on the ground with extended legs. Point your toes while you place your hands beneath your shoulders.
- Push yourself up into the plank position. Maintaining a tight core and flat back, bring your left knee to your right elbow.
- Pause and slowly return each to the starting point. Repeat with the other side and keep alternating.
#4. Up-Down Plank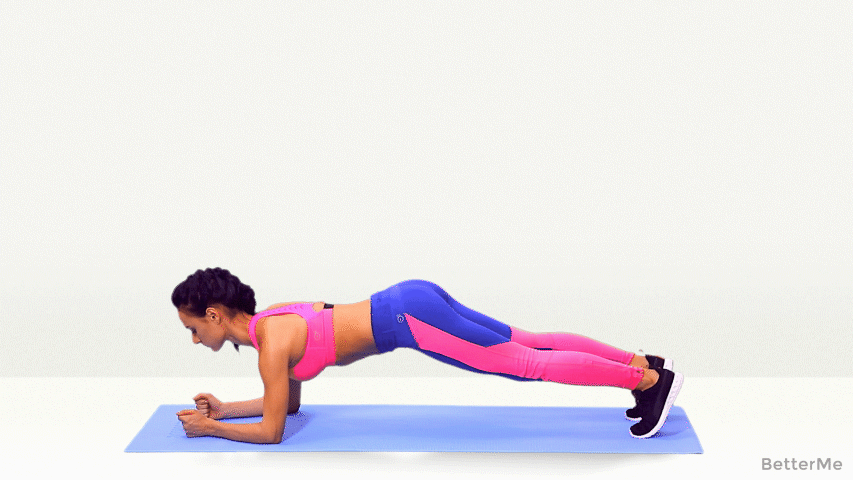 - Start in the plank position with your elbows shoulder-width apart.
- Press yourself up from the floor one arm at a time into a push-up, maintaining your body in a straight line.
- Slowly return to the starting plank position the same way, one arm at a time. Repeat the movement alternating sides.
#5. V-Ups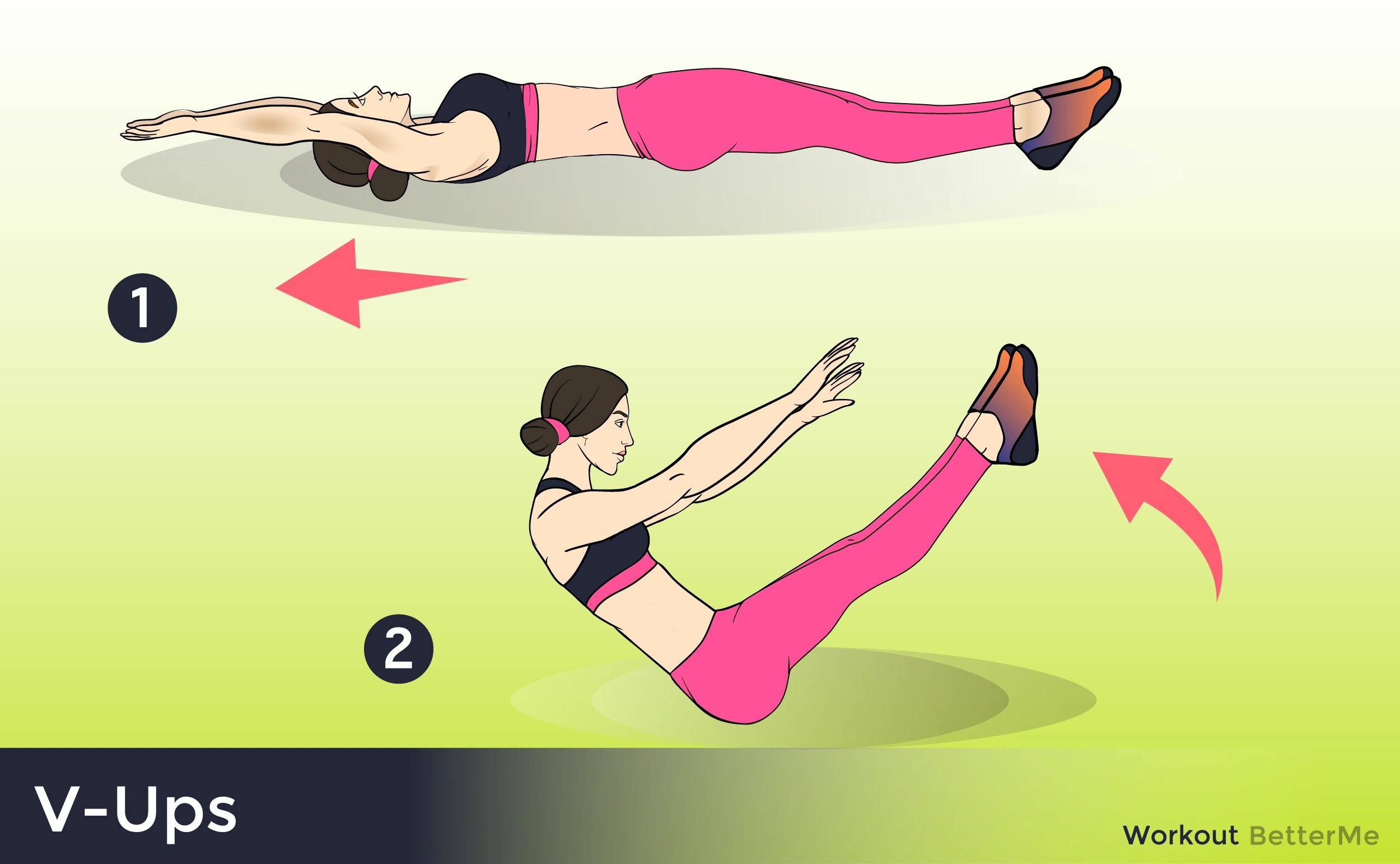 - Lie flat on an exercise mat, extending your arms straight back behind your head. Fully extend your legs also.This is the start position. Bend at your waist and at the same time, raise your legs and arms to meet in a closed jackknife position. Exhale as you do this.
- At this point, your legs should remain fully extended at between 35-45 degrees from the floor. Your arms should be fully extended, parallel to your legs. Your upper body should be raised off the floor.
- Return to the start position by lowering your arms and legs back to the floor, exhaling as you do so. Repeat.
#6. Side Plank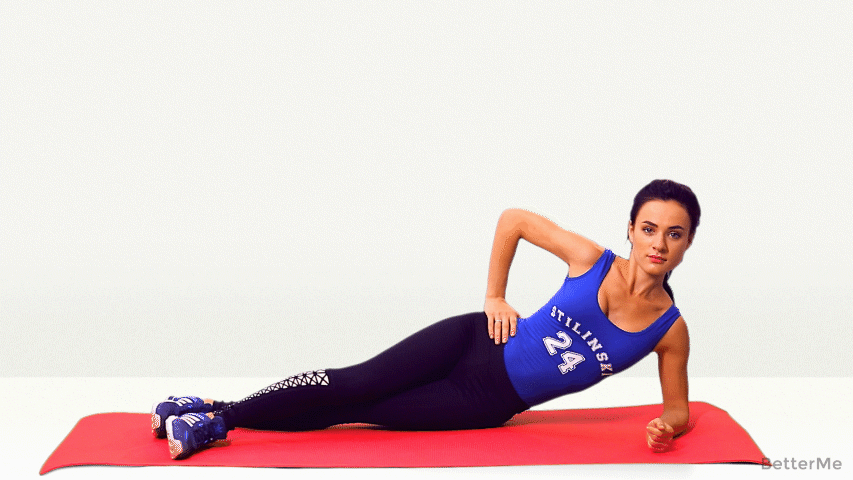 - Lie on your side on an exercise mat. Fully extend your legs with one resting on top of the other. Fully extend the top arm down the side of your body. Bend the arm at floor level to 90 degrees. Your upper arm should be parallel to your body, while your forearm is at 90 degrees. This is the start position.
- Lift your body off the ground and balance on your forearm and the side of your foot, while keeping your body in a straight line. Contract your abdominal muscles and relax your shoulders. Continue breathing throughout the whole exercise.
- Hold this position for as long as you can. Relax and change sides. Repeat.
#7. Bicycle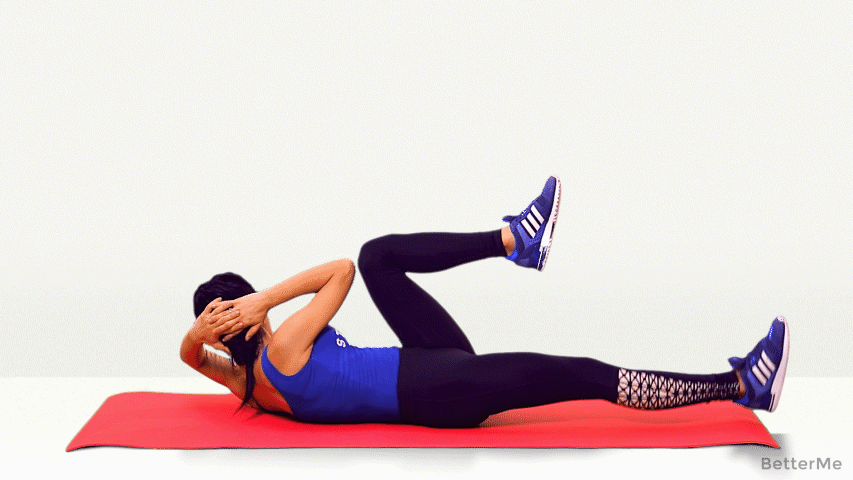 - Lie flat on an exercise mat on the floor keeping your lower back straight with no arching of your spine and with your knees bent and feet flat on the floor. Place your hands lightly on the sides of your head. Curl your torso upwards so your shoulders are slightly raised off the floor..
- Raise your knees until your thighs are at a right angle to the floor and your calves are parallel to the floor. This is the start position. Slowly move your legs in a pedaling action as if you are riding a bicycle.
- As you do so, exhale and bring your opposing elbow close to each knee by crunching to one side. Left elbow to right knee. Right elbow to left knee. After each crunch, return to the start position inhaling as you do so. Without pausing, repeat the movement to the other side. Repeat without pausing for the desired number of repetitions to each side.
#8. Pilates Swimming
- Lie face down on a mat, with your arms fully extended above your head and your legs fully extended behind you.
- Lift your chest, arms and legs off the floor by arching your back. Only the tops of your quads and your lower abdomen should be in contact with the floor.
- Hold for a count of 2 while squeezing your abdominals and obliques. Return to the starting position for a count of one, then repeat.
READ MORE: This 30-day challenge can help you get rid of your muffin top
The BetterMe Team is by your side throughout your fitness journey! Stay motivated and you can achieve your goals. If you are struggling with your motivation have a look at one of our many articles for inspiration.
Help us support and motivate those you love by sharing this article with them and let us know what you think in the comments below.
This article is solely for informational purposes and is not intended to provide medical advice. BetterMe doesn't take responsibility for any possible consequences from any treatment, exercise, diet, application of medication or any similar action which results from reading or following the information contained in this article. Before undertaking any course of treatment please consult with your physician or other health care provider.
Share on Facebook