Training at the gym is interesting if you have friends there. Some people can feel confused or even shy. Others get a lot of motivation for workouts.
In any case, training created to burn fat is just a great way to keep your body and mind in shape. Some fat-burning exercises will help you keep yourself in shape at home without attending the gym.
Today we want to show you a workout which includes both cardio and weightlifting. It lasts seven days and requires some equipment, like dumbbells. The loads are spread in such a way that the workout will be appropriate for women who have never tried weightlifting.
It's important to follow the plan regularly but if for some reason you can't do it one day, you can keep doing the next day as planned. The 7th Day of the plan has a very moderate load and it serves as a rest day. Scroll down to learn the details.
READ MORE: 7 workout rules that can help you lose arm fat more effectively
#1. Alternating Bodyweight Lunges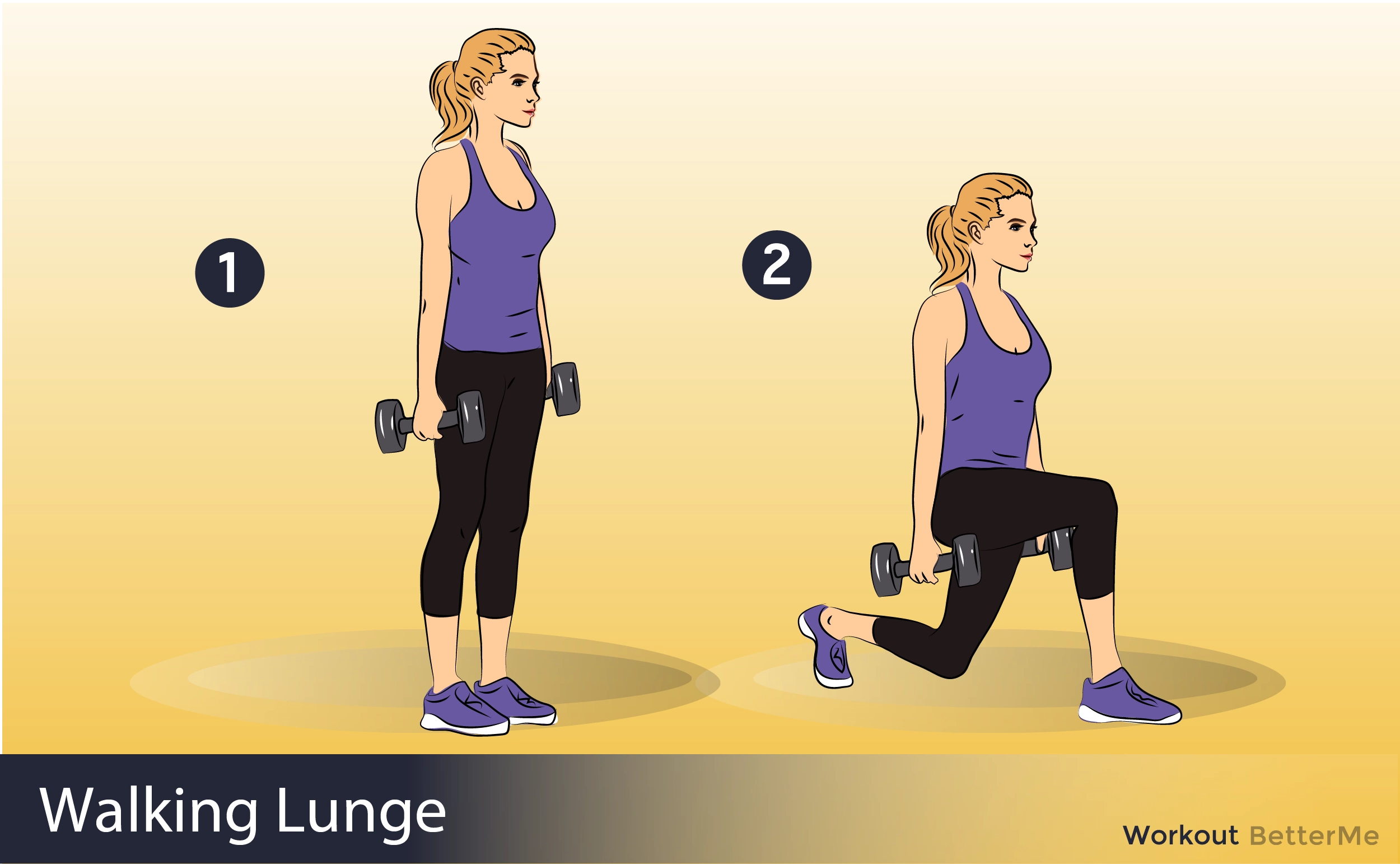 - Stand straight – that's the starting position. Step forward with your left leg and slowly lower your body until your front knee is bent at least 90 degrees, while your rear knee is just off the floor. Keep your torso upright the entire time. Look forward.
- Pause, then push off your left foot off the floor and return to the starting position as quickly as you can.
- On your next rep, step forward with your right leg. Continue to alternate back and forth—doing one rep with your left, then one rep with your right.
#2. Alternating Curtsy Lunge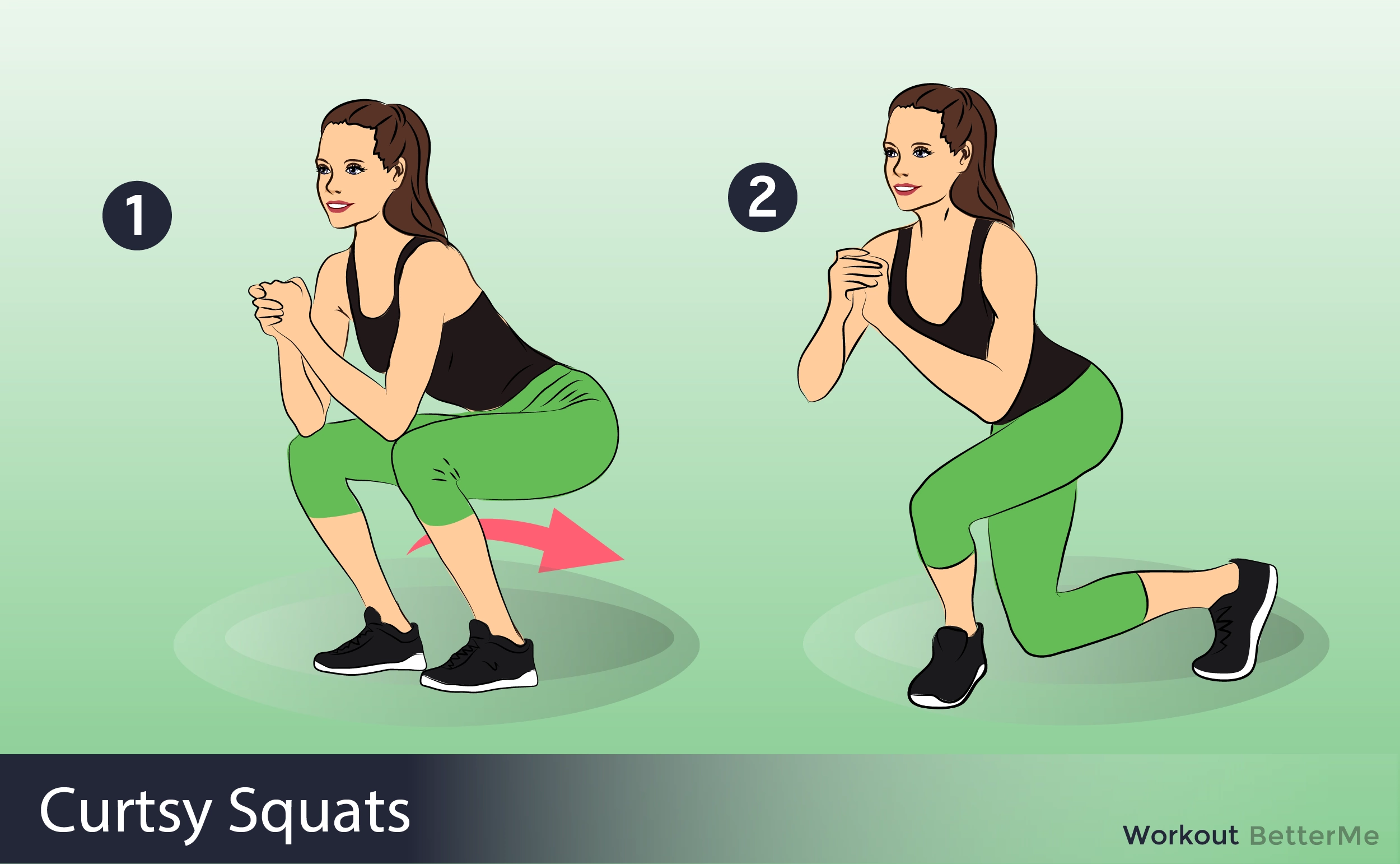 READ MORE: These 4 exercises can help you tighten your private part muscles
- Standing with a braced core and flat back, bring your hands together at chest height. Position your feet to be at hip-width.
- Beginning with the right foot, step backward and across your left foot. Simultaneously, bend the left knee and drop it towards the ground.
- Stop when the front right knee is parallel with the ground. Push off the ground with your right foot and return to the starting position.
#3. Bent Over Double Arm Tricep Kickbacks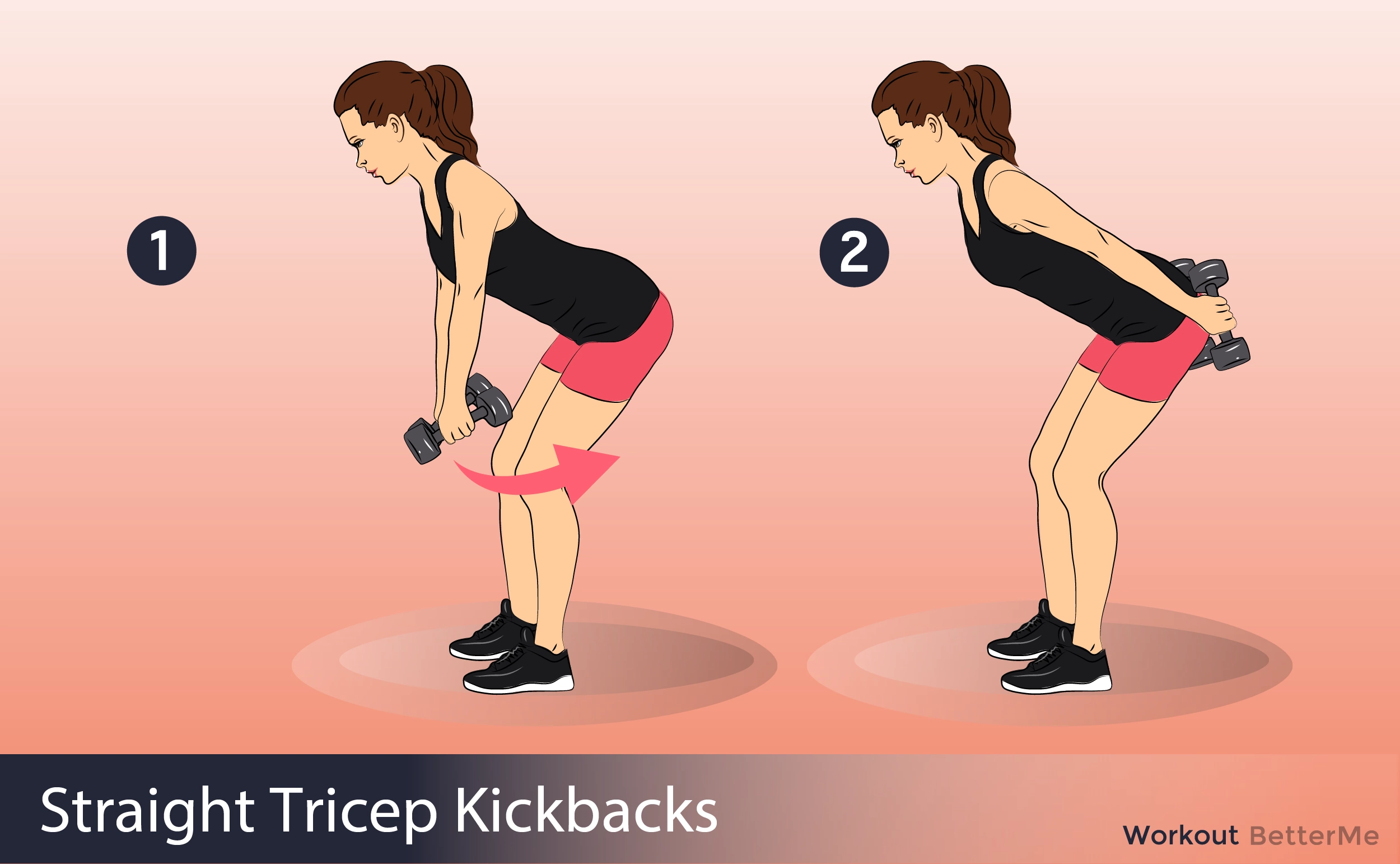 - Holding a pair of dumbbells with an overhand grip, stand tall with your chest up and core braced. Bend at the hips while keeping your back completely flat. Once your upper body is parallel with the floor, bring your upper arms to your sides. Begin by pushing the dumbbells back and behind you.
- Pause at the top of the movement and feel the contraction in your triceps. Slowly lower the dumbbells and begin again.
#4. Squat Thrusts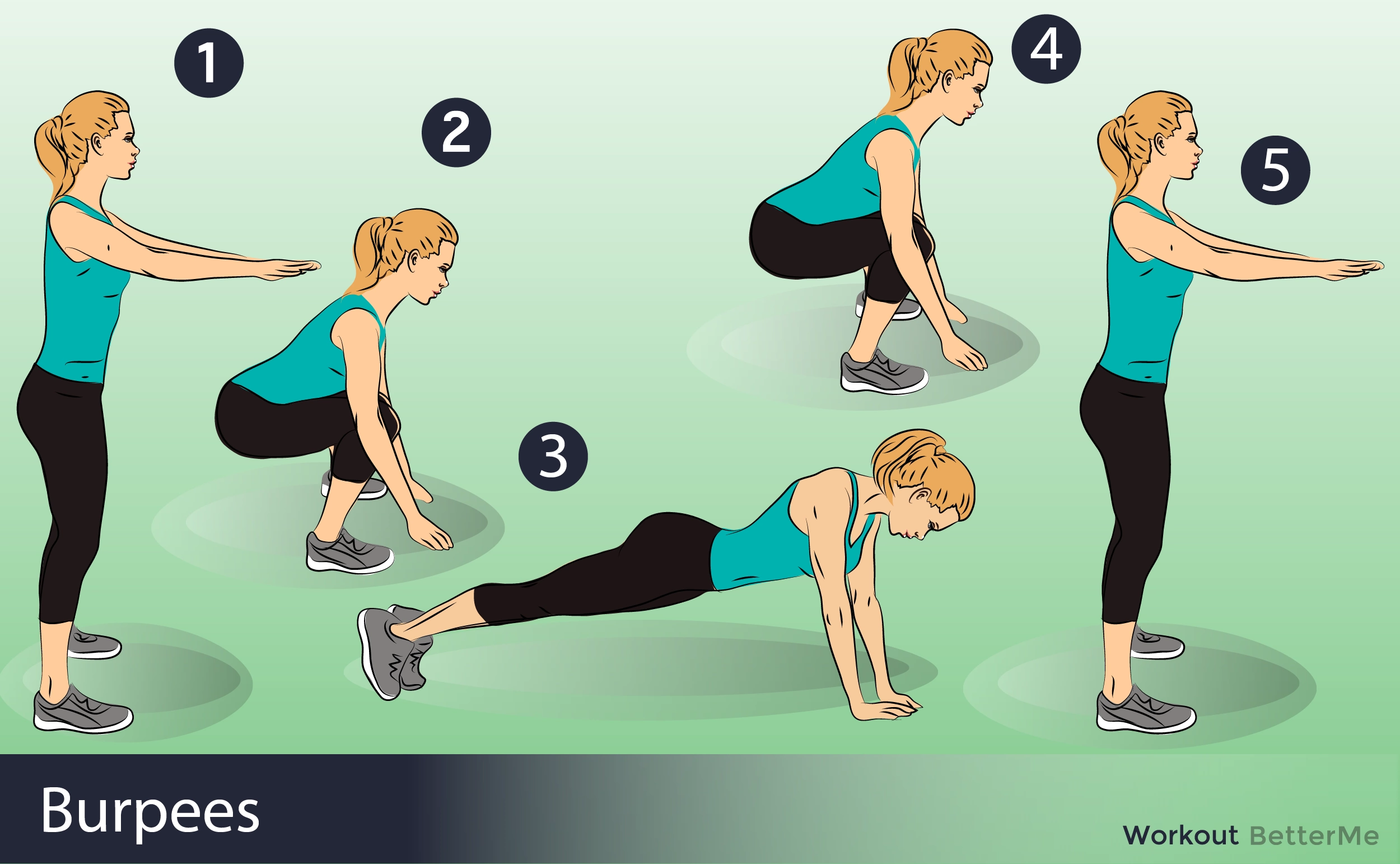 - Stand straight with your feet shoulder width apart and hands by your sides. This is the start position.
- In one smooth motion, squat down and place your hands palms down on the floor in front of your feet. Lean forward, so your weight is on your hands, at the same time jumping your legs out behind you until they are fully extended. Your body should form a straight line with your weight supported on your toes and the balls of your feet and your arms fully extended. (In a push up position)
- Jump your feet out by spreading your legs, so that they are wider than hip width apart, then immediately jump them back together. Complete 1 full push up.
- Jump your feet forward to just behind your hands. Use an explosive motion to push through your heels and return to the start postion. Repeat.
#5. Cat Back Stretch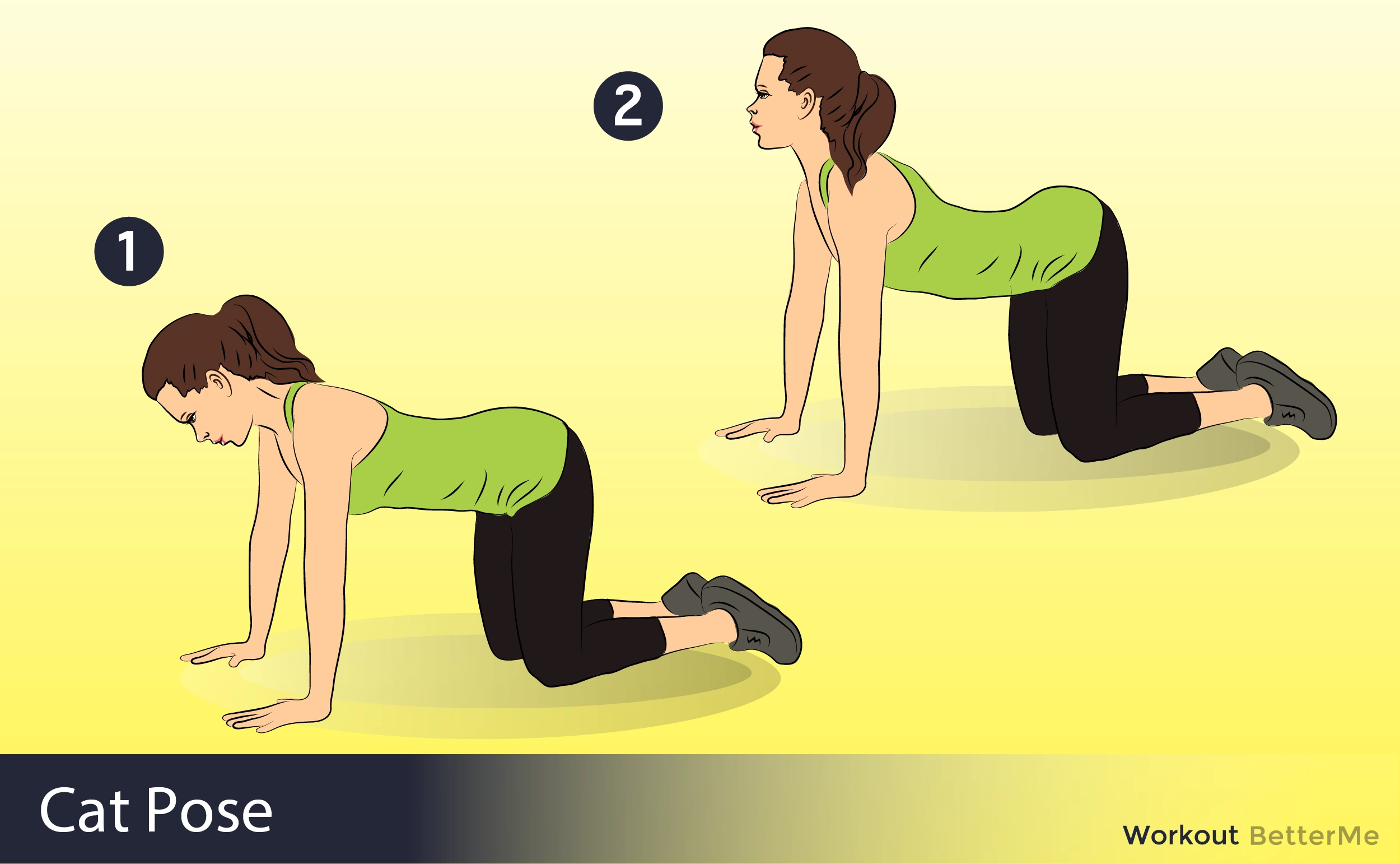 - Kneel on a mat with your hands and knees shoulder-width apart. Pull your abs in, hunch your back up and flex your spine. Hold the stretch and then release to the starting position.
#6. Cobra Abdominal Stretch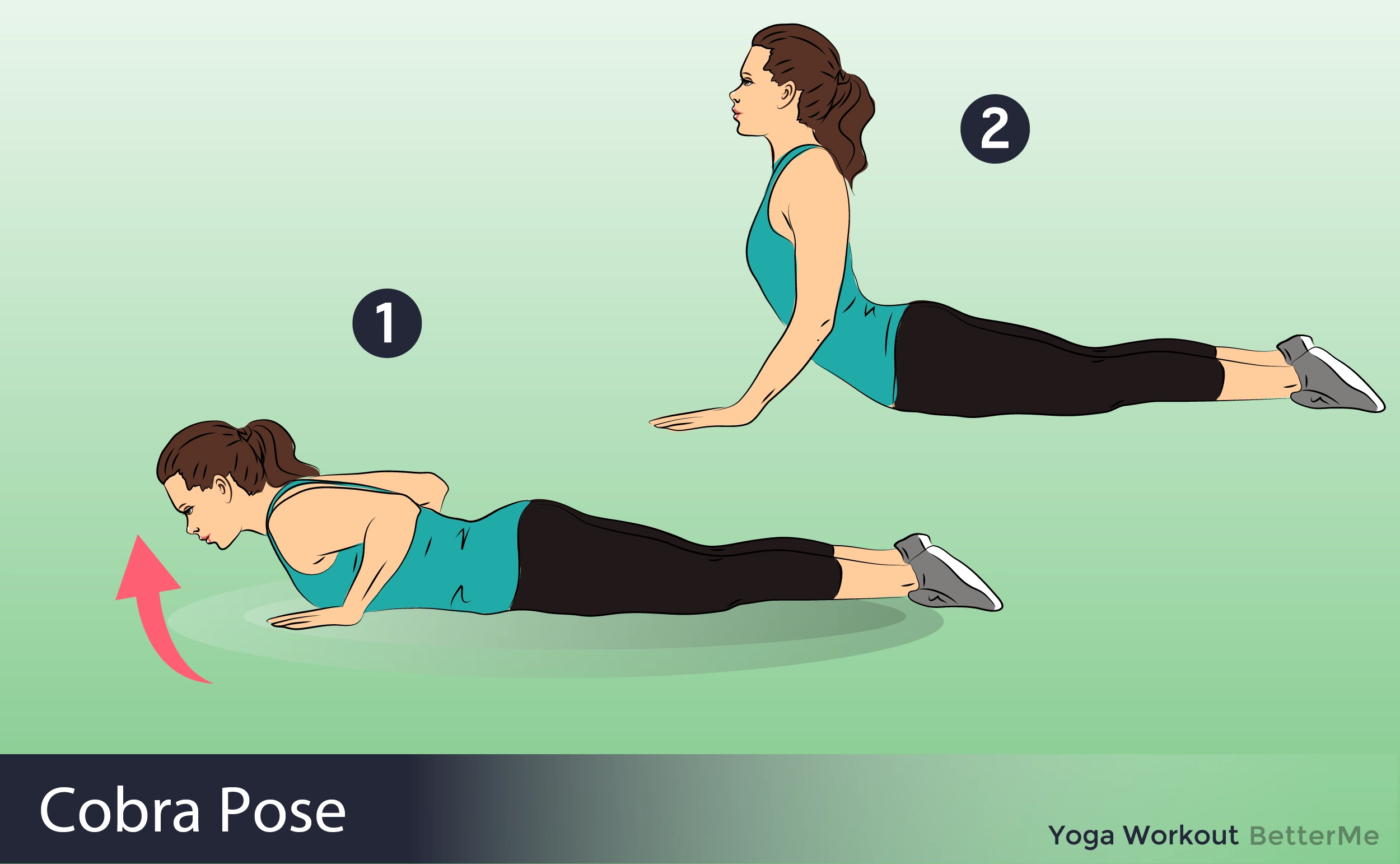 - Lie face down with your hands under your shoulders. Point your feet downwards to lengthen your spine.
- Slowly push your torso up as far as you comfortably can – try to get your hips to rise off the floor slightly. Hold the stretch and then lower down to starting position.
#7. Plié Dumbbell Squats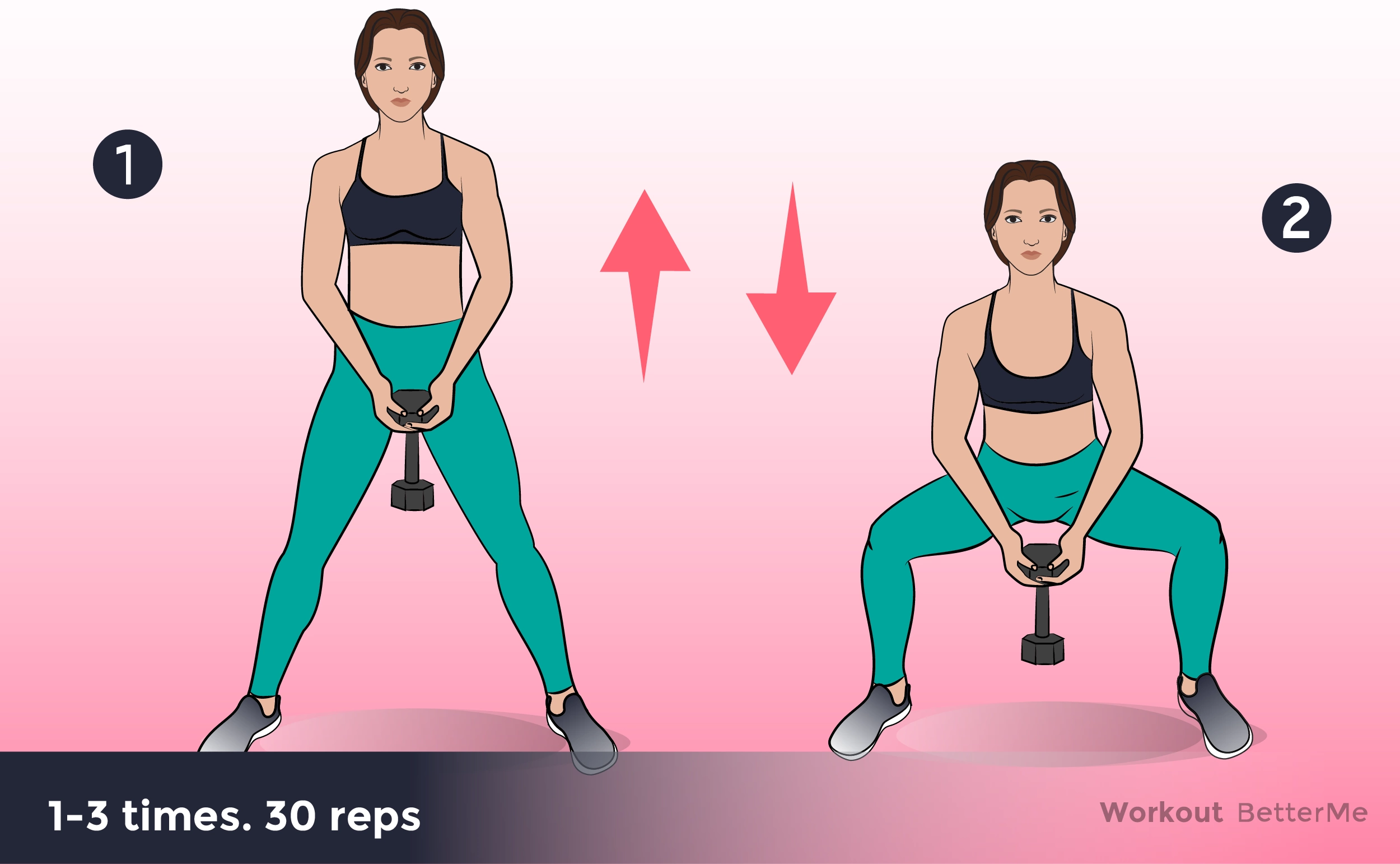 - Stand up straight with a tight core and flat back. Position your feet wider than shoulder-width. Your toes should be facing out diagonally. Holding a dumbbell with both hands in front of you, look straight ahead and bend at the knees while driving your hips backward. Your knees should be following your toes in a diagonal line.
- Complete this wide stance squat by having your thighs come parallel with the ground. Pause and slowly return to the starting position without locking your knees. Repeat.
#8. Side Shoulder Dumbbell Raises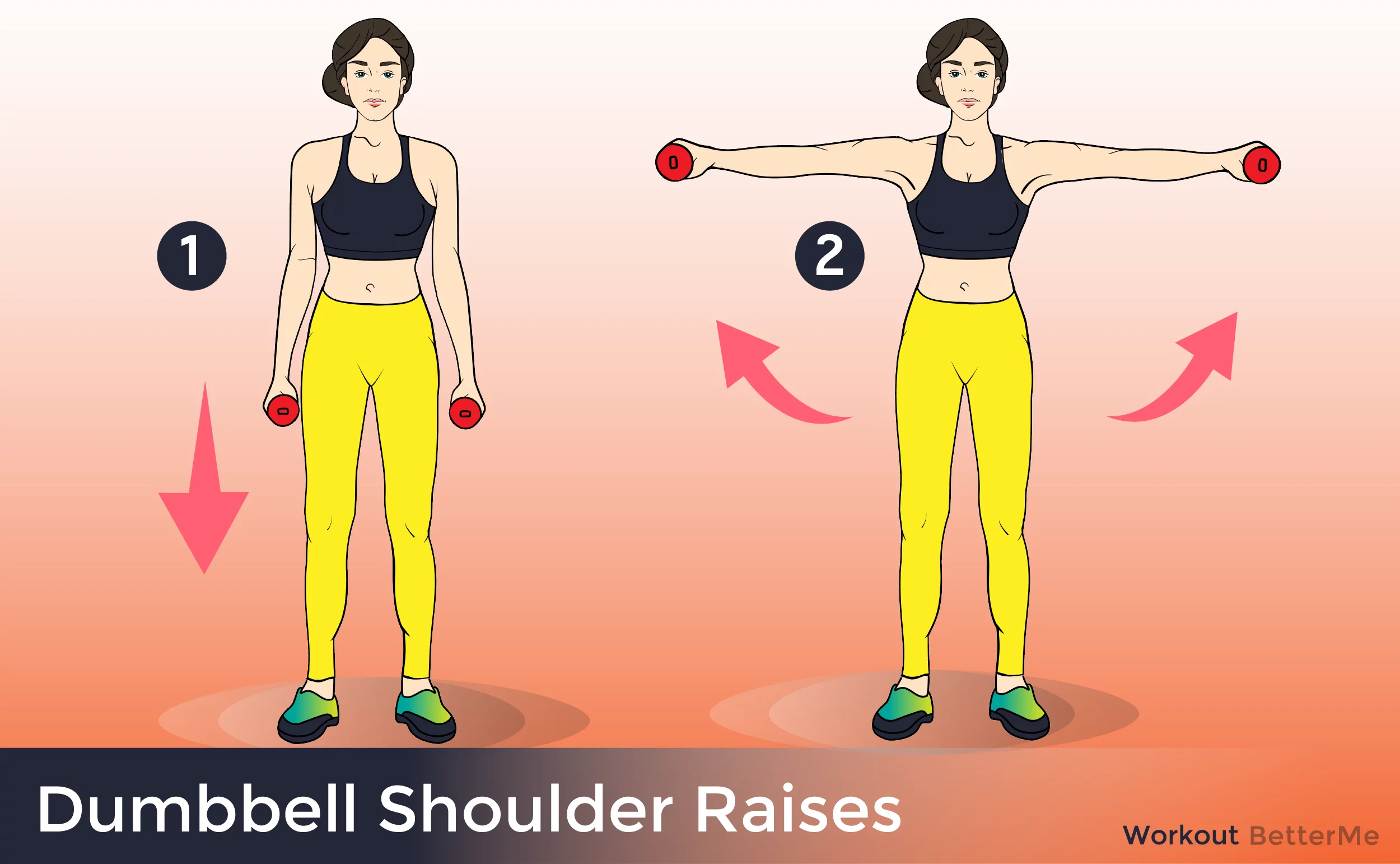 - Stand with your back straight, feet shoulder width apart, while holding a dumbbell in each hand with a neutral grip. Hold your arms fully extended by your side, with your palms facing in to your body. Keep your elbows close to your sides. This is the start position.
- Keeping your arms fully extended and your torso stationary, lift the dumbbells out to your sides and up until they are at shoulder level. Exhale as you do so. Hold for a count of one while squeezing your shoulder muscles. Return to the start position in a smooth controlled movement inhaling as you do so. Repeat.
READ MORE: 8 exercises that can help you reduce lower back pain
The BetterMe Team is by your side throughout your fitness journey! Stay motivated and you can achieve your goals. If you are struggling with your motivation have a look at one of our many articles for inspiration.
Help us support and motivate those you love by sharing this article with them and let us know what you think in the comments below.
This article is solely for informational purposes and is not intended to provide medical advice. BetterMe doesn't take responsibility for any possible consequences from any treatment, exercise, diet, application of medication or any similar action which results from reading or following the information contained in this article. Before undertaking any course of treatment please consult with your physician or other health care provider.
Share on Facebook