Many women in their lives have faced a problem of obesity, and most often they are not satisfied with a certain part of the body. Usually, it's a flabby stomach or sides, and you can fight this problem if you make a little effort. In a healthy human body, all the functional parts are connected.
So the problem of extra fat on some particular part of the body is better solved in a complex way, but not everyone wants to put themselves in a certain frame. Many people live without thinking about the consequences. Men are most often proud of their tummy, which they think gives them a more solid look.
The fat deposits in the waist, apart from the aesthetic approach, can cause harm to the human body. You have to carry an extra fat every day, which is the pressure for the whole body-the spine and limbs, it influences the work of the heart, forcing it to pump more blood, and put an extra strain on the main muscle of the body.
Extra fat is a ballast that restricts activity and influences physical abilities. People get tired faster, work less, and cannot do some work. The excess fat can be not only outside but also from within the body. When it comes to huge fat depositions, the blood circulation can be interrupted and the swelling appears. The amount of water in the body is retaining, and the weight of the person increases. Bad blood flow provokes the growth of the internal organs tissue, which causes tumors.
Simple diet is not enough to get rid of the extra fat in the waist. You should also pay attention to cardio and core exercises. Today we want to show you effective exercises for the core, you need to perform each exercise for 60 seconds and repeat the full circuit 3 times. Scroll down to learn the details.
READ MORE: The 28-Day Squat Challenge To Get A Bum You Desire
#1. Modified Pushups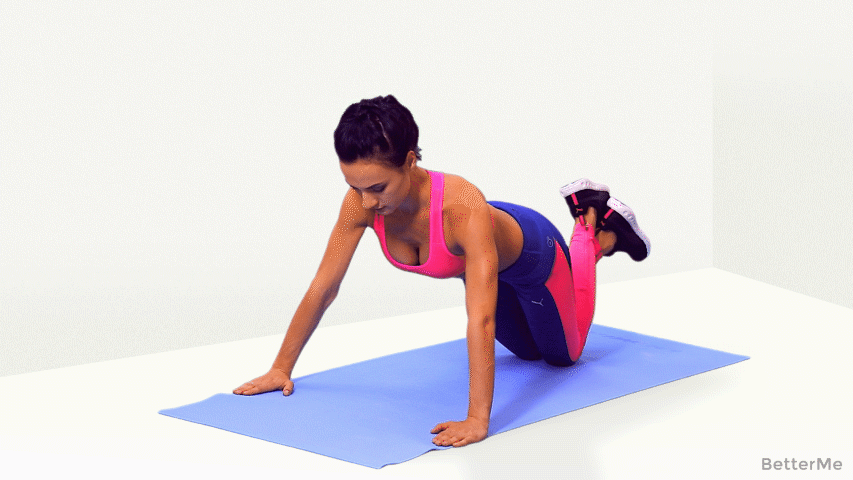 - Come to the ground on your knees. Tighten your core and maintain a flat back. Position your hands on the ground in front of you, directly below your shoulders. Cross your feet in the back.
- Lower your chest towards the ground. Bend your elbows at a 60-degree angle until your chest is just above the ground. You should feel a stretch across your chest. Hold for a count of one.
- Without locking your elbows, push yourself back to the starting position by straightening your arms.
#2. Side Plank Hip Lift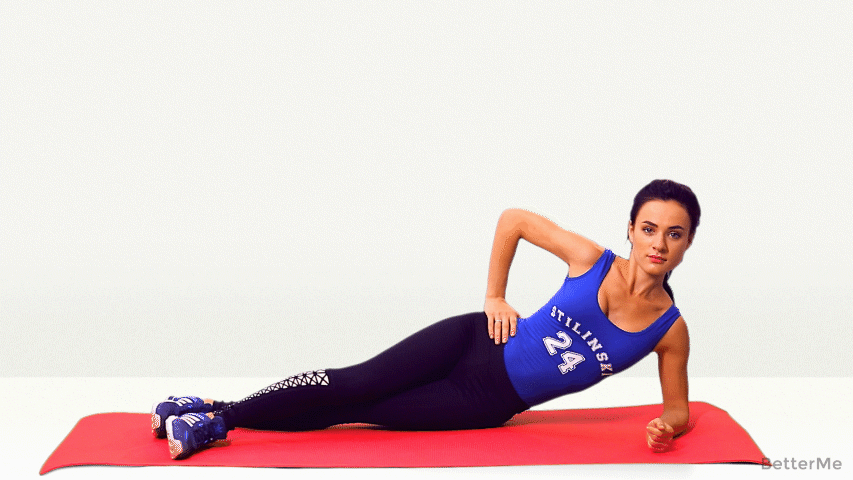 READ MORE: 7 exercises to reduce abdominal fat
- Lay down on your side so that only your forearm and the side of your foot are touching the ground.
- Make your body into a straight line (side plank position).
- Bend at the waist and lower your hip towards the ground and then back up again.
- Repeat for the desired amount of repetitions and then switch sides.
#3. Plank Knee to Elbow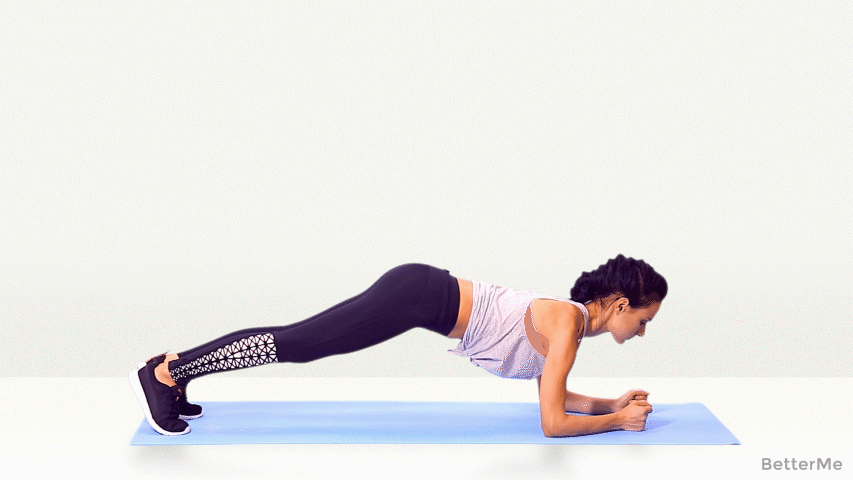 - Lay face down on the ground with extended legs. Point your toes while you place your hands beneath your shoulders.
- Push yourself up into the plank position. Maintaining a tight core and flat back, bring your left knee to your right elbow.
- Pause and slowly return each to the starting point. Repeat with the other side and keep alternating.
#4. Plank V-Ups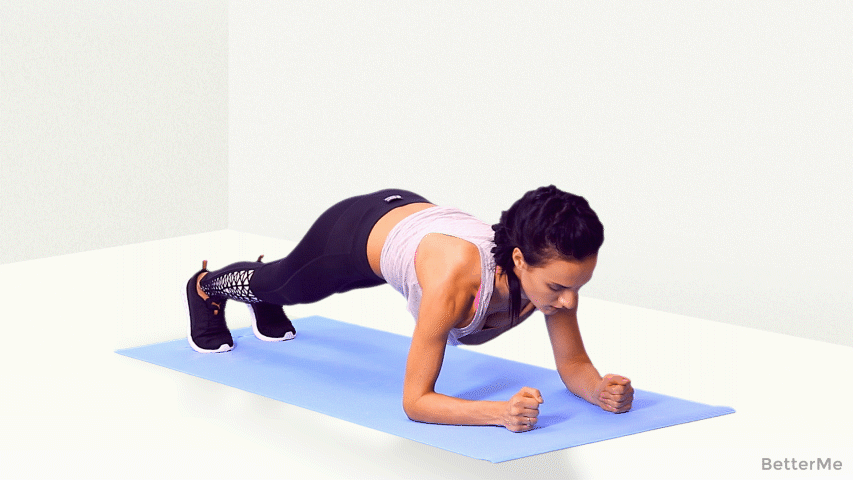 - Start out in a plank position with your elbows on the mat, on your toes with your stomach off the mat. Keep your back straight.
- Keeping your belly button pressed in, push your butt up on the exhale. Repeat at least 10 times.
#5. Star Jump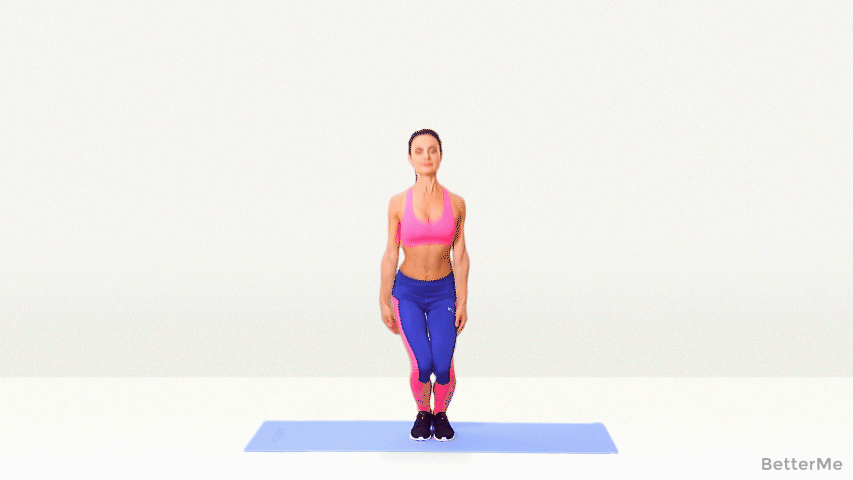 - Stand with your feet together, arms fully extended with your hands by your sides. This is the start position.
- Bend your knees slightly then straighten and push through the balls of your feet while straightening your your knees to jump up spreading your legs to wider than hip width apart. As you do so, raise both arms out and up in a smooth arc until your hands meet above your head.
- As you return to the ground, bring your feet together and your hands back to your sides with your arms fully extended. Continue without pause for the desired amount of time or repetitions.
#6. In & Out Squat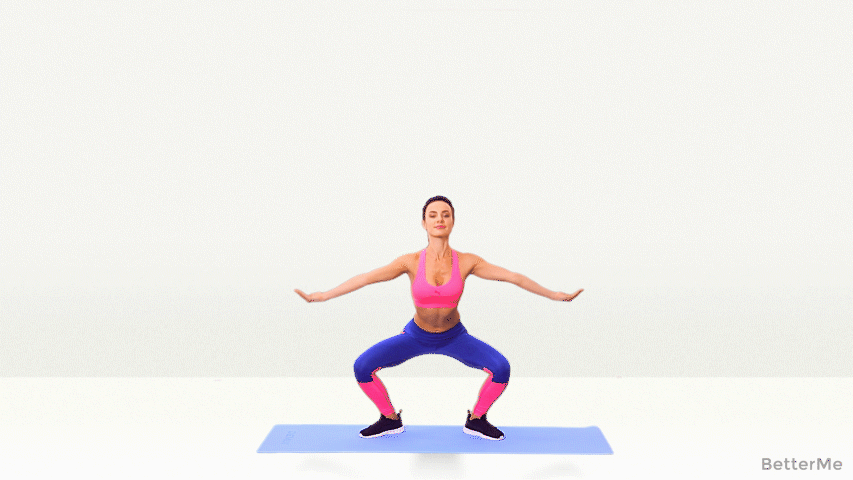 - Stand straight with your feet together and hands by your side. Jump up, spread your feet, bend your knees pressing your hips back, and open your arms.
- Push throug the hills to jump back up and bring both hands together above your head.
- Repeat until the set is complete.
#7. Burpee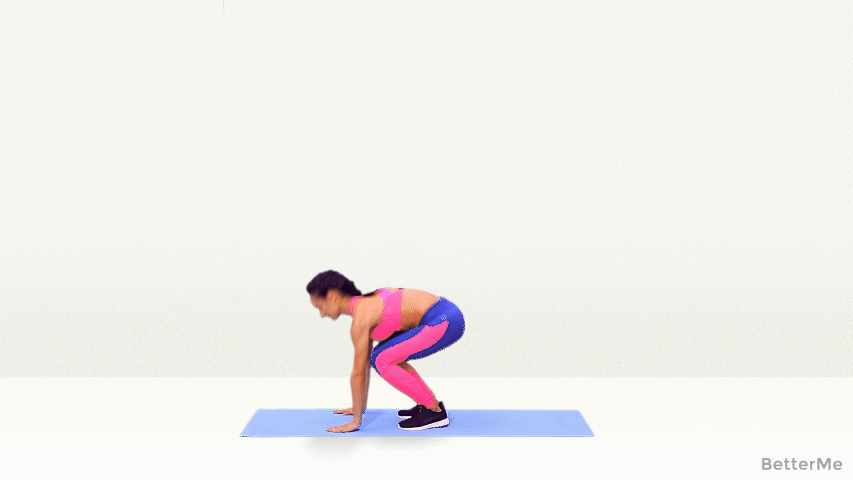 - Lie down on your back with your legs straight and feet together so your body forms a straight line. Next, raise your arms up over your head (in line with the rest of your body) and inhale. This is the starting position.
- Begin exercise by swinging your arms forward, while raising your torso and coming up off the ground and onto your feet without touching the ground with your hands.
- Next, lean forward and place your hands onto the ground and kick your feet back into a plank position. Reverse movement back to starting position. This completes one rep.
#8. Pilates Swimming
- Lay down flat on your stomach with your arms up over your head. Pull your abs in tight.
- Raise your lower legs and upper body up off the ground (only your thighs and abs should be touching the ground).
- Now pulse your arms and legs up and down. Move your right arm and left leg together and your left arm and right leg together. Alternate them back and forth for the desired amount of time.
READ MORE: 3 effective exercises to tone your arms without weights
The BetterMe Team is by your side throughout your fitness journey! Stay motivated and you can achieve your goals. If you are struggling with your motivation have a look at one of our many articles for inspiration.
Help us support and motivate those you love by sharing this article with them and let us know what you think in the comments below.
This article is solely for informational purposes and is not intended to provide medical advice. BetterMe doesn't take responsibility for any possible consequences from any treatment, exercise, diet, application of medication or any similar action which results from reading or following the information contained in this article. Before undertaking any course of treatment please consult with your physician or other health care provider.
Share on Facebook