Working in the office forces us to lead a sedentary lifestyle, which does not have a good effect on health. When in the evening you realize that during the whole day you got up from your chair just a couple of times, it's time to change the routine!
The modern rhythm of life does not always allow you to spend time on full training, so some exercises can be done right behind the desk. On average, you need to spend at least half an hour during the work day. Even for these 30 minutes of movement, your body will thank you!
If you take a closer look, you can find a lot of good opportunities to train in the office. You just need to learn how to use them. Any training, including office, you need to start with a warm-up. The ideal option is to climb and go down two or three floors. It's good to do this every hour or two. You immediately "wake up" the muscles from the sitting position. And at the same time, you have a rest for a couple of minutes from the working routine. Now let me introduce you 8 simple exercises that can be done in the office.
READ MORE: 10-week no-gym workout plan that can help reduce fat
#1. BURPEES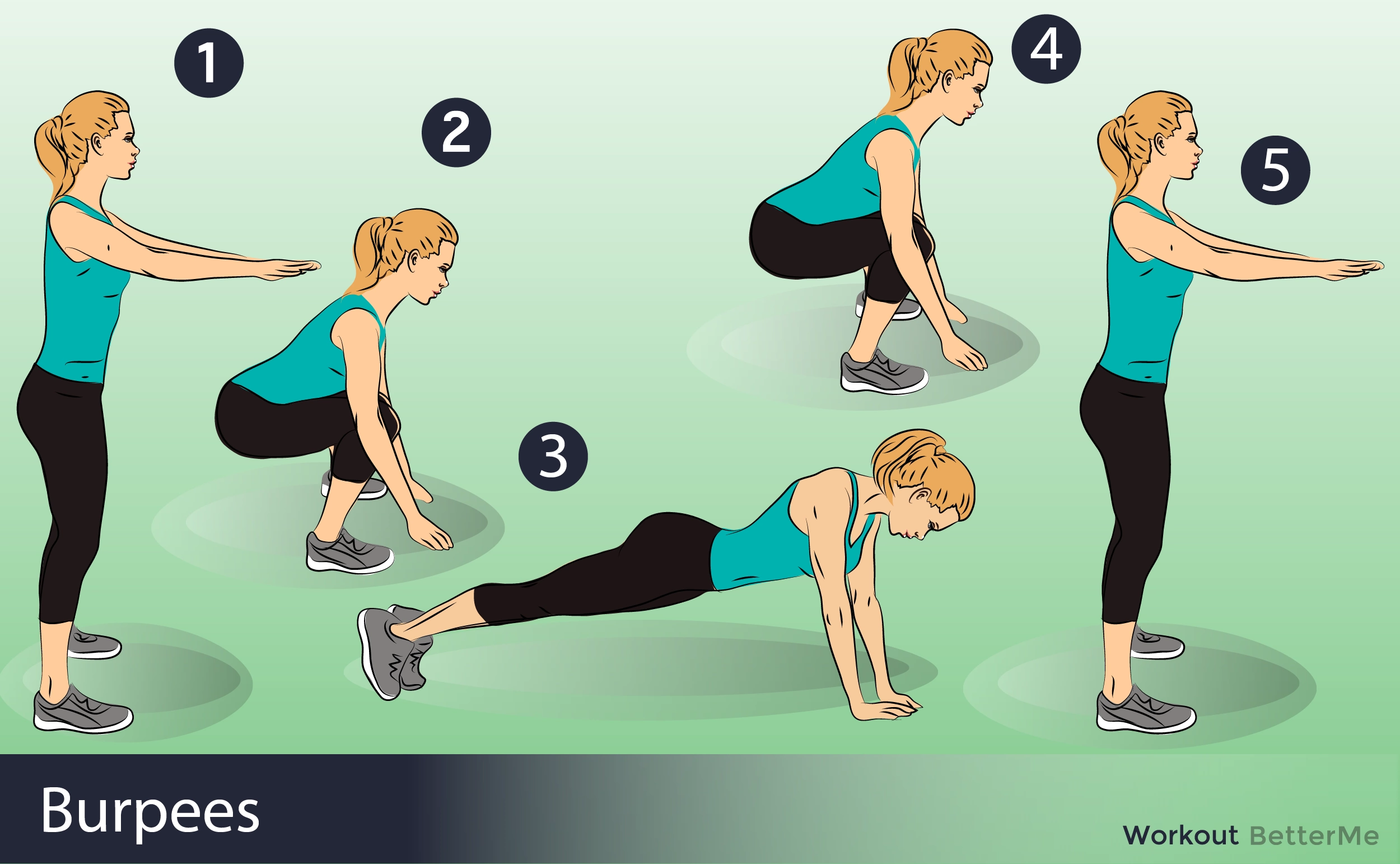 - Bend over or squat down and place your hands on the floor in front of you, just outside of your feet.
- Jump both feet back so that you're now in plank position.
- Drop to a push-up—your chest should touch the floor. You can also drop to your knees here, which makes the impending push-up easier.
- Push up to return to plank position (this can be a strict push-up, a push-up from the knees, or not a push-up at all (i.e., just push yourself up from the ground as you would if you weren't working out)—your choice).
- Jump the feet back in toward the hands.
- Explosively jump into the air, reaching your arms straight overhead.
#2. PUSH-UPS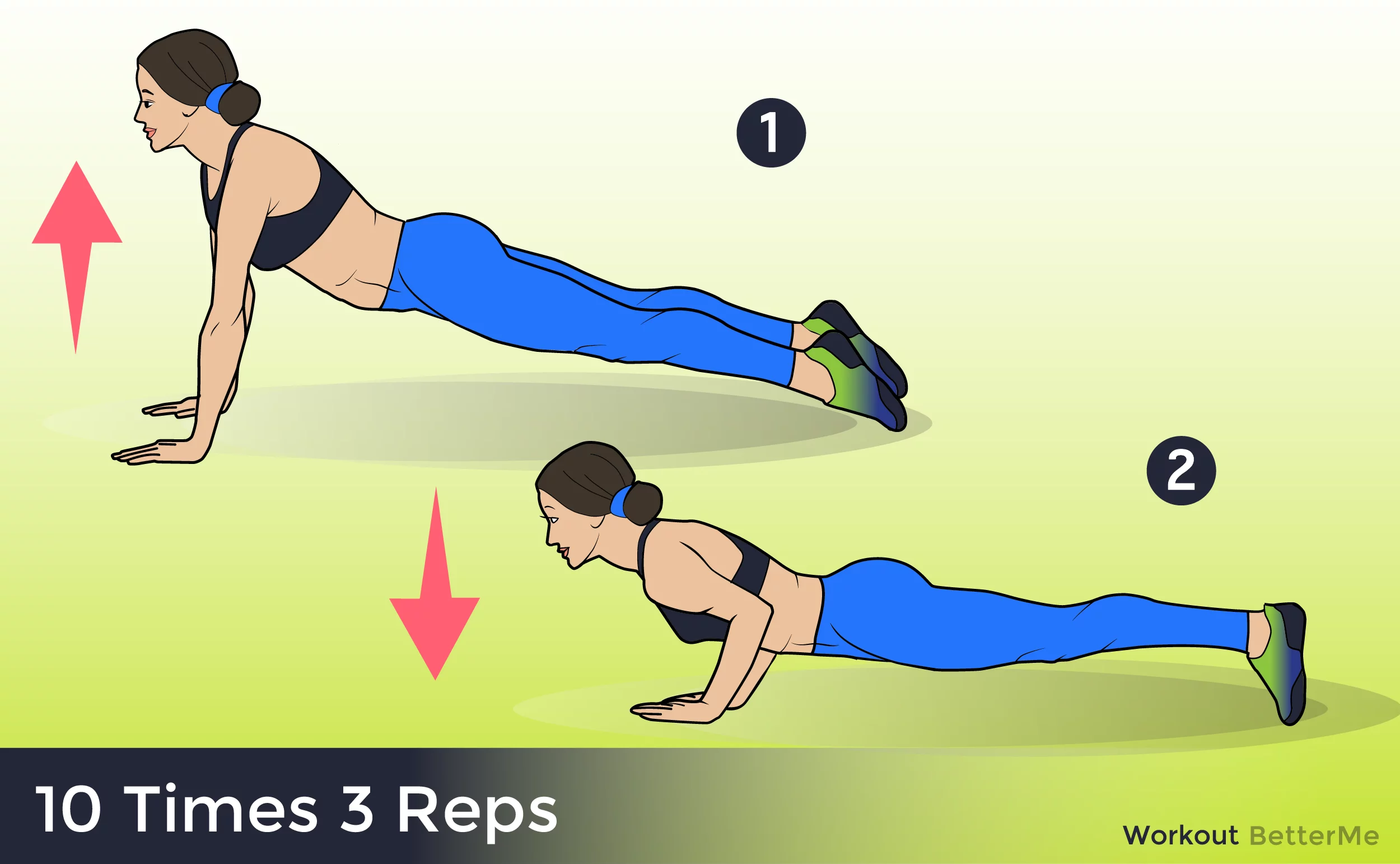 READ MORE: 5 exercises to avoid stubborn double chin
- Begin in a plank position with your arms straight. Your shoulders should be over your wrists and your body should form a straight line from head to toe. Keep your core engaged and don't let your hips sag.
- Next, slowly bend your elbows and lower your chest towards the floor.
- Then, press upwards back to plank position
#3 CRUNCHES WITH TWIST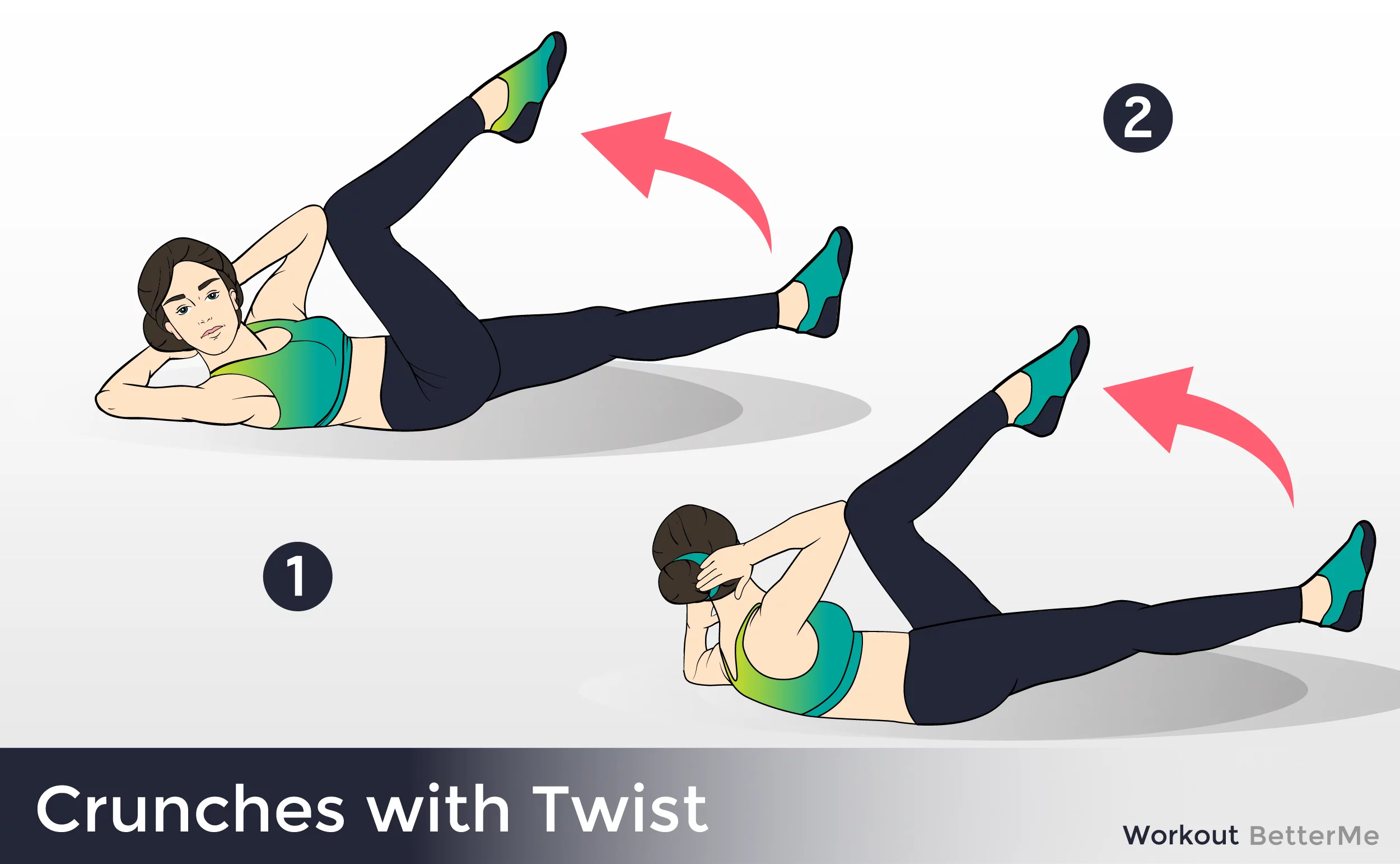 - Begin by lying on back with knees bent and hands clasped behind head. Elbows should be out wide. Feet should be flat on the ground.
- Keep knees bent, feet off the ground, alternating knees to elbows.
#4 SPIDERMAN PLANK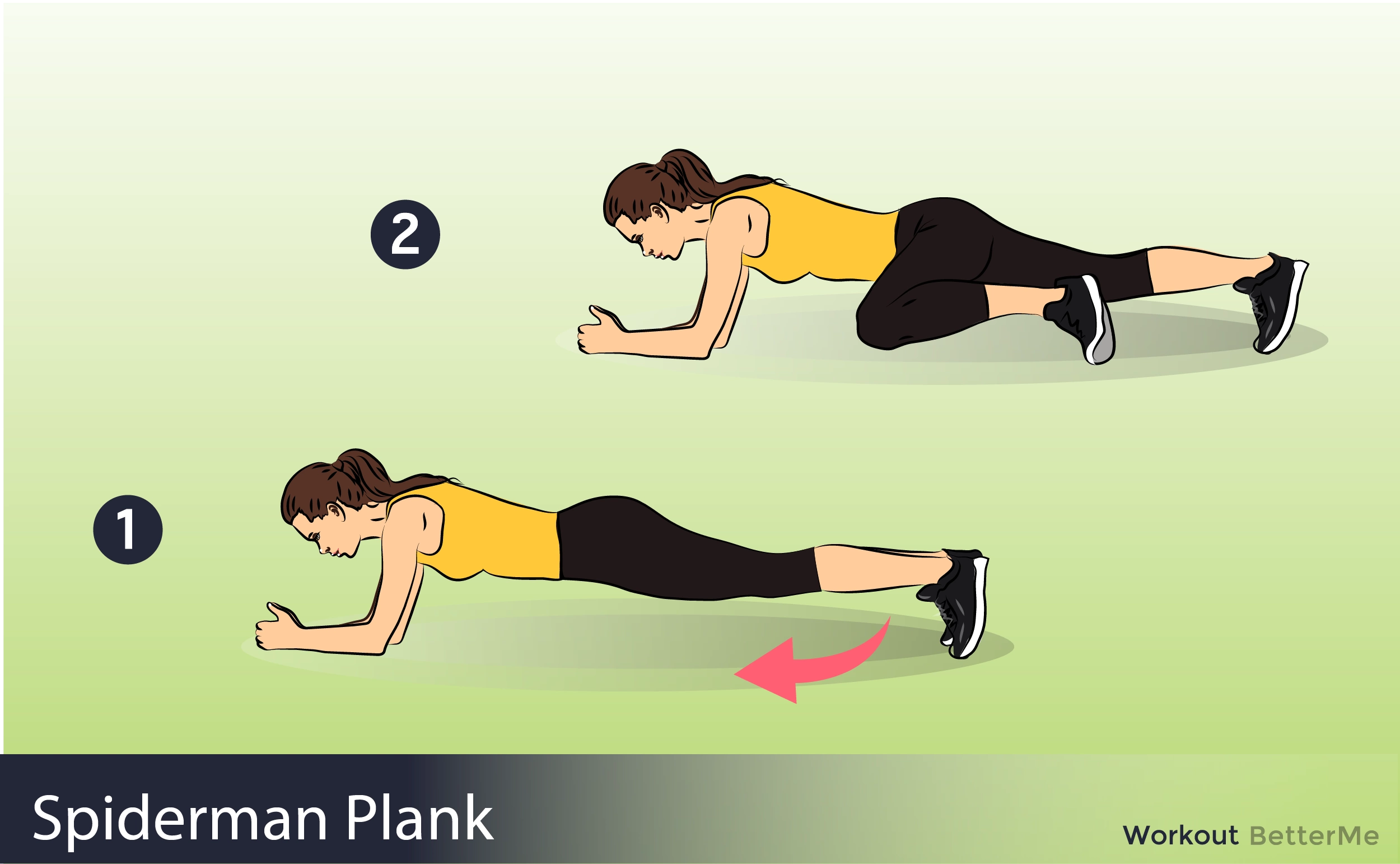 - With a yoga mat, start off in the push-up position. Place your forearms on the ground in a way that both your elbows and fists
- Contract your core in, gently get the toes curled and lengthen your spine. Try to be as parallel to the ground as you can.
- Pull one knee to the outside shoulder.
#5. PLANK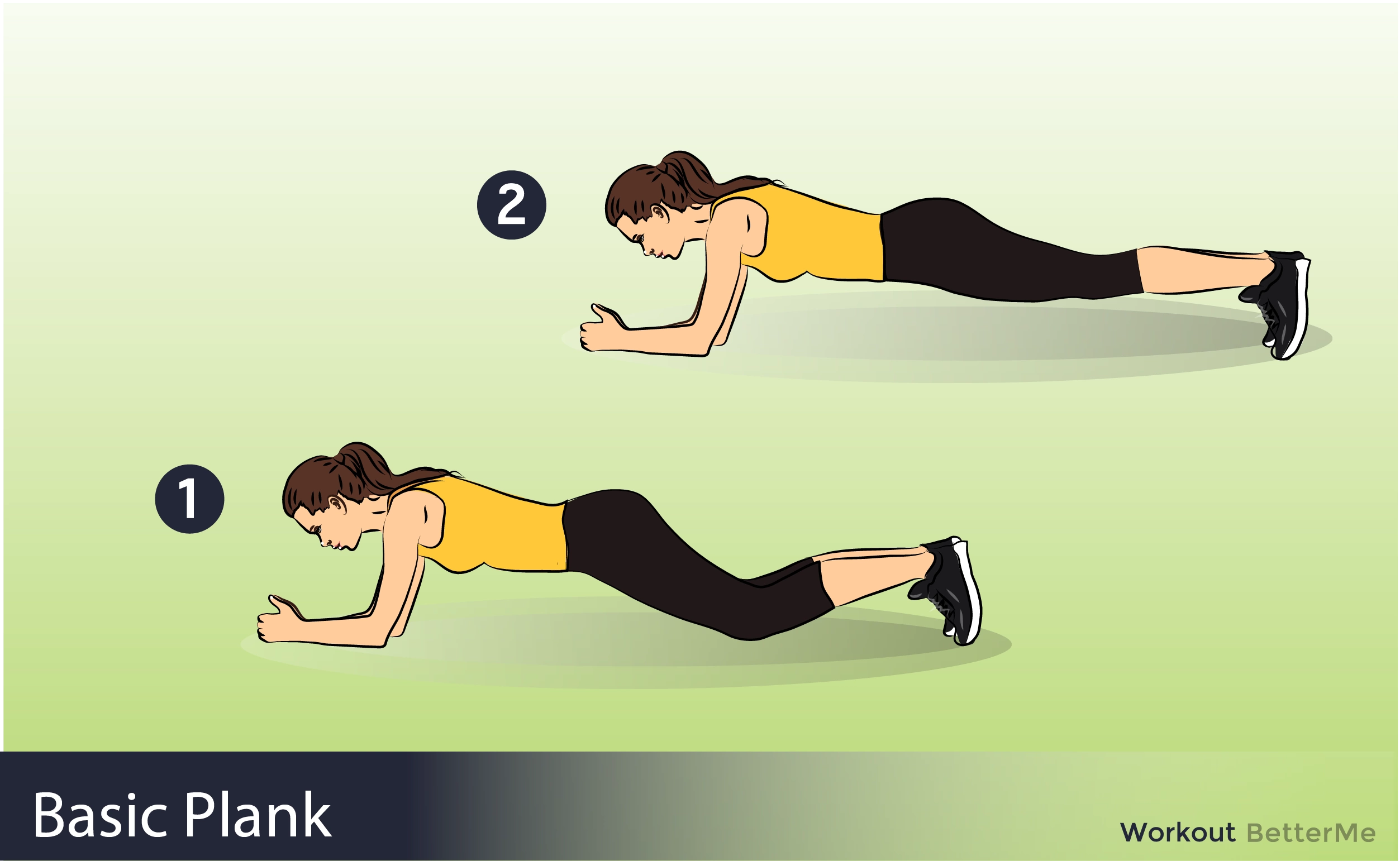 - With a yoga mat, start off in the push-up position. Place your forearms on the ground in a way that both your elbows and fists
- Contract your core in, gently get the toes curled and lengthen your spine. Try to be as parallel to the ground as you can.
- Flex the abs muscles and feel a squeeze in your glute muscles. Stay stable in this position and you will feel the burn in your core muscles.
- Time yourself, stay in the position for 20-30 seconds and do 3-4 reps daily
#6 HIP RAISE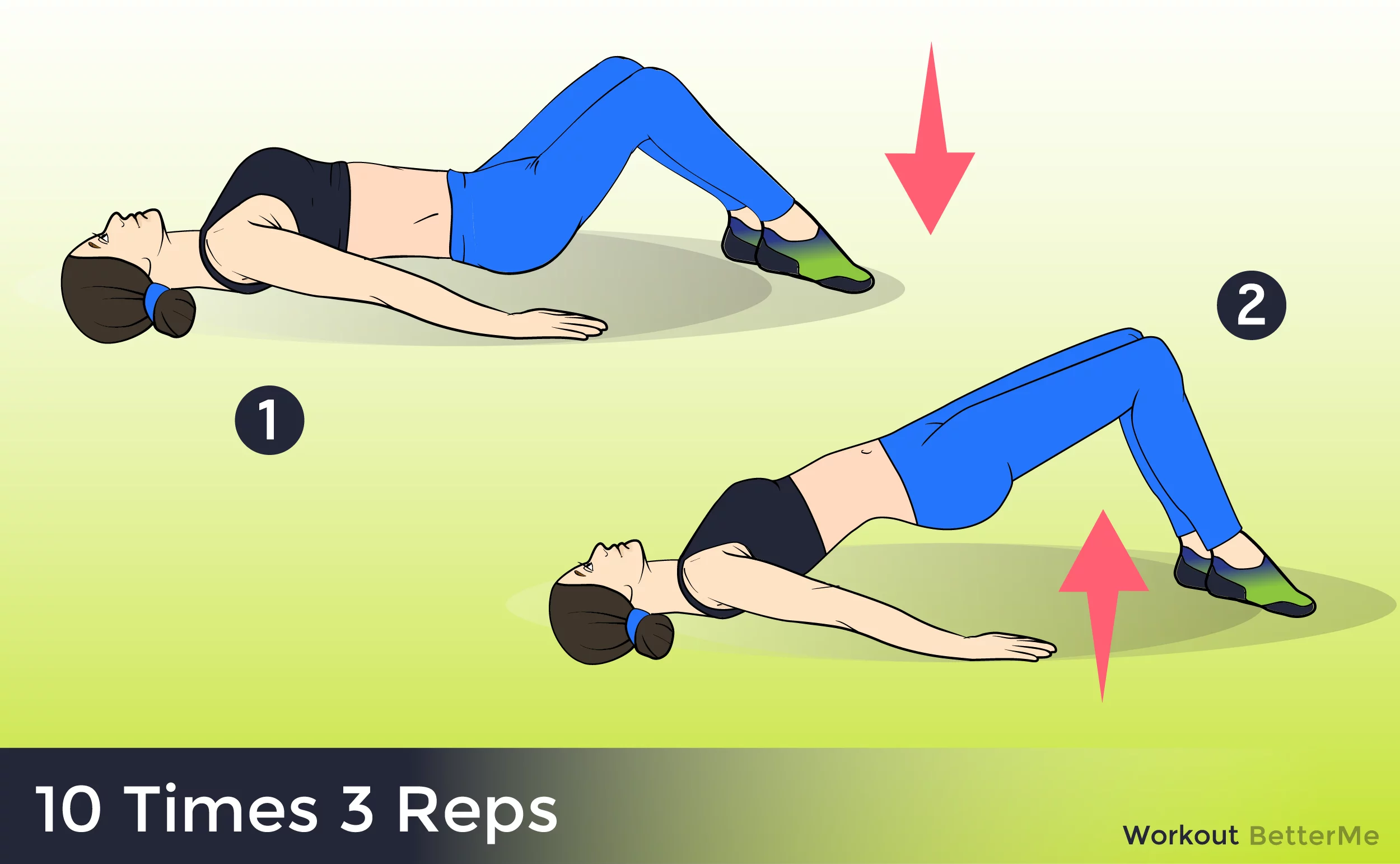 - Lay down on an exercising mat with your back resting on the mat.
- Stating position: Move your arms out by your sides, away from the body. Position your hands such that your palms are facing upwards.
- Applying the force from your heels, raise your hips in the upward direction.
- Final position: Keep raising your glutes in the upward direction until your thighs, hips and back are in a straight line.
- Stay there in this position for a count of one and return back to the starting position by lowering your hips back to the floor.
- Pause for a while and repeat the above steps.
#7 SQUATS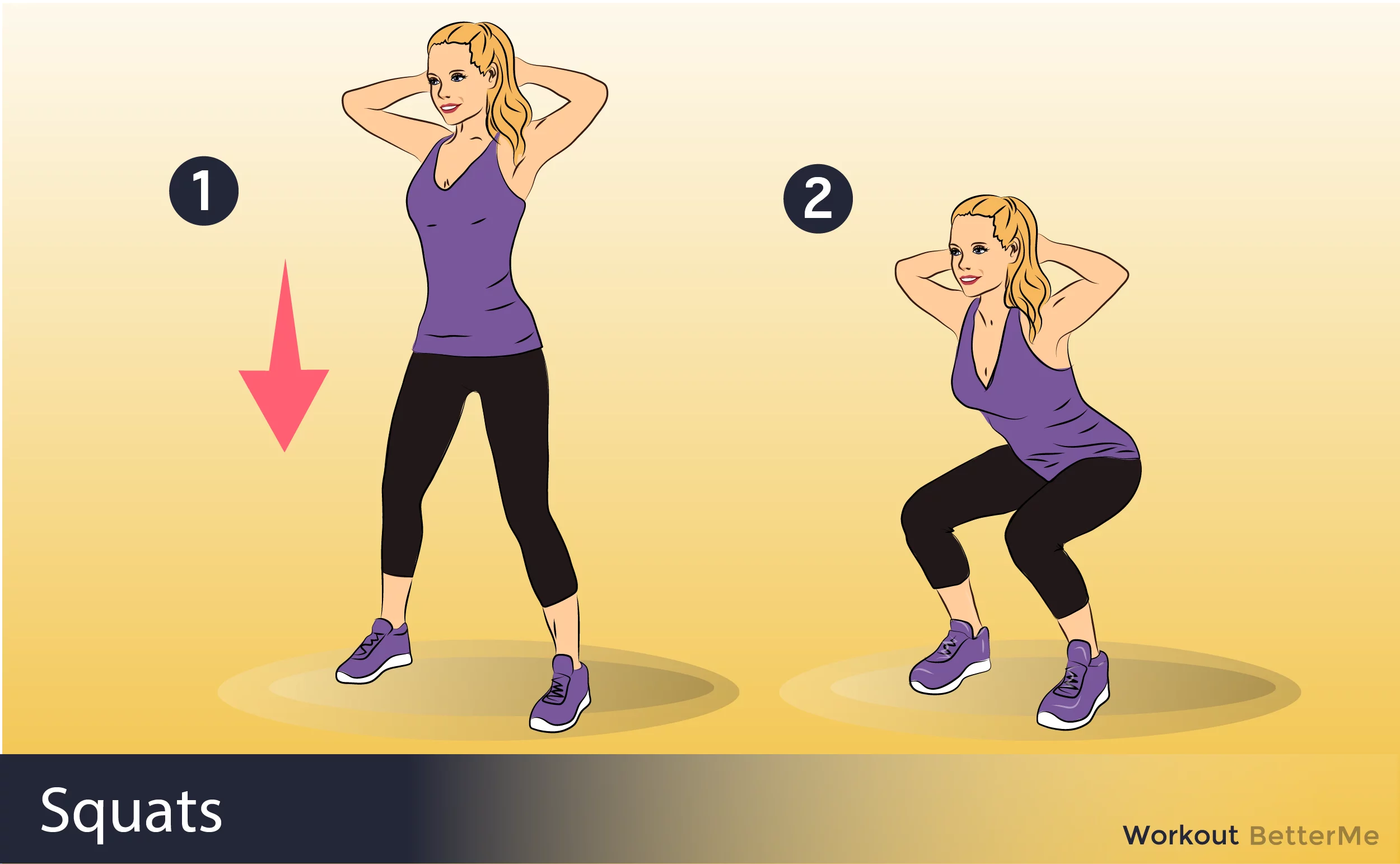 - Stand as tall as you can with your feet spread shoulder-width apart.
- Lower your body as far as you can by pushing your hips back and bending your knees.
- Pause, then slowly push yourself back to the starting position.
#8 SUMO SQUATS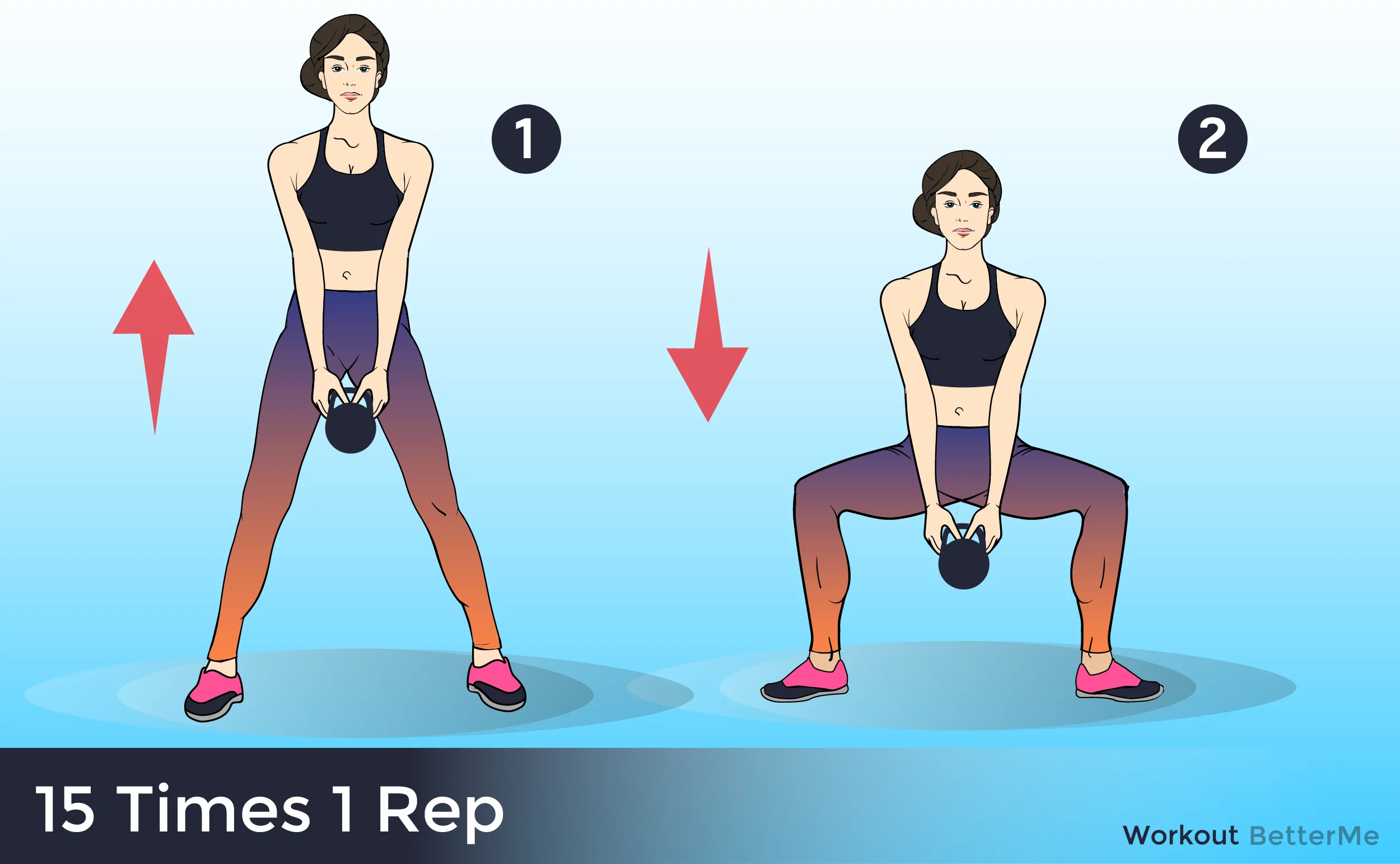 - Position your feet wider than your hips with your toes and knees facing forward. Keep your head up and your spine lengthened so there is no curve in your back.
- Place your arms at your sides or bring your hands in front of your chest to assist with balance. Inhale, bend your knees and lower your hips behind you to a comfortable depth or until your thighs are parallel with the floor.
- Prevent your knees from moving forward beyond your toes. Exhale, press your heels onto the floor and straighten your legs to the starting position
READ MORE: A beginner's walking program and tips to get you walking anywhere
The BetterMe Team is by your side throughout your fitness journey! Stay motivated and you can achieve your goals. If you are struggling with your motivation have a look at one of our many articles for inspiration.
Help us support and motivate those you love by sharing this article with them and let us know what you think in the comments below.
This article is solely for informational purposes and is not intended to provide medical advice. BetterMe doesn't take responsibility for any possible consequences from any treatment, exercise, diet, application of medication or any similar action which results from reading or following the information contained in this article. Before undertaking any course of treatment please consult with your physician or other health care provider.
Share on Facebook